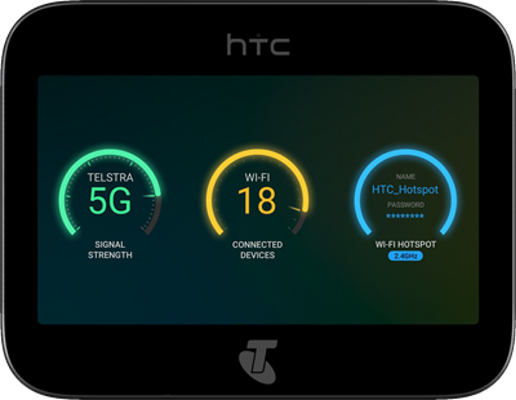 HTC 5G Hub 4GB
Works plugged in and on the go
Includes a 5-inch 720 x 1280 touchscreen
All-day battery life
Overview

Specifications

Specs
Overview
Why choose the HTC 5G Hub?
The HTC 5G Hub is one of the most exciting 5G mobile broadband devices available, and that's in part because while it's typically sold as a mobile broadband device, it also works for home broadband, since it's designed to be used either plugged in or on battery. And that battery is big, with its 7,660mAh capacity leading to all-day life.
The HTC 5G Hub also stands out through being a full-featured Android device. It has a 5-inch 720 x 1280 touchscreen, a high-end Snapdragon 855 chipset, 4GB of RAM and dual speakers, so you can use it as an entertainment hub too, especially as it's always listening for voice commands.
There's 32GB of storage for apps and other content, along with a microSD card slot (supporting cards of up to 512GB).
And as for its 5G broadband credentials, it can get up to 20 devices online at once at a range of up to 30 metres. Plus it has an ethernet port for wired connections, and as it works with 5G your internet connection will also be very fast (just as long as there's 5G coverage).
Why choose 5G mobile broadband?
If you regularly want to get one or more devices that don't have their own SIM card connected to the internet (such as a laptop or tablet) when you're out and about then 5G mobile broadband is the ideal solution.
It's a similar idea to using a 5G phone and tethering other devices to it, but you're not draining your phone's battery or using your 5G SIM plan's data allowance.
You're also using a device that's more optimally designed for getting other devices online, so performance is potentially better. And with a 5G mobile broadband device you'll get the very best speeds possible, as you won't be limited to just 4G and 3G networks.
Specifications
Dimensions (mm): 129 x 100 x 43
Modem: 5G
Colours: Black
Ethernet ports: 1 ethernet port
Download speeds: Up to 2.63Gbps
Upload speeds: TBC
Wi-Fi specs: Dual-band 802.11a/b/g/n/ac/ad (2.4GHz and 5GHz)
External Antenna: N/A
Power: Mains and battery powered
Launch date: Out now