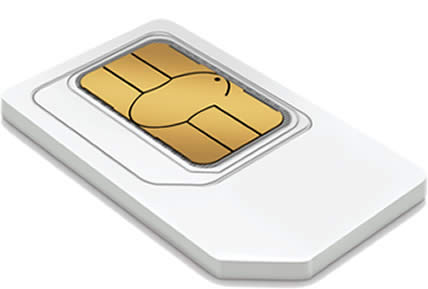 5G Unlimited Data SIM plans - Compare and save
Browse without limits with a 5G unlimited data plan
Compare deals on all networks
Every single plan comes with 5G data included
Overview
5G is the next generation of mobile networks, offering unparalleled speed, low latency, and unlocking the potential for whole new use cases. But it's only as good as your data limit – 5G paired with a 1GB allowance for example would severely limit your ability to make use of its superfast speeds.
To get the absolute most out of 5G, what you're going to want is unlimited data, so you're not restricted at all in the amount of data you can download and stream.
The good news there is that many networks now offer unlimited data. Some have been doing this for years, while others launched unlimited data plans at around the same time as 5G, recognising how important this would be.
But the terms and restrictions vary from network to network, and there are still some 5G networks that don't offer unlimited data at all. So with all that in mind we've created this guide, highlighting your unlimited data 5G options.
Which networks offer 5G unlimited data?
At the time of writing, EE, O2, Three, Vodafone, VOXI and BT Mobile all offer some form of unlimited 5G data. Note that some other networks also offer unlimited data, but they don't yet offer 5G.
EE
EE offers unlimited 5G data to both new and upgrading customers on both Pay Monthly and SIM Only plans. However, not all of its unlimited data plans include 5G, so make sure the one you're buying does.
There's no speed cap on EE's 5G plans, with the network claiming that you can expect 5G speeds that average around 100-150Mbps more than its average 4G speeds, which should put them at around 130-240Mbps. However, peak speeds can theoretically exceed 1Gbps.
While there's no speed cap, EE does have a fair use policy, which states that if you regularly tether 12 or more devices or use over 1,000GB of data in a month then it may consider this non-personal use and could move you to a more suitable plan. These sorts of restrictions shouldn't affect many users though.
EE's 5G plans last 12 months on SIM Only or 24 months if you opt for a Pay Monthly plan with a 5G phone. Note that at the time of writing EE 5G is not available on Pay As You Go, and nor is it available while roaming.
However, you will get some extras with your 5G plan. Specifically, you'll get an Amazon Prime Video subscription, access to additional free roaming locations through Roam Further, and the ability to stream BT Sport on your phone in HDR.
Technically, these are considered 'Swappable Benefits', which on a plan with a data limit would mean you can swap them around for alternative extras whenever you want, but at the time of writing the alternative extras are only beneficial if you have limited data, so for now you're stuck with the three things above on unlimited data plans.
O2
O2 offers 5G with unlimited data on Pay Monthly plans but not on SIM Only – the latter still comes with 5G, but tops out at 100GB of data at the time of writing.
One area where O2 does provide more options than most networks though is how long its unlimited data Pay Monthly contracts last. You can choose anything from 3 to 36 months, with prices adjusting accordingly, and these plans are available to be new and upgrading customers.
There's no speed cap on O2's 5G plans. O2 hasn't said exactly how fast its 5G service is, but we'd expect average speeds in the range of 150-250Mbps, as that's what rivals typically promise.
O2 does however have a fair usage policy, which states that if you use 650GB of data twice in a six-month period, or if you regularly tether to 12 or more devices, then it may investigate your usage.
There's not currently 5G roaming on O2, but you can access O2's network of Wi-Fi hotspots and its Priority app, which gives you various discounts, competitions, freebies and the chance to buy certain event tickets before they go on general sale.
Three
The first thing to note with Three is that at the time of writing it doesn't actually have a 5G mobile network (it only offers 5G for home broadband and only in London), but that's set to soon change. And despite not offering 5G yet, all of its mobile plans are 5G-ready.
That means once it does switch on 5G for mobile, you'll instantly be able to access it at no extra cost, whether on Pay Monthly, SIM Only or Pay As You Go.
Three was also one of the first UK networks to offer unlimited data, and you can get it on both Pay Monthly and SIM Only plans, and there's even an unlimited data add-on for Pay As You Go and the option to get 5G home broadband with unlimited data.
Given that Three doesn't offer 5G for mobile yet, it of course also doesn't offer 5G roaming, and nor are we sure what sort of speeds it will offer – though its 5G home broadband service tops out at 1.6Gbps according to Three, with average speeds of 100Mbps, so 5G may be similar.
There's currently no fair usage policy to worry about with unlimited data on Three, though it's possible that will change once 5G is properly available.
Other things to note are that SIM Only plans last 1, 12 or 24 months, while Pay Monthly plans are all 24 months long. The main extra you get on Three is free roaming in numerous locations beyond Europe – but as noted above this isn't currently offered at 5G speeds.
Vodafone
Vodafone offers a number of unlimited data plans. These are available on both Pay Monthly (with plans lasting 24 months) and SIM Only (on plans lasting 1, 12 or 18 months) and to both new and upgrading customers, but it's slightly less obvious which ones support 5G than with other networks, as rather than saying a plan is '5G' or '4G', they instead say how fast they are.
In reality, the only ones that truly give 5G speeds are the 'Unlimited Max' plans, which offer the 'fastest available' speeds, so this is what you'll want. Be aware that even if you buy a 5G handset, some of the plans you'll be offered with it will have restricted speeds, so again, make sure it's Unlimited Max that you opt for.
As for what speeds you can expect on unrestricted plans, Vodafone claims that its 5G speeds will average 150-200Mbps, with peak speeds reaching around 1Gbps.
Vodafone also offers unlimited 5G data with 5G home broadband, but not on Pay As You Go. Its fair use policy meanwhile states that use should not exceed that reasonably expected of a reasonable person.
Unlike most networks, Vodafone does offer a 5G roaming service, with 5G offered in a growing number of locations. At the time of writing it's limited to various towns and cities in Spain, Germany, Italy and the Republic of Ireland.
Beyond 5G roaming, the main benefit on Vodafone 5G is the ability to get a subscription to an entertainment service thrown in with your plan. You can choose from Amazon Prime Video, Spotify Premium, Now TV Entertainment, or Sky Sports Mobile TV. Note that these subscriptions aren't free, as they push up the price of the plan compared to Unlimited Max plans without entertainment, but they are typically cheaper than paying for the subscription separately would be.
BT
BT Mobile is rare among MVNOs in that it both offers 5G and plans with unlimited data. However, at the time of writing both of these things require you to be a Halo customer (that being BT's name for its most premium broadband plans).
That makes it rather restrictive, but if you belong to that elite group then you can enjoy unrestricted 5G speeds, which BT claims are around 150Mbps faster than 4G on average, with peak speeds of around 1Gbps.
Unlimited 5G is available on 24-month Pay Monthly plans with a handset, however there's no 5G roaming at the time of writing. What you do get is access to BT's extensive network of Wi-Fi hotspots around the UK. There also doesn't appear to be any sort of fair usage policy relating to unlimited data at the time of writing.
VOXI
VOXI offers just one 5G plan at the time of writing and handily it comes with unlimited data. It's available on both SIM Only and Pay Monthly and in both cases you're only tied in for 30 days (though in the case of Pay Monthly you'll still have to pay off your phone of course, even if you change your plan early).
Both new and existing VOXI customers are eligible for this plan and there are no speed restrictions, though VOXI's fair usage policy notes that it may take action if use is 'excessive', damaging to the network, or appears to be commercial in nature.
VOXI hasn't said exactly how fast its 5G is, but it uses Vodafone's infrastructure, which means you can probably expect average speeds of around 150-200Mbps, with peak speeds of up to 1Gbps.
VOXI mostly stands out though through its offering of 5G roaming, a service it offers in the same selection of locations as Vodafone (which owns VOXI). That means you can roam at 5G speeds across numerous towns and cities in Spain, Italy, Germany and the Republic of Ireland, at no extra cost. Note that at the time of writing these are the only two UK networks to offer 5G roaming.
Which networks offer 5G but not unlimited data?
If you've decided you don't need unlimited data but do want 5G, then you may also want to consider the network below, which at the time of writing is the only UK network to offer 5G with no unlimited data option.
Sky Mobile
Sky Mobile currently offers 5G plans with up to 25GB of data on both Pay Monthly and SIM Only – so some way short of unlimited. Plans for the latter last 12 months while the former last a choice of 12 or 24 months.
Sky Mobile's speeds aren't capped and should be similar to O2's, since it uses that network's infrastructure. 5G roaming isn't currently offered by Sky Mobile, but you do get to roll over unused data from one month to the next, and if you're a Sky TV customer then you can watch Sky apps on your device without it coming out of your data allowance.
Frequently asked questions (FAQ)
Do I really need unlimited data?
That entirely depends on your usage. If you're using a lot of data now, or envisage 5G dramatically changing the way you use your phone, then it could be worth having.
If on the other hand you're a relatively light user then 5G is unlikely to change that – though you'll still probably want a reasonable data allowance so you can make the most of 5G, but you might be fine on as little as 5-10GB per month.
Unlimited data is mostly useful if you're streaming or downloading a lot of films and TV shows, downloading lots of large apps or games, or playing games online regularly.
Can I put a 5G SIM in my phone?
You can put a 5G SIM in your current phone and – as long as your phone is unlocked or on the same network – the SIM should work, though if you put it in a 4G handset then you won't be able to take advantage of 5G speeds.
As with previous generations though it won't work if your phone is locked to another network. In that case you'll first need to unlock your handset. The good news is that most networks will unlock your phone on request, either for free or for a small charge. To do this, contact your network using the relevant number below.
Can I keep my old number?
Yes. If you're upgrading your plan on the same network then your number will come with you automatically. If on the other hand you're changing network, you simply need to request your PAC code from your old network and give it to the new one.
You can request your PAC by texting 'PAC' to 65075. To give it to your new network you'll usually just have to fill in a form on their website, but you can often provide it over the phone as well.