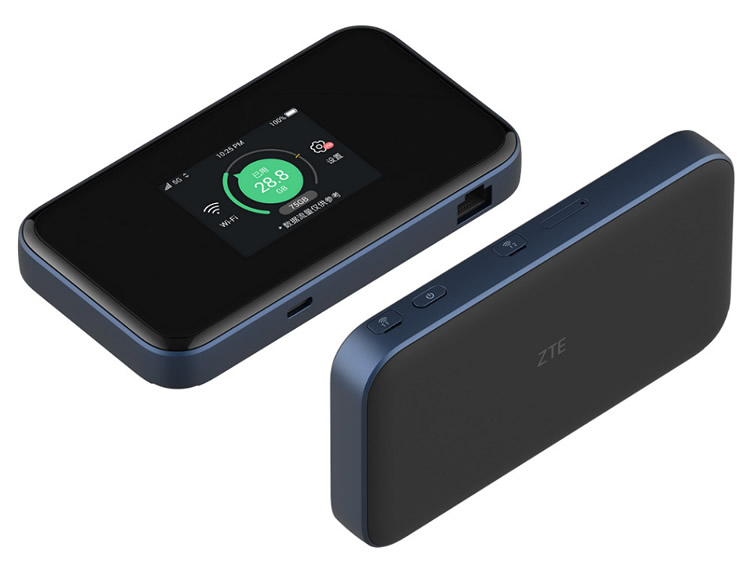 | Pros | Cons |
| --- | --- |
| Handy touchscreen | Fewer simultaneous connections than rivals |
| Relatively affordable | Only one Ethernet port |
| High speed | Could be smaller |
Verdict
The Vodafone 5G Mobile Hotspot is a top-quality 5G mobile broadband router with some features that rivals lack and a relatively low (though still actually quite high) price.
Full Review

Specifications

Specs
Full Review
The Vodafone 5G Mobile Hotspot is one of a couple of 5G mobile broadband devices available on UK networks, and the only one available on Vodafone at the time of writing.
If you're a Vodafone fan, then that could make your decision easy, but everyone else might be wondering whether this is the one to buy or not.
In short: it's definitely a strong option, with good battery life and competitive specs, but the competition is fierce, so it's worth reading this review in full and considering the alternatives too.
Design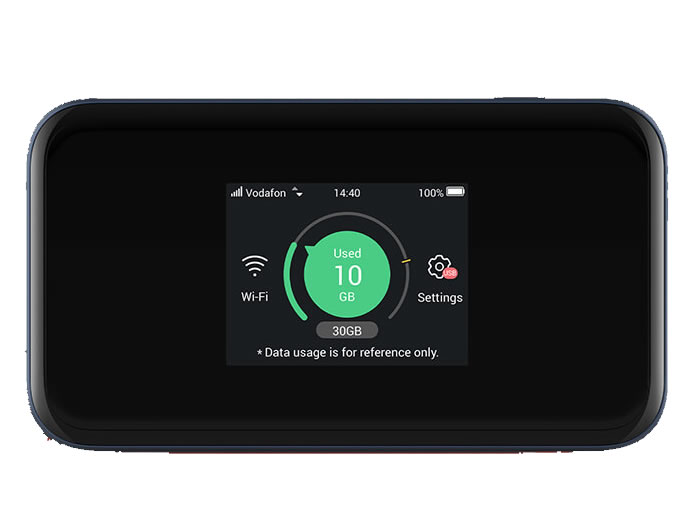 The Vodafone 5G Mobile Hotspot is actually a rebranded ZTE MU5001 5G, but that's a common practice, with many network-branded devices actually being other gadgets with a new name.
So how does the Vodafone 5G Mobile Hotspot / ZTE MU5001 5G look? Well, pretty good in all. It's a compact black rectangle with a 2.4-inch screen on the front (more on which further down), and a ZTE logo on the back.
The frame is a slightly different colour – more of a grey – and it houses various ports and buttons, such as the power button, the USB-C charging port, antenna ports, and an Ethernet port.
It comes in at 133 x 73 x 18.5mm, so it's just about pocket-sized (if a bit chunky), and it could certainly easily be carried around in a small backpack or a handbag. In fact with a bigger screen and a slimmer build it could almost be mistaken for a smartphone.
All in all, while the Vodafone 5G Mobile Hotspot doesn't have the most exciting of designs, it looks fairly good, and importantly it's small enough not to be too inconvenient to take out with you.
Setup

Like most mobile broadband devices, the Vodafone 5G Mobile Hotspot is designed to be simple to get up and running. It includes an easy-to-use online interface, so just pop the SIM card in and follow the simple instructions.
Where this has the edge over some mobile broadband devices is the addition of a touchscreen that you can interact with, further simplifying its configuration.
Performance and speeds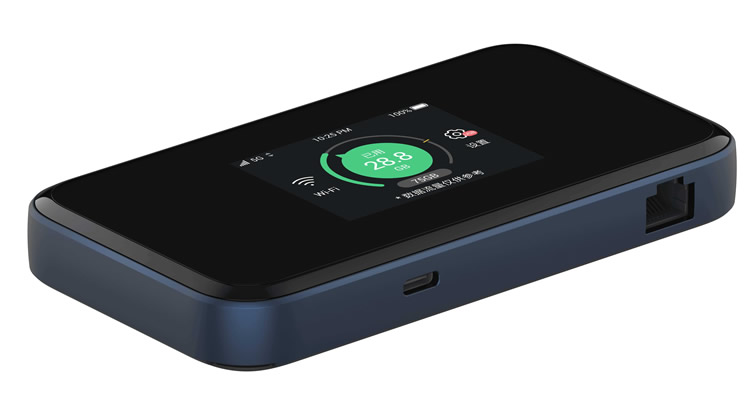 Vodafone hasn't said much about speeds, but the ZTE MU5001 5G (which is the Vodafone 5G Mobile Hotspot without network branding) theoretically supports download speeds of up to 3.8Gbps according to its spec sheet.
That's very fast, but it's also not realistic. Rather, you'll be limited by what Vodafone's 5G network is capable of, which itself will vary from location to location, depending on how close you are to a 5G mast, among other factors.
5G speeds though are likely to average just over 100Mbps, based on various third-party tests of Vodafone's 5G network. For example, a September 2022 Opensignal report found that Vodafone's average 5G download speed was 105.2Mbps, while a RootMetrics report covering the second half of 2022 put Vodafone's median 5G download speed at 107.4Mbps. These weren't tests of this specific device, just of Vodafone's network in general, but they should be in the right ballpark.
That's a lot slower than 3.8Gbps then, but it's in line with what you'll find on some of the UK's other 5G networks, and peak speeds will be a lot higher. Average speeds may well increase over time too, as the network infrastructure improves.
So at the very least that means the Vodafone 5G Mobile Hotspot is future proofed. The device also supports Wi-Fi 6, and dual-band 2.4GHz and 5GHz 802.11b/g/n/ac/ax Wi-Fi.
Features and software
The Vodafone 5G Mobile Hotspot has a lot going for it beyond just speed. For one thing, it supports up to 32 simultaneous connections. That means this one little gadget can get up to 32 devices connected to the internet at 5G speeds, all at the same time.
For the typical mobile broadband user that's probably far more than they'll ever need, but if you have a coach full of colleagues, or need to bring a temporary internet connection to a home or office then this will do the trick. And even if you don't need 32 connections, it could be reassuring to know it's an option.
Beyond that, the Vodafone 5G Mobile Hotspot also has a 4,500mAh battery, which Vodafone claims offers up to eight hours of life (or possibly up to 8.5 hours – the company has said both). Either way, that's a lot of life, and enough to keep your gadgets connected all day.
And as mentioned above there's a 2.4-inch 320 x 240 colour touchscreen, which is a handy way to keep on eye on the data use, battery life, signal strength and more.
The Vodafone 5G Mobile Hotspot also has an Ethernet port, so you can plug a device into it for a more stable wired connection, and there are two ports for attaching external antennas, to improve its performance – which could be particularly useful if the signal is weak somewhere.
Alternatives
This is the only 5G mobile broadband option on Vodafone, though there are slower 4G options, or if you're after home broadband there's the Vodafone GigaCube 5G, which supports up to 64 simultaneous connections and has two Ethernet ports, but requires mains power.
Assuming you're after a 5G mobile broadband device though then the main alternative is the EE 5G WiFi.
This supports more simultaneous connections than the Vodafone 5G Mobile Hotspot at up to 64, and it's similar in some other ways, including having an Ethernet port, but it lacks the Vodafone 5G Mobile Hotspot's screen. It also has a bigger 6,460mAh battery, but EE hasn't said how long this lasts.
In theory, EE's device might also offer higher speeds than Vodafone's, as Opensignal in September 2022 found that EE's average 5G download speed was 130.5Mbps, while RootMetrics puts it median 5G download speed at 141.6Mbps in 2022.
As noted above, Vodafone's results were 105.2Mbps and 107.4Mbps for average and median respectively. That's not bad though, still topping O2, which achieved an average of 92.3Mbps and a median of 71Mbps in those tests.
Plans
The Vodafone 5G Mobile Hotspot is available with unlimited data on three plans at the time of writing. The cheapest costs £15 per month and £100 upfront, but this ties you in for 24 months. Next there's a 12-month plan which costs £33 per month and £150 upfront, and then there's a 30-day one, which costs £37 per month and £200 upfront.
This makes it quite a pricey device, but actually still a lot cheaper than its main rival (the EE 5G WiFi). So if you don't need the features of that (highlighted above), the Vodafone 5G Mobile Hotspot is probably the better buy.
Conclusion
The Vodafone 5G Mobile Hotspot is a highly capable 5G mobile broadband device that strikes a good balance between price and functionality.
With high speeds, good battery life and plenty of simultaneous connections, this has all that most users should need, while the touchscreen is just the icing on the cake.
There are other devices that have it beat in some ways – most notably the EE 5G WiFi – but that also costs far more. Not that Vodafone's option is cheap, but until a significantly better or cheaper alternative arrives, we can't really hold the price against it.
Specifications
Dimensions (mm): 133 x 73 x 18.5
Modem: 5G
Colours: Black
Ethernet ports: 1
Download speeds: Up to 3.8Gbps
Wi-Fi specs: 802.11b/g/n/ac/ax, dual-band 2.4GHz and 5GHz
External antenna: 2x antenna ports
Power: Battery powered
Launch date: Out now