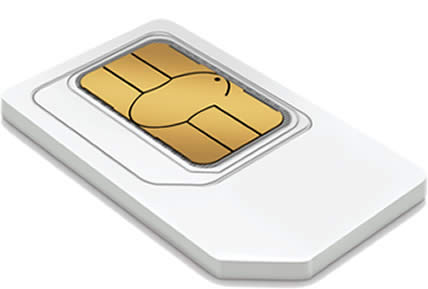 5G SIM Only Deals
Every single plan comes with 5G
All UK 5G mobile networks included
Unlimited 5G data plans available
Keep your existing number
Overview
1) Why choose a 5G SIM Only contract?
SIM Only contracts are always cheaper than opting for a new handset, since all you have to pay for are your allowances. So if you already have a phone that you're happy with or have found one to buy outright at a good price, then SIM Only can be ideal.
SIM Only contracts are also typically shorter term than a Pay Monthly plan with a phone. The latter generally lasts 24 months, while SIM Only contracts are typically either just 30 days (for ultimate flexibility) or 12 months. Though in both cases there are exceptions.
That means that usually on SIM Only you'll be more frequently able to change or cancel your plan if something more fitting comes along.
Note however that to make full use of a 5G SIM Only contract you will need a 5G phone, so if you don't already have one then you'll need to buy one separately. You can use an existing 4G phone, but you won't get 5G speeds.
2) Which networks offer 5G SIM Only deals?
At the time of writing the following networks all offer 5G SIM Only deals.
EE
EE currently offers a number of 5G SIM Only plans, including an unlimited 5G plan which has no speed or usage restrictions.
EE's 5G SIM Only plans come with 'Swappable Benefits' letting you choose between extras that you can swap out whenever you want.
You can choose between BT Sport Ultimate, Amazon Prime Video, Roam Further (which lets you roam for free in additional locations), Video Data Pass (which lets you stream video from select services without it coming out of your data allowance), or BritBox.
Vodafone
Vodafone also offers a number of 5G SIM Only plans, including some with unlimited 5G data.
The plans are available on 24-month, 12-month or 1-month contracts, and all come with unlimited minutes and texts.
The difference between the Unlimited Lite, Unlimited and Unlimited Max plans is the maximum speed offered. The cheapest are Unlimited Lite plans, which offer speeds of up to 2Mbps (good for browsing, social media and music streaming), the mid-range Unlimited plans offer speeds of up to 10Mbps (enough to stream HD video), while the Unlimited Max plan has no speed restrictions (for superfast downloads and streaming in UHD).
Of these Unlimited plans, only Unlimited Max is capable of true 5G speeds, however Vodafone stands out through also offering 5G roaming in parts of Spain, Italy, Ireland, and Germany. Plus, select plans come with a subscription to an entertainment service (such as Amazon Prime Video or Spotify Premium) thrown in.
Three
Three offers a wide range of 5G SIM Only plans. In fact, all of its SIM Only plans are 5G Ready at no extra cost.
Three's SIM Only plans primarily stand out through being better value than much of the competition, and of course there's also an unlimited data option. Select plans also benefit from Go Binge, which lets you use certain music and video services such as Netflix without the data coming out of your allowance.
O2
O2 also offers a wide range of 5G SIM Only plans, including some with unlimited data.
Plans also come with the standard O2 extras, such as access to O2 Priority for discounts, freebies, and early gig tickets.
Tesco Mobile
Tesco Mobile, which uses O2's network, offers a range of 5G SIM Only plans on 12-month contracts.
At the time of writing these plans all come with 5000 minutes and 5000 texts (so virtually unlimited), and top out at unlimited data.
VOXI
VOXI currently offers just one 5G SIM Only plan but it's a good one, with unlimited data, minutes, and texts.
This plan is just 30 days long, so you aren't tied into a lengthy contract, and VOXI also stands out through offering 5G roaming in the same places as Vodafone.
3) Which networks offer unlimited data on 5G SIM Only?
At the time of writing, EE, Vodafone, Three, O2, Tesco Mobile and VOXI all offer unlimited data 5G SIM Only plans.
4) Which networks have the best 5G coverage?
5G coverage is rapidly expanding on networks that already offer it, while many networks that don't are likely to launch soon. As such, the best way to stay up to date is to head to our in-depth 5G coverage pages.
5) What else should I consider when choosing a 5G SIM Only contract?
Beyond allowances, prices and coverage, there are plenty of other things to consider when choosing a network for 5G SIM Only, as they all offer different things.
One obvious point of comparison is free roaming availability, as while they all let you roam for free across most of Europe, some networks also let you roam further, and Vodafone and VOXI even let you roam at 5G speeds in a number of places.
Tethering is another thing you might want to consider if you plan to use your phone to get other devices online, like you would with a 5G broadband device, though most networks now allow this with few to no restrictions beyond your data allowance.
There are then things that are unique to specific networks. For example, some of Vodafone's plans come with a subscription to an entertainment service of your choice, while many EE SIM Only plans come with Swappable Benefits, giving you the ability to change your perks every month. Three meanwhile offers a Go Binge service on many plans, which preserves your data while using popular apps, and O2 offers a Priority app and service full of competitions, freebies and discounts.
6) What SIM card size do I need?
No matter what network you choose, you should receive a customisable SIM card that can be made to fit a SIM card slot of any size. These are variously called a Multi SIM, Combi SIM, Trio SIM, and other things, but they're all the same idea, so you don't need to worry about requesting a specific size or using an adaptor.
7) Frequently Asked Questions
What happens if I'm not in a 5G coverage area?
If you're not in a 5G coverage area then your phone will revert to a 4G, 3G or 2G signal, depending on what coverage is available, just as 4G phones will revert to 3G or 2G when needed.
However, if you don't live or work in an area that currently has 5G coverage then you might want to wait before getting a 5G SIM deal anyway, since you probably won't benefit much until you do have coverage.
Will a 5G SIM card work in a 4G phone?
Yes, but of course it will only be able to provide a 4G signal at most. For 5G speeds you'll need a 5G handset.
Can I keep my number?
Yes, and the process is simple.
If you're upgrading on your current network then your number will stay the same anyway, but if moving network you just need to request your PAC code from your old network (while the number is still active), then activate your new SIM if you haven't already, and tell your new network your PAC code and old number.
Requesting your PAC code can be done by texting 'PAC' to 65075 from the number that you want to keep. Giving the code to your new network is usually done via on online form, but the exact process will vary from network to network. If in doubt, give your new network a call.
Can I get a SIM card for my tablet or mobile broadband dongle?
Yes, but you will want a data only SIM which only comes with a bundle of data and doesn't have included minutes and texts.