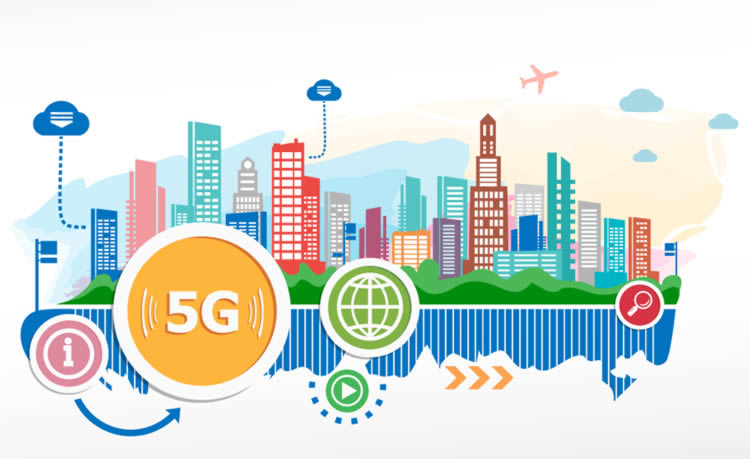 5G is right around the corner, and it promises to be the largest step forward for mobile network technology yet, not just offering faster speeds than 4G, but also lots of other benefits. So what exactly is 5G, and what benefits will it bring?
In this article we'll answer all of that, as well as looking at when we're likely to start getting 5G, the progress made so far, and everything else you need to know about this exciting upcoming technology.
What does 5G mean?
As a smartphone user, you've probably noticed a 3G or 4G symbol appearing at the top of your device's screen. This denotes the type of mobile network that's connecting your phone to the internet in the absence of a Wi-Fi hotspot.
There have been four main generations of mobile network connectivity since the 1980s, each made up of various technologies and standards. 3G literally means 'third generation' while 4G stands for 'fourth generation'. The 'fifth generation' of mobile network, 5G, is up next.
What will 5G bring to the table?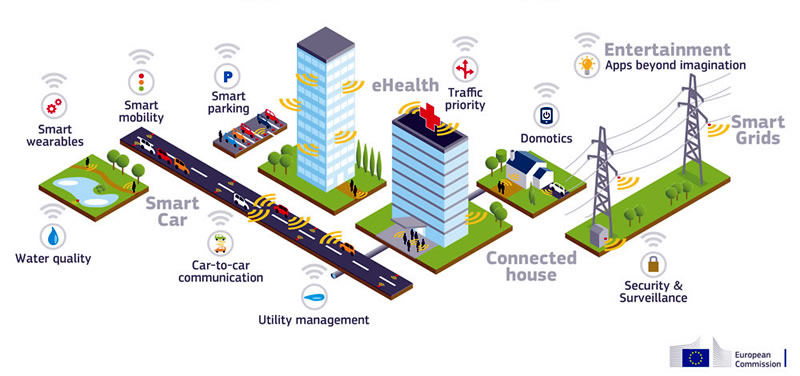 The basic advantages of 5G will be much greater data speeds and much lower latency with capacity for a massively increased number of devices when compared to current 4G networks.
Speed: Top-end 4G networks, known variously as 4G+, LTE-A or 4.5G, can deliver peak download speeds of 300Mbit/s. By comparison, 5G promises to offer speeds in excess of 1Gb/s, with many estimates placing it closer to 10Gb/s.
To place that in context, you will be able to download - not merely stream - a full HD movie in less than 10 seconds on a 5G network. The same task would take closer to 10 minutes on 4G.
Latency: This refers to the delay between a request for content or an action, and that content or action actually being delivered to your phone. Think of the delay between your pressing a web link on your smartphone and that website beginning to load up. This delay is often the main experiential difference between a mobile network and a Wi-Fi connection, and 5G will completely close the gap.
Current 4G response times of 50 milliseconds account for the less-than-instantaneous experience we have when using web-based applications even in a supposedly strong signal area. 5G, by contrast, will boast 1 millisecond end-to-end response times for a broadband-like experience.
Capacity: Probably the key bottleneck with 4G is its limited capacity. There simply isn't enough bandwidth in current mobile network frequencies to enable a smooth experience for multiple users within an area.
5G will greatly expand such capacity, both through the opening up of new and less congested frequency spectrum and the smarter use of this spectrum. It will be intelligently allocated to individual users based on their specific requirements, so you'll always have exactly the right amount of network spectrum for whatever you're doing - no more, no less.
User experience: Because of the substantial improvements to speed and latency, the user will have the perception of limitless bandwidth and continuous availability, wherever they are.
5G applications
5G's much-expanded capabilities will mean more than a simple improvement of current mobile services. It will form the backbone of a number of all-new industries.
The first public use of 5G network technology we're likely to see is 5G Fixed Wireless Access (FWA). This will form an alternative to current last-mile broadband connections, with the physical connection to your home instead occupied by a wireless 5G set-up. This will make for a much quicker and cheaper installation process without compromising on performance.
The Internet of Things
Looking further, the Internet of Things (IoT) will explode to become all-encompassing, with 5G connecting up millions of tiny low-power devices around our homes and cities.
Phones, fridges, lights and pretty much anything else electric will all be connected to the internet. Connected cars and wearables are already in business, while drones are (forgive the pun) taking off. 5G will take these initiatives to the next level.
Driverless cars that will be able to avoid an accident thanks to notification from sensors on the road. Smart cities that can guide motorists to a vacant parking spot, switch on street lighting when needed by emergency services or identify which roads to grit in bad weather. Smart grids that can conserve energy resources and manage energy consumption. These things could all become reality with 5G.
VR, AR and holograms
We'll also be able to consume advanced virtual and augmented reality media content on our smart devices as quickly and easily as we currently do with HD videos.
And AR will have more uses than just entertainment, such as satellite navigation appearing on car windscreens and adverts projected onto shop windows. Holographic video could become a reality, which could be used for 3D medical imaging and more. Industrial equipment will be able to be controlled remotely for safer working practices, and a doctor could remotely operate a robot to carry out surgery on the other side of the world.
The possibilities are, quite simply, endless.
When will 5G arrive?
The first public 5G networks are expected to roll out in the UK and elsewhere in the world in 2020, with preliminary implementations for things like 5G FWA likely to arrive in 2019.
Don't expect mobile 5G network usage to become widespread until 2022, however. Those initial 2020 rollouts will be limited to major cities in developed countries such as the UK, US and South Korea, so will only cover a small percentage of the population for the first few years.
5G in the UK
Ofcom plans to auction off 190MHz of high capacity spectrum in the 2.3GHz to 3.4GHz range later this year. This spectrum auction is expected to take place in October, though a legal challenge from Three (which wants stricter limits on dominant network EE's bidding rights) could delay the process further.
Beyond this initial auction, there will be auctions for the 3.6GHz to 3.8GHz and 700MHz bands sometime in 2020.
Will you need a new phone for 5G?
Yes, you'll need to buy a new phone to make the most of 5G when it arrives. This is because 5G will operate on different frequencies to both 3G and 4G, resulting in the need for a completely different modem chip in your phone.
All-new 5G technology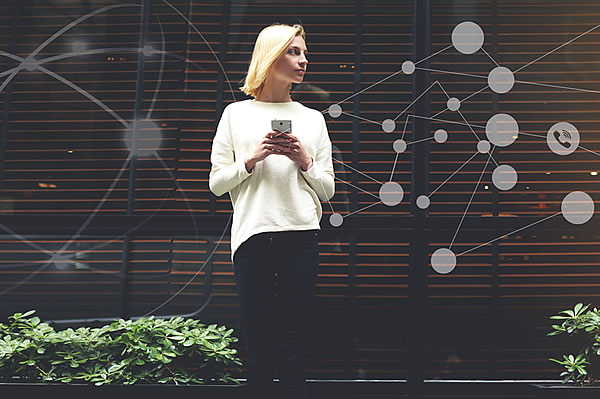 We've just mentioned that your phone will need an all-new modem to access 5G, and 5G itself will utilise all-new technology of its own. This won't simply be an improvement of existing 4G network equipment - though there will be a transitional overlap with current LTE networks taking some of the strain.
There may not be any one technology that comes to define 5G in the way that LTE has with 4G, but there are a couple of key candidates. For example, 5G will utilise Massive MIMO technology, which means it will broadcast using scores of small antennas rather than one big one.
This will serve to multiply the capacity of a wireless connection without requiring more spectrum, as well as boosting data rate and link reliability. It will also serve 5G's move to higher frequency bands, which don't travel as far as the bands that are currently in use, meaning new base stations and antenna technologies will be vital to carry a signal.
Targeted signals
Another related technology that 5G will utilise is beamforming, which you can already see being used in high-end Wi-Fi routers. This enables the focused targeting of a network signal rather than simply projecting 'dumbly' in a wide, inexact arc (which is what 4G does).
Wherever you are on a 5G network, beamforming will create a strong and direct link to your phone, boosting internet performance and minimising interference even in densely populated areas.
What are the challenges?
Beyond the obvious technological challenges, there are two main hurdles that 5G players will need to overcome.
Spectrum availability is crucial. Radio frequencies used for 3G and 4G are already overcrowded, so new spectrum will be required, and it will need to be in high frequency bands in order to deliver the envisaged data speeds. Allocation and management of spectrum is down to governments and there has been little harmonisation to date.
This will have to change in order for 5G services to work globally, and the ITU's WRC has begun the process to identify and harmonise frequencies for 5G. In order to ensure that 5G spectrum does not run out, it may be necessary in the longer term to develop ways of using the spectrum more intelligently, i.e. by only assigning the amount that is needed for each task.
Cost is a big consideration. Until the technology is developed, no-one knows how much it will cost. But if the full benefits of 5G are to be realised, the price of 5G capable handsets and 5G services must not be prohibitive. Just because I can download more data, faster, does not mean that I will be prepared to pay a huge bill every month.
According to the 5GIC, "In developing the 5G network there will be a pressing need to reduce end user costs: given that data requirements may grow up to a hundred-fold, monthly bills cannot increase by the same amount if emerging technologies are to be accessible for mainstream use."
Who's in the game?
Every operator and equipment vendor in the world wants to be at the forefront of 5G development. Industry associations all want to have their say, and national governments as well as the European Commission (EC) are attempting to drive the 5G agenda. Europe has lagged in rollout of 4G and seems determined not to miss out on 5G.
The road to 5G began in earnest in 2012, although China's Huawei and ZTE both (separately) began working on the technology in 2009. Here's a short roundup of who's been doing what and when.
2012: The ITU Radiocommunication Sector (ITU-R) launched the IMT-2020 roadmap for research into 5G. The EC co-funded the METIS consortium of vendors, operators, academia and the automotive industry.
2013: The NGMN Alliance began identifying the requirements for 5G standards. The governments of China, Japan and South Korea began working – independently – on defining 5G requirements. Japan set a target of commercial 5G availability in time for the 2020 Olympic Games in Tokyo, while the Korean Ministry of Education, Science and Technology announced $1.6b in funding to drive commercialisation of 5G by 2020 with data transfer speeds 1,000 times faster than those then available.
The EC announced the 5G Infrastructure Public Private Partnership (5GPPP) joint research and innovation project with funding to the tune of €4.2b, of which the EC would contribute €700m. On the vendor front, Ericsson, Huawei, Nokia Siemens Networks and Samsung all began working on 5G.
2014: Ericsson demonstrated a 5Gbit/s throughput speed in the 15GHz frequency in laboratory trials. South Korean telco SK Telecom signed agreements with Ericsson and Samsung to develop 5G technology for demonstration at the 2018 Winter Olympics. The GSMA published a paper outlining eight criteria which have become the fundamentals for 5G. Huawei achieved a transmission speed of 115Gbit/s in a lab and joined Europe's 5GPPP.
2015: The ITU's World Radiocommunication Conference (WRC) decided on three new globally harmonised spectrum bands which can be used for 5G. The EU and China signed an agreement to speed 5G development. The 5G Innovation Centre (5GIC) was launched at the UK's University of Surrey and achieved truly impressive data transfer rates of 1Tbit/s under laboratory conditions. Huawei and NTT DoCoMo achieved peak speeds of 3.6Gbit/s using the sub-6GHz frequency band in a large-scale field trial.
2016: The 5GIC published a whitepaper proposing the Flat Distributed Cloud (FDC) as an architecture for 5G. Ericsson forged 5G agreements with TeliaSonera and Russia's MTS. The EC proposed freeing up spectrum in the 700MHz band for 5G. Verizon announced it had begun limited trials in three US states, while AT&T said it would begin testing 5G in its own labs.
The ITU-R group refined the criteria for the selection of 5G radio interface technologies, moving it a step closer to defining standards for 5G. Ericsson and NTT DoCoMo conducted field trials in the 15GHz frequency band, with two simultaneously connected mobile devices achieving a download rate of over 10Gbit/s each. The two also exceeded speeds of 10Gbit/s some 70m from a base station, seven times further than previous achievements.
2017: BT and Huawei teamed up for network slicing research, O2 began preparing London for 5G with small cell installations, Apple has begun 5G tests and Samsung has carried out the UK's first 5G Fixed Wireless Access field trial.
Where do we go from here?
It's looking like we'll see the first pilot 5G networks in 2018. Huawei is planning to launch the first 5G pilot network with its partners in 2018. Interoperability testing is to be completed in 2019 ahead of a commercial launch in 2020. Ericsson is planning to demonstrate 5G at the Winter Olympics in South Korea (as is Samsung) and at the World Cup in Russia, both in 2018. In partnership with Ericsson, TeliaSonera hopes to be one of the first operators to offer 5G, in 2018, initially in Stockholm and Tallinn.
At its meeting in 2019, the WRC will identify further spectrum to be used for 5G, in the higher frequency bands above 24GHz.
2020 is the widely talked about date for commercial availability of 5G and, while that target looks achievable, it will certainly not be the start of mass rollout. Like 4G and other generations before it, 5G will be rolled out in stages and will complement existing technologies.
The future is 5G
Excited yet? You should be! 5G might still be a way off yet, but dozens of organisations around the world are preparing the way for the next generation mobile network. Here in the UK, real-world 5G network tests are already well under way in places like Brighton and Basingstoke.
It's an exciting period, and one that will lead into a whole new technological era. We'll be there every step of the way, keeping you updated on all the key 5G news and developments.
5G is the next generation of mobile technology that will see our phones and devices download music and videos hundreds of times faster than 4G. Potentially, a thousand times faster. We are talking about downloading a full HD film in one or two seconds.
5G has the potential to change the world as we know it. It will dramatically increase the speed at which data is transferred, improve response times and provide enough capacity for the billions of devices that will be connected in the internet of things (IoT), paving the way for a slew of innovative new technologies and services.
Here in the UK, we wont see 5G mobile networks and phones until sometime in 2020. Initially, it is likely to be launched in just one or a few cities. It's currently way too early to say who will be the first network to launch 5G services. However the first operator to launch 3G in the UK was Three and with EE were first to launch a 4G network.
Everyone will need to upgrade to a 5G phone or device to be able to benefit from all the advantages that 5G will bring. The reason for this is that 5G will use different frequencies to both 3G and 4G, therefore your existing phone will not work.
There is a tremendous amount of research work and trials being undertaken around the world and we cover this and more in-depth analysis of what the full benefits of 5G will be below.