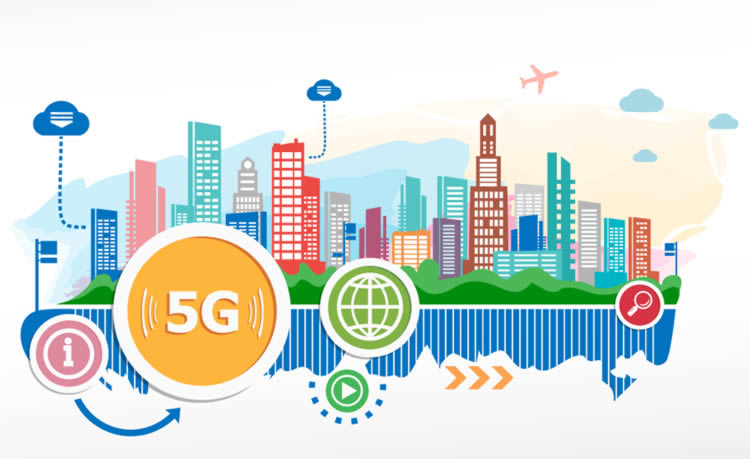 5G is the next generation of mobile technology that will see our phones and devices download music and videos hundreds of times faster than 4G. Potentially, a thousand times faster. We are talking about downloading a full HD film in one or two seconds.
5G has the potential to change the world as we know it. It will dramatically increase the speed at which data is transferred, improve response times and provide enough capacity for the billions of devices that will be connected in the internet of things (IoT), paving the way for a slew of innovative new technologies and services.
Here in the UK, we wont see 5G mobile networks and phones until sometime in 2020. Initially, it is likely to be launched in just one or a few cities. It's currently way too early to say who will be the first network to launch 5G services. However the first operator to launch 3G in the UK was Three and with EE were first to launch a 4G network.
Everyone will need to upgrade to a 5G phone or device to be able to benefit from all the advantages that 5G will bring. The reason for this is that 5G will use different frequencies to both 3G and 4G, therefore your existing phone will not work.
There is a tremendous amount of research work and trials being undertaken around the world and we cover this and more in-depth analysis of what the full benefits of 5G will be below.
Fifth Generation of Mobile
5G is, quite literally, the fifth generation of mobile networks. Despite the huge interest, 5G development is in the very early stages and there are as yet no standards or specifications. Until standards are formalised, any attempt to come up with a definition of 5G would be meaningless.
In December 2014 the GSMA outlined eight criteria for 5G. A network connection should meet a majority of the eight in order to qualify as 5G:
1-10Gbps connections to end points in the field (i.e. not theoretical maximum)
1 millisecond end-to-end round trip delay (latency)
1000x bandwidth per unit area
10-100x number of connected devices
(Perception of) 99.999% availability
(Perception of) 100% coverage
90% reduction in network energy usage
Up to 10 year battery life for low power, machine-type devices
So, what do all these numbers mean?
Speed: 5G will be much, much faster than previous generations. A full HD movie will be able to be downloaded in under 10 seconds, compared with a similar number of minutes over 4G. And that time for 4G is contingent on having peak rates for the duration of the download, which is very rarely the case.
Latency: The response time will be significantly better, at 1 millisecond compared with the current rate of around 50 with 4G. Instead of waiting for a movie to download before it can be watched, play will begin almost, if not, instantaneously.
User experience: Because of the substantial improvements to speed and latency, the user will have the perception of limitless bandwidth and continuous availability, wherever they are.
Capacity: 5G will provide the bandwidth that will be needed to enable the billions of devices that will be connected to the internet to communicate with each other.
Energy: 5G will need to be cost effective for users and operators, hence the need to achieve significant reductions in energy usage. And there's no point in having all these great services if your phone runs out of juice, hence the requirement for long battery life, not just for phones but for all devices that could ultimately be connected to the network.
How will this be achieved?
Just like earlier generations of mobile networks, 5G focuses on improving speed and latency to deliver a better user experience and help operators generate more revenues from their customers. However, it became apparent that 5G would need to be more than a mobile network in order to enable the volume and diversity of devices and applications envisaged.
5G will thus be a heterogeneous end-to-end network environment that will support a wide range of devices.
The architecture will utilise hardware and software and incorporate network function virtualisation (NFV) and software defined networking (SDN) to build in intelligence and automation. The architecture will encompass mobile and fixed network infrastructure, devices from smartphones to wearables to machines, and network and management functions.
On the radio access side, new wireless technologies use higher frequency bands because they aren't in use and can deliver faster data transfer speeds. However, higher frequency signals don't travel as far as lower frequency ones so technologies will be needed to boost signals. Like 4G, obstacles such as buildings, trees or weather can also impact the connection. More base stations will be needed to deliver better coverage, as well as enhanced or all-new antenna technologies, such as Multi-User Multiple Input Multiple Output (MU MIMO), Sparse Code Multiple Access (SCMA) and Filtered OFDM (F-OFDM).
What are the challenges?
Beyond the obvious technological challenges, there are two main hurdles that 5G players will need to overcome.
Spectrum availability is crucial. Radio frequencies used for 3G and 4G are already overcrowded, so new spectrum will be required, and it will need to be in high frequency bands in order to deliver the envisaged data speeds. Allocation and management of spectrum is down to governments and there has been little harmonisation to date. This will have to change in order for 5G services to work globally, and the ITU's WRC has begun the process to identify and harmonise frequencies for 5G. In order to ensure that 5G spectrum does not run out, it may be necessary in the longer term to develop ways of using the spectrum more intelligently, ie by only assigning the amount that is needed for each task.
Cost is a big consideration. Until the technology is developed, no-one knows how much it will cost. But if the full benefits of 5G are to be realised, the price of 5G capable handsets and 5G services must not be prohibitive. Just because I can download more data, faster, does not mean that I will be prepared to pay a huge bill every month. According to the 5GIC, "In developing the 5G network there will be a pressing need to reduce end user costs: given that data requirements may grow up to a hundred-fold, monthly bills cannot increase by the same amount if emerging technologies are to be accessible for mainstream use."
What will 5G enable?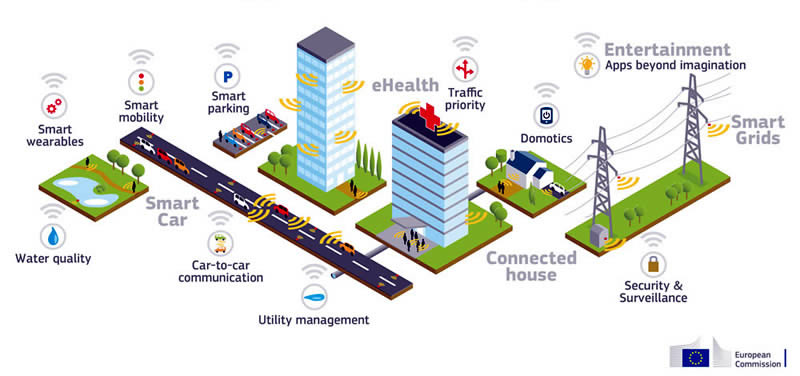 5G will enable a fully mobile and connected society. As end-users, we tend to think about faster data transfer and lower latency in terms of our own usage: downloading a movie more quickly, at any time or anywhere, statically or on the move, and with little or no lag. This will obviously be the case, but 5G will enable much more. On the entertainment side, lower latency will boost the multiplayer gaming experience and, further down the line, virtual and augmented reality (VR and AR) will provide an immersive gaming or movie experience. With 5G, a spectator at a football stadium will be able to watch a live stream of an alternative camera angle at the same time it is happening on the pitch.
That all sounds great, but it's not the reason mobile carriers and equipment vendors will invest billions to develop and roll out 5G. They will be looking to the more practical business use cases that will give them a return on their investment.
In the IoT age, phones, fridges, lights and pretty much anything else electric will all be connected to the internet. By 2020 it's predicted that there will be 50-100 billion devices connected worldwide, many of which will need continuous data access.
Connected cars and wearables are already in business, while drones are (forgive the pun) taking off. 5G will take these initiatives to the next level. Driverless cars that will be able to avoid an accident thanks to notification from sensors on the road. Smart cities that can guide motorists to a vacant parking spot, switch on street lighting when needed by emergency services or identify which roads to grit in bad weather. Smart grids that can conserve energy resources and manage energy consumption.
AR will have more uses than just entertainment, such as satellite navigation appearing on car windscreens and adverts projected onto shop windows. Holographic video could become a reality, which could be used for 3D medical imaging and more. Industrial equipment will be able to be controlled remotely for safer working practices, and a doctor could remotely operate a robot to carry out surgery on the other side of the world.
The possibilities are, quite simply, endless.
Who's In the Game?
Every operator and equipment vendor in the world wants to be at the forefront of 5G development. Industry associations all want to have their say, and national governments as well as the European Commission (EC) are attempting to drive the 5G agenda. Europe has lagged in rollout of 4G and seems determined not to miss out on 5G.
The road to 5G began in earnest in 2012, although China's Huawei and ZTE both (separately) began working on the technology in 2009. Here's a short roundup of who's been doing what and when.
2012: The ITU Radiocommunication Sector (ITU-R) launched the IMT-2020 roadmap for research into 5G. The EC co-funded the METIS consortium of vendors, operators, academia and the automotive industry.
2013: The NGMN Alliance began identifying the requirements for 5G standards. The governments of China, Japan and South Korea began working – independently – on defining 5G requirements. Japan set a target of commercial 5G availability in time for the 2020 Olympic Games in Tokyo, while the Korean Ministry of Education, Science and Technology announced $1.6b in funding to drive commercialisation of 5G by 2020 with data transfer speeds 1,000 times faster than those then available. The EC announced the 5G Infrastructure Public Private Partnership (5GPPP) joint research and innovation project with funding to the tune of €4.2b, of which the EC would contribute €700m. On the vendor front, Ericsson, Huawei, Nokia Siemens Networks and Samsung all began working on 5G.
2014: Ericsson demonstrated a 5Gbit/s throughput speed in the 15GHz frequency in laboratory trials. South Korean telco SK Telecom signed agreements with Ericsson and Samsung to develop 5G technology for demonstration at the 2018 Winter Olympics. Japan's NTT DoCoMo began experimental trials of potential 5G technologies across multiple frequency bands, working with a number of different vendors. The GSMA published a paper outlining eight criteria which have become the fundamentals for 5G. Huawei achieved a transmission speed of 115Gbit/s in a lab and joined Europe's 5GPPP.
2015: The ITU's World Radiocommunication Conference (WRC) decided on three new globally harmonised spectrum bands which can be used for 5G. The EU and China signed an agreement to speed 5G development. The 5G Innovation Centre (5GIC) was launched at the UK's University of Surrey and achieved truly impressive data transfer rates of 1Tbit/s under laboratory conditions. Huawei and NTT DoCoMo achieved peak speeds of 3.6Gbit/s using the sub-6GHz frequency band in a large scale field trial. Ericsson and China Mobile (the world's largest 4G operator in terms of subscriber numbers) signed an agreement to cooperate on 5G R&D.
January 2016: The 5GIC published a whitepaper proposing the Flat Distributed Cloud (FDC) as an architecture for 5G. Ericsson forged 5G agreements with TeliaSonera and Russia's MTS.
February 2016: The annual Mobile World Congress (MWC) gathering was all but overtaken by IoT. The EC proposed freeing up spectrum in the 700MHz band for 5G. Verizon announced it had begun limited trials in three US states, while AT&T said it would begin testing 5G in its own labs. Facebook announced the Telecom Infra Project (TIP) with partners including Intel, Nokia, Deutsche Telekom and SK Telekom, with the aim of open sourcing designs for next-generation wireless networking equipment.
March 2016: The ITU-R group refined the criteria for the selection of 5G radio interface technologies, moving it a step closer to defining standards for 5G. Ericsson and NTT DoCoMo conducted field trials in the 15GHz frequency band, with two simultaneously connected mobile devices achieving a download rate of over 10Gbit/s each. The two also exceeded speeds of 10Gbit/s some 70m from a base station, seven times further than previous achievements.
Where do we go from here?
Numerous vendors and other interested parties have demonstrated some impressive data transfer speeds – but all so far under laboratory conditions or in limited field trials. The achievements shouldn't be underestimated, but commercial deployment is still a long way off.
2016 has already seen numerous partnerships and technology trials, and those will ramp up over the remainder of the year and beyond. In the UK, EE has announced it will begin 5G trials in 2016.
It's looking like we'll see the first pilot 5G networks in 2018. Huawei is planning to launch the first 5G pilot network with its partners in 2018. Interoperability testing is to be completed in 2019 ahead of a commercial launch in 2020. Ericsson is planning to demonstrate 5G at the Winter Olympics in South Korea (as is Samsung) and at the World Cup in Russia, both in 2018. In partnership with Ericsson, TeliaSonera hopes to be one of the first operators to offer 5G, in 2018, initially in Stockholm and Tallinn.
At its meeting in 2019, the WRC will identify further spectrum to be used for 5G, in the higher frequency bands above 24GHz.
2020 is the widely talked about date for commercial availability of 5G and, while that target looks achievable, it will certainly not be the start of mass rollout. Like 4G and other generations before it, 5G will be rolled out in stages and will complement existing technologies.
The future is 5G
Excited yet? You should be! 5G might be a way off but dozens of organisations around the world are kicking into gear, collaborating and making 5G breakthroughs. It's an exciting period, one which will lead to a whole new technological era. We'll be there every step of the way, keeping you updated on all the key 5G news and developments.
Back