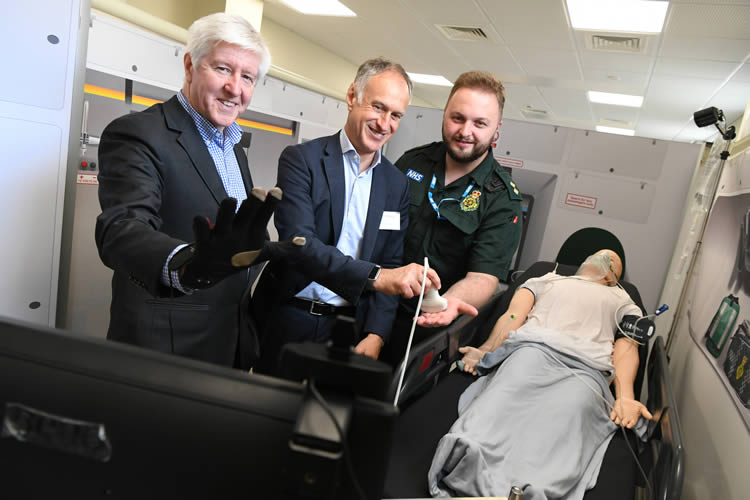 A demonstration at the West Midlands 5G test bed (dubbed WM5G) showed how emergency services and healthcare can benefit from 5G technology. WM5G, University Hospitals Birmingham (UHB) and BT conducted the UK's first demo of a remoted-controlled ultrasound scan over a 5G network.
The demo was hosted at UHB's simulation lab at the Institute of Translational Medicine and simulated a paramedic in the field who is performing an ultrasound scan on a patient. A clinician remotely guided the paramedic and was able to interpret the scan results in real-time. The clinician remotely controlled the ultrasound sensor using a joystick that sends direction signals to a haptic glove worn by the paramedic.
The speed of the 5G network supported sharper and more reliable imagery for the clinician than what has been achieved to date.
While the technology demo was in a lab, there are several real-world implications for healthcare and emergency services. Each year, UHB's emergency departments see an average of 408,000 patients, 113,500 of which use an ambulance. Being able to diagnosis patients in ambulances on route to hospitals will make triage more efficient and ensure faster treatment for emergency cases. It could also reduce the number of ambulance trips to hospitals if treatment can be performed with remote guidance from a doctor.
Efficency gains
Ultimately, the demo showed 5G's potential for efficiency gains at the NHS and better treatment for patients.
West Midlands Ambulance Service Strategic Operations Director, Craig Cooke, said: "The 5G network will allow us to further enhance clinical care in the mobile environment, building on the electronic patient record system (EPR) we have already implemented. In simple terms, 5G has the potential to help us provide better care, at the patient's side, and provide increasingly diverse treatment plans for patients.
"For example, it could allow us to explore live clinical face-to-face consultation with patients at the scene, before the ambulance has arrived. Equally, crews could access specialist assessments and consultations while with the patient through video conferencing or even using new technologies under the remote guidance of consultants or other clinical specialists removing the need for patients to go to hospital."
The demo in Birmingham follows another NHS project that is testing 5G to support in-home patient monitoring in Liverpool.
Working with UK's First Commercial 5G Network
BT's EE recently switched on the country's first commercial 5G network in six cities, which included parts of Birmingham.
Gerry McQuade, CEO of BT's Enterprise unit, said: "We're really excited to be working with WM5G and University Hospitals Birmingham on the first 5G healthcare trial to take place in the UK over a live public network. BT has a long and proud heritage of working with the NHS to better connect patients and healthcare professionals and the characteristics of 5G will deliver a huge-step change in speed, capacity and reliability."