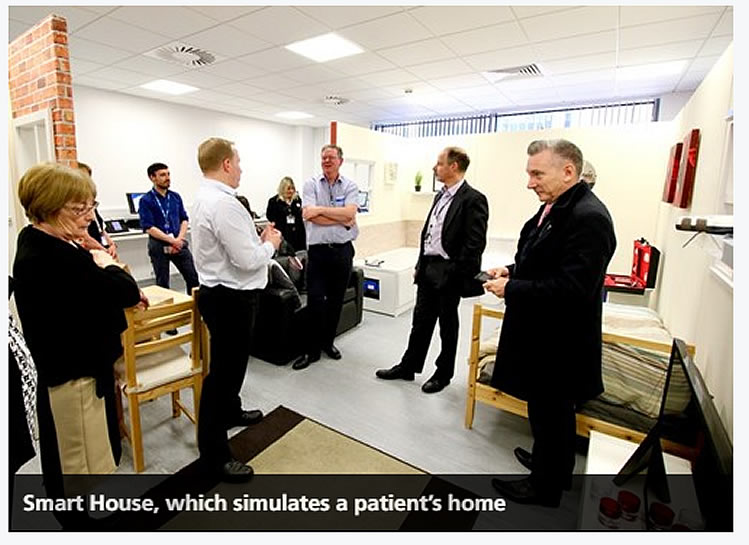 The National Health Service (NHS) has opened a digital testing space in Liverpool – the Livernerds Lab – aimed at trying out the latest healthcare technologies over 5G. The idea is to monitor patients in their own homes rather than have them traipse into hospital. Fewer hospital admissions promises a more efficient use of NHS resources and, potentially, better healthcare for patients.
The lab is kitted out with a 'smart room', which simulates a hospital room, and a 'smart house', which plays the part of a patient's home. The lab is putting a variety of digital technologies through their paces – sensor technology, virtual reality, telehealth and health care – and uses 5G to connect the 'smart room' with the 'smart house'.
The goal is to develop ways in which health professionals can remotely monitor important changes to a patient's health. Heart rate and blood pressure are among the things being looked at, while alarms can also apparently be raised if a patient takes a fall.
Livernerds lab
The Livernerds lab is located within Liverpool's Life Sciences Accelerator, a collaboration between the Royal Liverpool and Broadgreen University Hospital Trust and the Liverpool School of Tropical Medicine. The facility provides what it calls 'state-of-the art' labs.
The new lab leans on the work of the Trust's 'Global Digital Exemplar' programme and Liverpool 5G Health and Social Care, which is using the new facility as part of its £3.5 million scheme aimed at testing how 5G technology can help improve the delivery of health and social services to people living with long-term health conditions.
Dr Paul Fitzsimmons, deputy medical director at the NHS Trust, was optimistic about the benefits that remote health monitoring can bring. "Any changes will then trigger support and can prevent an unnecessary hospital admission," he said. "It is hoped that in the future this innovative work will also be used to support patients who are ready to be discharged from hospital."
Rosemary Kay, project director at Liverpool 5G Health and Social Care, saw international involvement in the offing. "We plan to use the Livernerds lab to give local, national and international companies the chance to test products," she said, "with the potential to drive digital change in health and social care provision on a 5G network."
5G on the operating table
Remote healthcare in terms of monitoring, which exploits the lower latencies and higher speeds of 5G, has long been viewed as a promising use case. At this year's Mobile World Congress (MWC), however, 5G involvement in telemedicine took a leap forward.
In what was pitched as a world first, 'remote surgery' was undertaken via a 5G connection. A gastrointestinal intervention was streamed live from an operating room at Barcelona's Hospital Clínic operating room, which was fitted with 5G. A surgeon located in Fire de Barcelona, MWC's host venue, then took advantage of 5G's low latencies to oversee the operation in 'real time'.
The pilot project was part of a wider 5G Barcelona initiative, which aims to turn the city into a 'digital hub' reference for other European cities. The initiative is supported by the Generalitat de Catalunya, the Barcelona City Council, Mobile World Capital Barcelona, ​​the i2CAT Foundation, the Telecommunications Technology Centre of Catalonia, Atos, and the Polytechnic University of Catalonia (UPC).