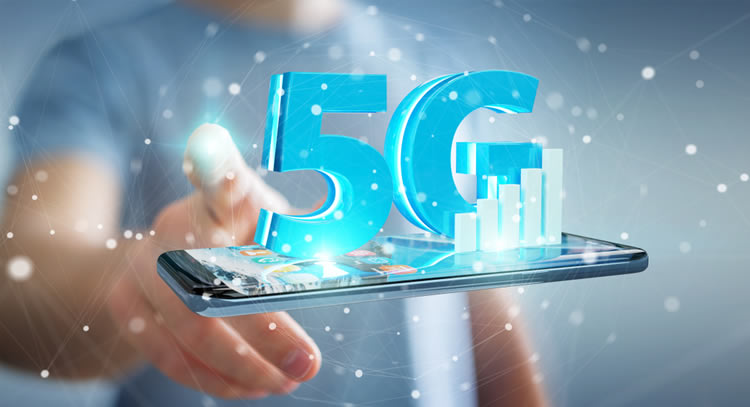 5G technology is coming and it is set to offer greater speed, capacity and coverage, as well as brand new applications and services. To take advantage of these benefits, we'll need new 5G-enabled phones.
While most current phones are still 4G, we're now starting to see the first 5G handsets arrive. Phones which in many cases are also packed full of features and power.
Here's a look at what 5G phones are available now, what ones are likely coming soon and why you might want one – beyond the promise of faster mobile data.
What 5G-ready phones are currently available?
While you can't buy any 5G phones yet, some have been announced and will be going on sale very soon. Below you'll find information on the handsets which have now been announced.
| | | |
| --- | --- | --- |
| 5G Phone | Announced | Release date |
| LG V50 ThinQ | February, 2019 | Second half 2019 |
| Huawei Mate X | February, 2019 | Second half 2019 |
| Samsung Galaxy S10 5G | February, 2019 | Second half 2019 |
| Xiaomi Mi Mix 3 5G | February, 2019 | Second half 2019 |
| ZTE Axon 10 Pro | February, 2019 | Second half 2019 |
Samsung Galaxy S10 5G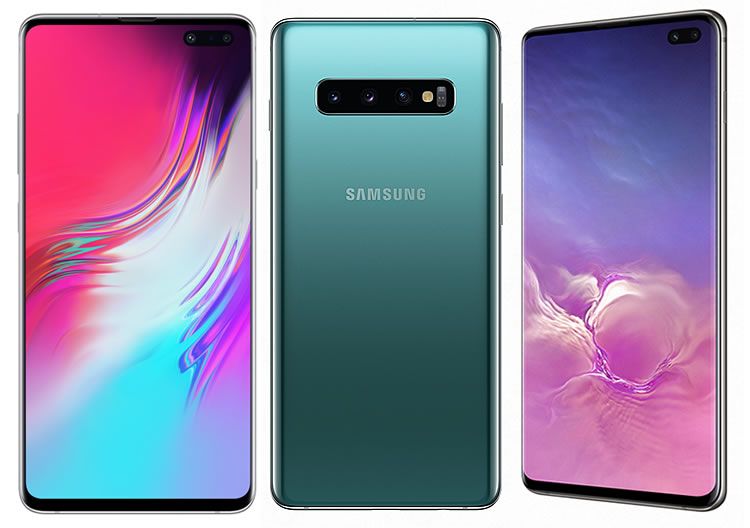 The highest profile announced 5G handset is the Samsung Galaxy S10 5G. This is a 5G version of the flagship Galaxy S10, but it's an upgrade in a number of other ways too, including its 6.7-inch QHD+ curved screen, its 4,500mAh battery, and six cameras, with four on the back (a 12MP f/2.4 telephoto lens, a 12MP lens that can switch between f/1.5 and f/2.4, a 16MP ultra-wide f/2.2 lens, and a 3D depth sensor), and two on the front (a 10MP one and a 3D depth sensor).
The Samsung Galaxy S10 5G is the only one of the range to sport 3D depth sensors and it's an addition made with 5G in mind, as the technologies combined could help power augmented and virtual reality use cases, among other things.
The Samsung Galaxy S10 5G also has an in-screen fingerprint scanner, a top-end Exynos 9820 chipset, 8GB of RAM and 256GB of storage, plus a premium, water-resistant build.
There's no exact release date or price yet for the S10 5G, but it's expected to land this summer and we know EE will be stocking it.
Huawei Mate X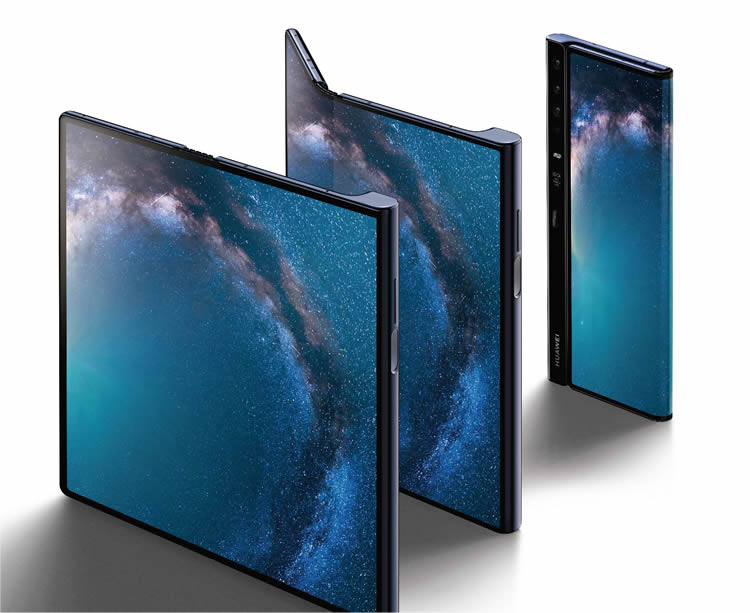 The Huawei Mate X is another very exciting 5G phone that's already been announced. In fact, it's even more exciting than the Galaxy S10 5G, but also more niche. That's because it also has a folding screen and is set to cost €2,299 (around £2,000).
The Mate X can be used as phone-sized device with a 6.6-inch screen on one side and a 6.4-inch one on the other, or it can be opened out into an 8-inch 2200 x 2480 tablet-sized device.
It has an OLED screen, three cameras, a super-powerful octa-core Kirin 980 chipset, 8GB of RAM, a massive 4,500mAh battery, and 512GB of storage, so this is a top-end handset even before you factor in the 5G or folds. EE and Vodafone have both confirmed plans to stock the Mate X at some point this year.
LG V50 ThinQ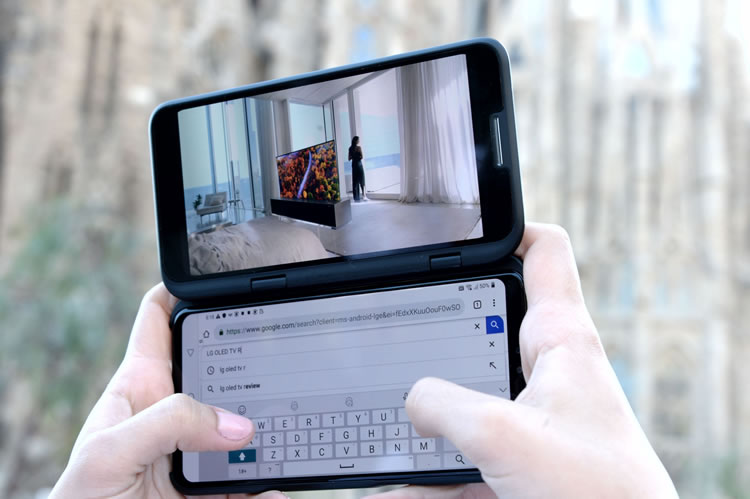 The LG V50 ThinQ is LG's first 5G phone and as well as 5G it has a 6.4-inch 1440 x 3120 screen, a top-end Snapdragon 855 chipset, 6GB of RAM, and a triple lens rear camera, with a 12MP standard lens, a 12MP telephoto one and a 16MP ultra-wide one.
It also has a 4,000mAh battery and stereo speakers, with the latter boosted by DTS:X technology which can create a surround sound-like experience, while aptX and aptX HD audio technology are used to improve the sound when using headphones.
Perhaps the most exciting aspect of the V50 ThinQ though – other than its 5G – is its optional DualScreen accessory, which lets you clip a second 6.2-inch screen to the device, one which can be used independently, bringing the LG V50 ThinQ a bit closer to being a folding phone.
We don't know exactly when you'll be able to buy the LG V50 ThinQ, but EE has revealed that it will exclusively be offering the phone in the UK.
Xiaomi Mi Mix 3 5G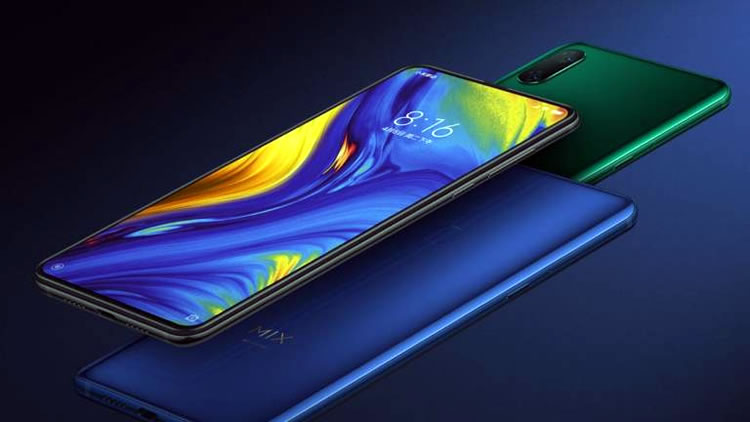 The standard Xiaomi Mi Mix 3 was actually announced back in 2018 and back then the company revealed that a 5G model would be launched at some point.
Well, that's now happened. The Xiaomi Mi Mix 3 5G in most other ways is similar to the standard model, but that's no bad thing. It has a 6.39-inch 1080 x 2340 AMOLED screen, and a slide-out dual-lens selfie camera, which in turn means there's no notch and almost no bezel.
Additionally, the Mi Mix 3 5G has a powerful Snapdragon 855 chipset, a pair of 12MP cameras on the back, a 3,800mAh battery, a dedicated Google Assistant button, a hybrid cooling system and a ceramic body. Plus, at just €599 (around £520) it could be one of the cheapest 5G phones available initially.
ZTE Axon 10 Pro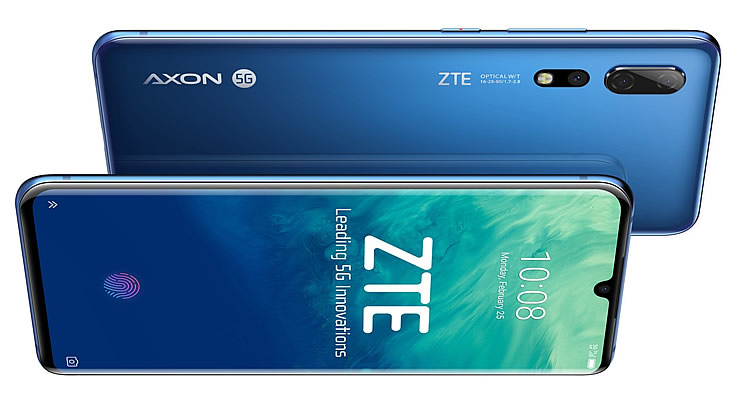 The ZTE Axon 10 Pro is another top-end phone that also supports 5G. It has a 6.47-inch 1080 x 2340 AMOLED screen, 6GB of RAM, a Snapdragon 855 chipset, barely any bezel and – like most current 5G phones – it uses the Snapdragon X50 5G modem.
There are three cameras on the back, namely a 48MP main lens, a 20MP ultra-wide-angle one and an 8MP telephoto one. Plus the ZTE Axon 10 Pro has a 4,000mAh battery, an in-screen fingerprint scanner, and AI smarts, which allow the phone to automatically adjust the CPU, GPU, RAM and ROM as needed. We don't know what the ZTE Axon 10 Pro will cost, but you should be able to buy it during the first half of 2019.
Moto Z3
There's also a sort-of 5G phone in the form of the Motorola Moto Z3. This is already available but only in the US, and it doesn't support 5G out of the box – instead you need to connect a 5G Moto Mod, which itself won't be landing until some point in early 2019 and will initially only work on Verizon in the US when it does.
The Moto Z3 itself has a Snapdragon 835 chipset, up to 6GB of RAM, a 6.01-inch 1080 x 2160 Super AMOLED screen, and a 12MP dual-lens rear camera.
Which manufacturers are rumoured to be launching 5G phones?
As you can see in the table below a number of other manufacturers are known or rumoured to be working on 5G phones.
| | | |
| --- | --- | --- |
| Manufacturer | Phone model | Rumoured announcement |
| OnePlus | To be confirmed | Mid 2019 |
| Oppo | To be confirmed | Mid 2019 |
| Honor | To be confirmed | Mid to Late 2019 |
| Apple | To Be confirmed | 2019/ 2020 |
| Vivo | To be confirmed | 2020 |
| Sony | To be confirmed | TBC |
| Huawei | To be confirmed | Mid to Late 2019 |
Apple
There have been rumours that Apple is trying to source a 5G modem for its 2019 iPhones, so we may see the first 5G phone from Apple in late 2019 (when the next iPhones are likely to launch).
Then again, Apple is typically slow to embrace new technology, particularly when the infrastructure for it isn't widely available, so we suspect we might not see a 5G iPhone before 2020. Indeed, that's now been specifically rumoured.
So our best guess for now is that the first 5G iPhone will be the iPhone 12 (or whatever Apple calls it) and that it will land around September 2020, but there's an outside chance that the iPhone 11, expected around September 2019, will support 5G.
If it is the iPhone 11, then rumours for it include a triple-lens rear camera, with two of the lenses being 14MP and 10MP, a 5.8-inch screen, smaller bezels and notch than the iPhone XS, a 4,000mAh battery, a USB-C port, and a 10MP front camera.
The iPhone 12 meanwhile will probably get all of that (if the iPhone 11 does) and may also have a 3D rear camera that uses lasers to function.
OnePlus
OnePlus has said that it plans to be the first to launch a 5G handset. Given that no such phone has yet been announced that now looks unlikely to be the case. However, the company has shown off a 5G prototype.
We know from this that it will use a Snapdragon 855 chipset and a Snapdragon X50 5G modem. There was also no obvious notch or camera cut-out in the screen, though the body was obscured, so we can't rule out bezels. The phone also appeared to have a 21:9 screen, but rumours suggest the final handset won't.
It's also not clear whether this will be the OnePlus 7 or the start of a new range, but if it's the former then it may well have a pop-up selfie camera, as that's rumoured for the OnePlus 7, and would explain the lack of a visible camera on the prototype.
EE has also confirmed that it will stock the handset, so you'll definitely be able to buy it in the UK. However, it will be expensive, at least compared to most OnePlus handsets, as the company has confirmed that it will cost $200-$300 more, which could bring the price close to £1,000.
Honor
Honor is also known to be working on a 5G phone, and having previously said that it aims to be the first to market, has now switched to saying its 5G phone will land in the second half of 2019.
We don't know anything about the phone yet, but it sounds like nothing is set in stone anyway, as in an interview with Android Authority, the company's president said "when and which model depends on the operators' infrastructure and progress."
Oppo
Oppo is also getting in on the 5G action, having announced plans to launch 5G phones at some point in 2019. It has also demonstrated 5G on a modified handset.
That phone had the same Snapdragon 855 chipset as many high-end handsets in 2019 are using, and the company has since confirmed that its final 5G phone will use the same chipset, and will land during Q2 2019 (April-June).
Vivo
Finally there's Vivo. The company has confirmed that it's working on a 5G handset using its Vivo Nex device as the basis, though it probably won't be available until 2020. It's also worth noting that Vivo handsets aren't often widely available in the UK, so you might have to import it.
The Vivo Nex, for what it's worth, has no bezel or notch at the top, as instead there's a pop-up selfie camera. It also has an in-screen fingerprint scanner, a 6.59-inch 1080 x 2316 screen, 8GB of RAM and a high-end (by 2018's standards) Snapdragon 845 chipset, as well as a dual-lens 12MP and 5MP rear camera pairing and a 4,000mAh battery.
Of course, we'd expect at least some of those specs will be changed or updated for the eventual 5G model. Most notably the chipset, which is no longer Qualcomm's latest.
Sony
Sony hasn't specifically confirmed a 5G phone, but it has come very close, talking a lot in blog posts and presentations about 5G technology (in one case mentioning both 5G and phones in the same presentation slide). So we might see a 5G phone from the company in 2019, though with the Sony Xperia 1 having been announced in February with no 5G, we might be waiting until the Sony Xperia 2 likely in late 2019.
That's not so surprising, as Sony has previously gone on record recently saying that it doesn't want to rush to launch a 5G handset. As yet though we don't know anything about the company's 5G phone.
Huawei
We also might soon see additional 5G phones from Huawei. As exciting as the Mate X is, it's also too expensive for most buyers, so it would make sense for Huawei to support a mainstream device with 5G. Most promisingly on that front, the company has previously suggested that either the Huawei P30 range (landing in the first half of the year) or the Huawei Mate 30 range (landing in the second half) would support 5G.
Why would I want one?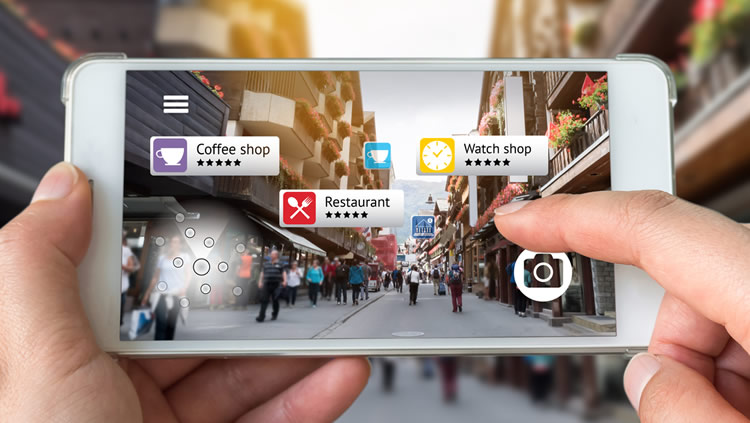 Beyond speed there are all sorts of reasons to want a 5G phone, as the tech is sure to enable all sorts of new and improved use cases, with the following being among the highlights:
Augmented Reality and Virtual Reality
Current 4G limits what can be done with applications such as Augmented Reality (AR) and Virtual Reality (VR) due to restrictions in bandwidth, latency and uniformity (the consistency of mobile connection). ABI Research anticipates that 5G will bring about "a 10X improvement in throughput, a 10X decrease in latency, a 100X improvement in traffic capacity, and a 100X improvement in network efficiency" over 4G, and could therefore unlock the full potential of VR and AR technology.
Augmented reality adds a virtual layer over the real world.
Already we are seeing the emergence of AR apps and games for smartphones – for example, being able to see how clothes or a new haircut will likely look on you before you take the plunge, or using Google's Translate app to translate content such as signs or menus. This is likely to be just the beginning. According to AR/VR consultancy Digi-Capital, mobile AR could hit an installed base of 900 million by the end of 2018, and 3.5 billion by 2022. ARtillry, an AR research and analysis firm, expects to see 4.25 billion AR devices available by 2022.
Soon, we could be using AR on our smartphones to check the stock of an item in a shop as we pass, evaluating the wait time and availability in a restaurant, or even finding friends in a crowd. In the future, car windscreens could display an AR overlay showing navigation directions.
Virtual Reality is about creating immersive computer-simulated worlds. Future 5G phones will likely be built with VR in mind.
Already a number of companies have built VR headsets which you can attach your phone to, and this is set to become far more mainstream.
With the power of 5G you'd be able to stream VR content and play online VR games wherever you are.
One example use case for VR with 5G is live-streaming a sporting event over social media, using VR to make the feed truly immersive – 5G promises the speeds necessary to make this a seamless experience and should be able to handle thousands of people streaming at the same time in close proximity.
3D video calls
5G also promises to enable 3D video calls, where the caller's perspective can change based on their position and angle. It could make the experience much closer to feeling like you're in the same room as the person you're talking to. Oppo tested 3D video calling with 5G earlier in 2018.
Holographic video

Holographic content is also a promising area, with phones projecting images out of the screen. There are already a few phones with built-in projectors, so this could almost be seen as the next step after that.
Holographic files are likely to be enormous in size, so to do them justice a 5G connection will be required. Vodafone has already carried out a holographic 5G call, so holograms could well be an early use for 5G.
Power
5G might offer the speed to drive all these applications, but smartphones will still need huge amounts of power on the hardware side.
Handsets are getting more powerful all the time, but by 2020 don't be surprised if your phone is as powerful as your current desktop computer.
Already phones with 8GB of RAM are available, so we could easily be at 16GB by then, coupled with enormously powerful processors.
Cloud computing
While smartphones are likely to start feeling more like super computers the cloud is also likely to become a much bigger part of our lives.
Given the size of holographic, VR and 8K content, much of it will likely be streamed over 5G rather than downloaded. However, with the speed of 5G, cloud use on our phones could go beyond just content storage and also be used to power apps and games, with the data essentially being run and processed on remote servers, then simply streamed to our phones over 5G.
In theory, that could further level out performance between low and high-end handsets, since even cheap phones could offload computing tasks to remote devices, just as long as they can get a 5G connection.
New form factors
With all these changes to the functionality of phones, their forms are likely to change too.
To make the most of AR and VR, phones might have extra cameras and sensors built in.
Projectors could be a common feature too. Features such as VR need a high-resolution screen to work well – soon, phones could widely support 4K (3840 x 2160) or even 8K (7680 x 4320) screens.
If cloud computing becomes key to 5G phones then the internal components could become minimal, aiding in the creation of super slim and even flexible and foldable devices. In fact, Samsung is already known to be preparing a foldable phone, possibly for launch as soon as 2019, but 5G could make such devices more mainstream.
If, on the other hand, future phones are packed full of power with super high-resolution screens, they could become ever larger. It's anyone's guess right now, but smartphones are sure to change in a big way with the arrival of 5G.
How much are they likely to cost?
When it comes to cost, we're starting to get some idea, as early models are priced at anywhere from €599 (around £520) in the case of the Xiaomi Mi Mix 3 5G, to €2,299 (around £2,000) in the case of the Huawei Mate X – though the latter also folds, so that will be a big part of the price there.
According to David McQueen from ABI Research, speaking to the BBC, costs could start at around $600-$700 (roughly £460-£535). That's actually lower than most current flagships, but he adds that 5G phones from the likes of Samsung and Apple will be priced "much higher."
With phones getting more expensive almost every year (at least at the top end) and 5G being a new technology, we wouldn't be surprised if early 5G handsets from big companies cost well over £1,000. There have been rumours, for example, that the Samsung Galaxy S10 5G could cost around £1,400.
The Samsung Galaxy S10 Plus costs £899 and the iPhone XS at £999, so you'll be paying at least that much for 5G models.
Smaller name handsets will likely be significantly cheaper though, in line with McQueen's estimates.