Choose EE 5GEE Router 2021 Version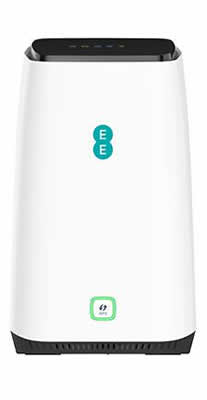 EE 5GEE Router 2021
The new 5GEE Router 2021 is fast and comes with a great range of features.
Fast average speeds of 150Mbps
Easy to set up in no time at all
64 connections supported at any one time
Extensive 30 metre Wi-Fi range for far reaching coverage
Overview

Specifications

Specs
Overview
The 5GEE Router 2021 is currently EE's latest router supporting fast 5G home broadband and is likely the best you can find on any UK network today.
Average 5G download speeds of 150Mbps are attainable with peak download speeds up to three times that. Of course, this is faster that many fibre broadband connections.
The router comes with an impressive 30 metre coverage range and that you suffice nearly all home requirements for a good stable Wi-Fi connection anywhere within range.
Who needs to connect up 64 devices simultaneously, not many consumers I guess, but the 5GEE Router 2021 does with ease.
It comes with two Ethernet ports for wired connections and is simply setup to be a plug and play device. Of course, this means that there is no need for a landline and no need for an engineer to visit your house.
Just in case you do need to boost your incoming 5G signal, you are able to connect an external antenna to the antenna port.
The 5GEE Router 2021 arrives with something else – kerb appeal. This is a very stylish router having a curved design and a swish white body and contrasting black colour scheme.
As mentioned above, it is currently the best performing 5G home broadband router around.
Specifications
Dimensions (mm): 227 x 133 x 131
Modem: 5G
Colours: White
Ethernet ports: 2
Download speeds: averages 150Mbps
Wi-Fi specs: 802.11a/b/g/n/ac/ax
External antenna: 4x antenna ports
Power: Mains powered
Launch date: Out now