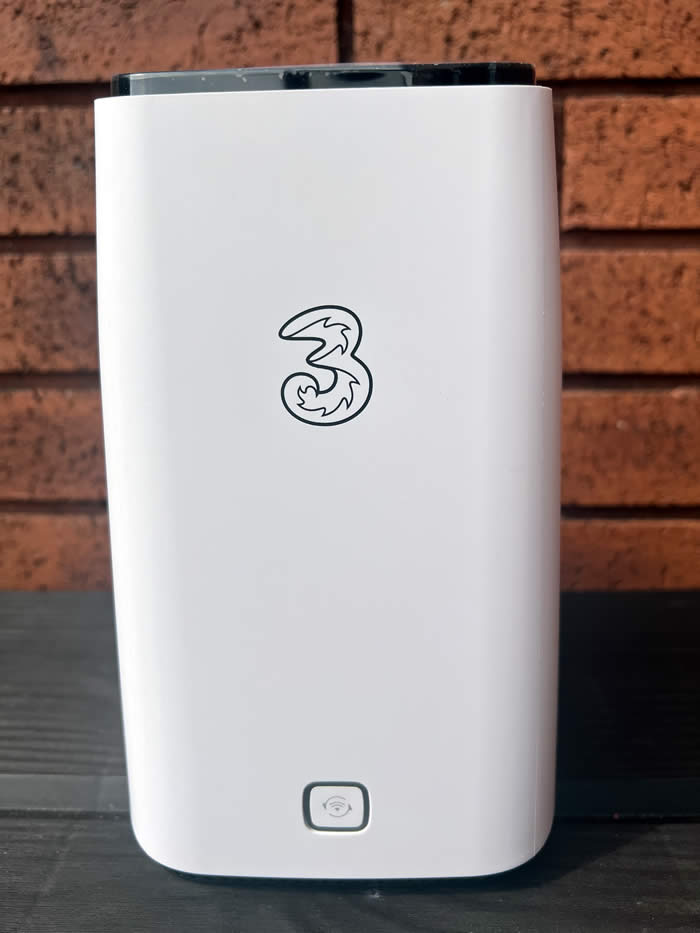 | Pros | Cons |
| --- | --- |
| Very fast | Three's 5G can't make the most of the hardware |
| Multiple Ethernet and antenna ports | Plain design |
| Unlimited data at a competitive price | |
Verdict
The Three 5G Hub is an excellent way to get 5G broadband at home. While it doesn't stand out much from some rivals, it's very fast, provides good coverage to your home, and has all the ports you should need.
Three 5G Broadband


£22.00

a month
24 month contract
Three 5G Broadband


£25.00

a month
1 month contract
Full Review

Specifications

Specs
Full Review
If you're after 5G home broadband then your options are limited at the time of writing – not many networks offer it, and they typically only offer one router each.
Take Three – if you want 5G home broadband on this network, then you can only get it with the Three 5G Hub (also known as the Three 5G Home Broadband Hub) currently, but that needn't be a problem, as this is a very good device.
From its fast speeds (like all 5G routers) to its simple setup, along with other useful specs and features, most buyers should be happy with this, but to find out more – and whether it's the right router for you – read on below.
Design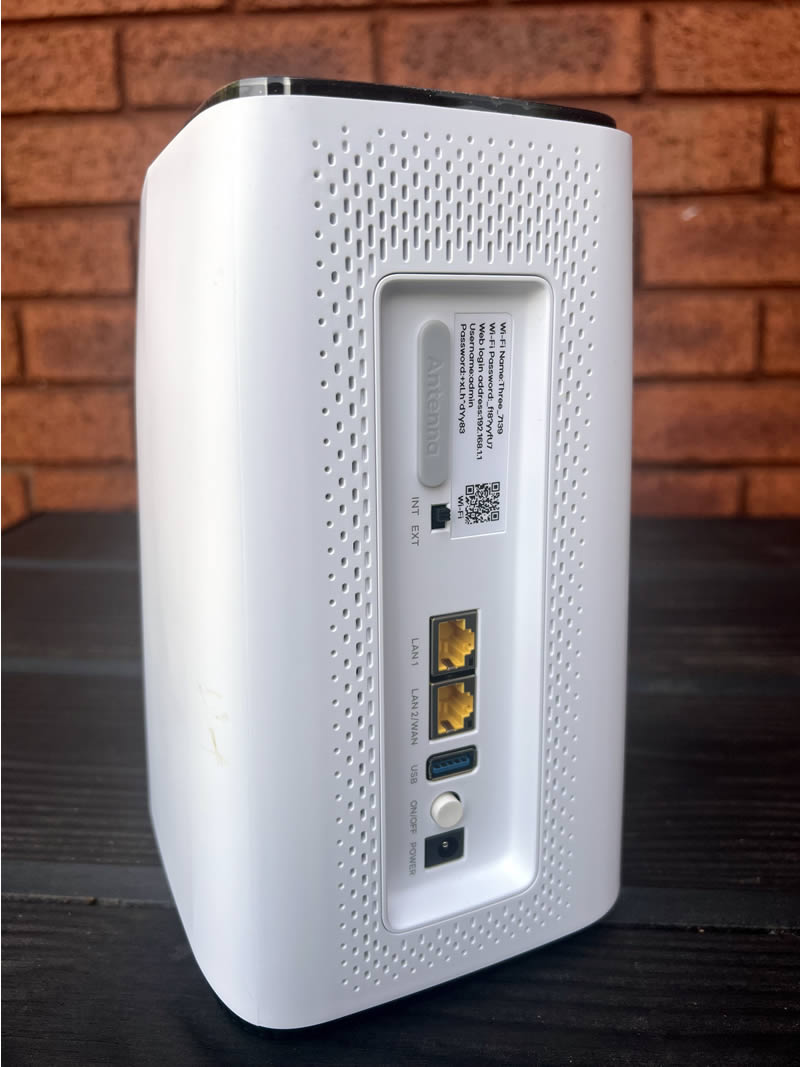 The Three 5G Hub is actually a Zyxel NR5103E to give it its full name. It's a tall, curvy box, it comes only in white (with a black top and bottom), and it has dimensions of 132.5 x 134 x 230mm.
Despite being made by Zyxel, the only big brand name you'll see on the device itself is Three's, but that's not uncommon, with networks often rebranding hardware from other companies.
Indeed, this isn't the first Three 5G Hub. Previously the company had a device with the same name, which under the surface was a ZTE MC801A 5G Hub. But that's no longer available, and this new model is both faster and supports more simultaneous connections.
In any case, there aren't many other details to note – there are a few indicator lights at the top and a few ports on the back, but basically it's a very plain router, as most such things are.
It's not likely to either offend or excite from a design perspective, which is exactly what we want from a 5G router.
Setup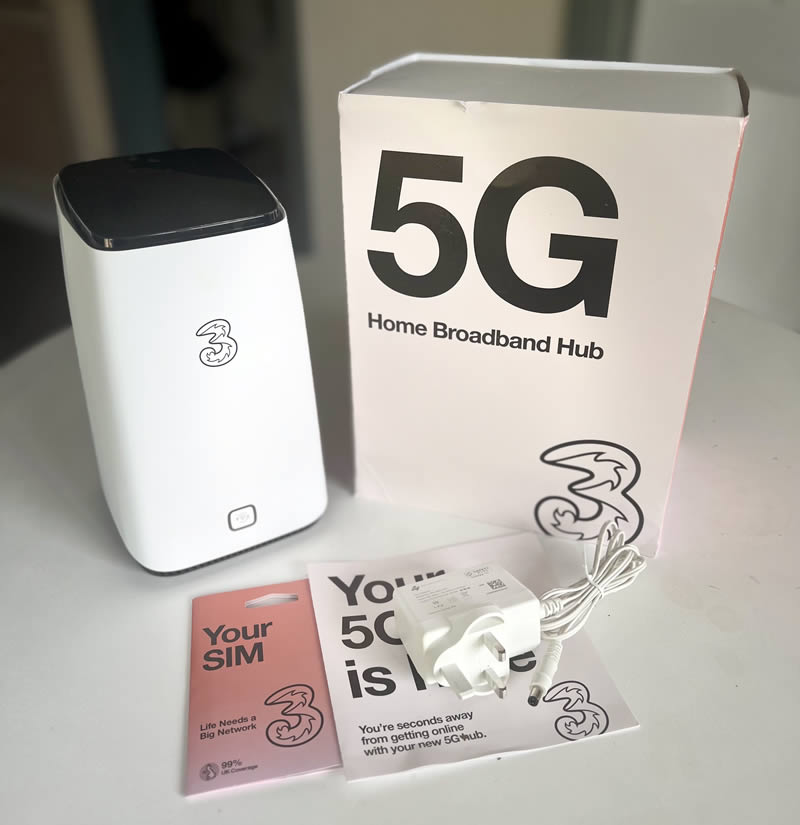 Like most 5G home broadband devices, the Three 5G Hub is essentially plug and play – just plug it in and it will start working. That means no engineer visits and no need for a landline, the latter of which means you can potentially save money, and the former means you can save time in getting your broadband up and running.
Of course, getting the Three 5G Hub configured involves a bit more than just plugging it in – you'll likely want to change the security settings and potentially the Wi-Fi name, but that too is simple and speedy to do.
There's also a dedicated app to help you monitor and manage the hub from your smartphone.
And once it's configured you can easily just plug the Three 5G Hub in at a new address if you move house or want to take it with you somewhere else – though you'll need 5G coverage to make the most of it.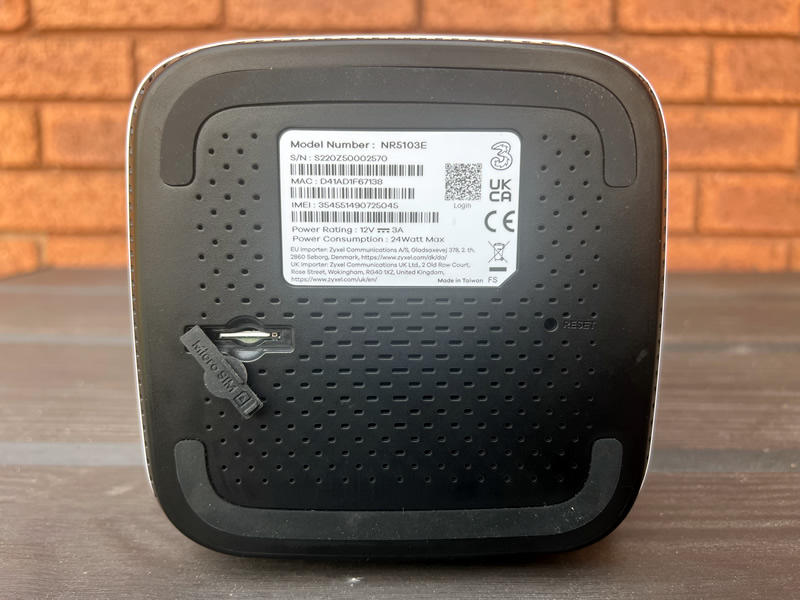 Performance and speeds
Three 5G Hub Speeds

| | Download speeds (Mbps) | Upload Speeds (Mbps) | Latency (ms) |
| --- | --- | --- | --- |
| Average | 496 | 16.2 | 33 |
| Maximum | 621 | 34.8 | 26 |
| Minimum | 119 | 11.8 | 45 |
The Three 5G Hub supports download speeds of up to 4.7Gbps, and upload speeds of up to 2.5Gbps.
However, in reality you probably won't get speeds anywhere near that in most cases. Average speeds vary by location, but Three claims that average speeds should be 150Mbps for at least 50% of 5G broadband customers, between the peak hours of 8am and 10pm.
That's great, but still a long way short of the theoretical maximum – though note that Three claims that its network tops out at 1Gbps with this device, so even at the top end, the hardware is capable of more than Three's network will currently allow for.
Still, that does mean the Three 5G Hub is future-proofed, and those speeds are significantly faster than most 4G home broadband connections, as well as competing with fibre broadband.
While you can get average speeds of 1,130Mbps if you opt for a Virgin Gig1 fibre connection, that's not available in most places. Indeed, the average fibre broadband connection is far slower than you can potentially get with the Three 5G Hub. BT Broadband's most widely offered fibre deals for example have average speeds of between 35Mbps and 73Mbps.
Features and software
The Three 5G Hub has just about all the features you'd expect and then some. It supports both 2.4GHz and 5GHz Wi-Fi, along with Wi-Fi 6, it has two Ethernet ports for wired connections, and it also has antenna ports, so you can give it a signal boost if needed.
Plus, the Three 5G Hub can get up to 64 devices connected to the internet at once. That should be far more than almost anyone would need, and it's in line with the best rival devices, like the 5GEE Router 2021 (also known as the Smart 5G Hub). It's also a lot more than the 30 connections that the previous generation of the Three 5G Hub allowed for.
Alternatives
The two main alternatives to the Three 5G Hub are the 5G Vodafone GigaCube and the EE 5GEE Router 2021.
The 5GEE Router 2021 is actually the same device as the Three 5G Hub just with EE branding, so there's no difference here. The only choice will be based on the networks themselves – their coverage and prices.
As for the Vodafone GigaCube 5G, that has largely similar specs, including support for 64 simultaneous connections, but its theoretical speeds are lower – though still higher than any UK network can currently manage, so that's not really a factor.
All three devices also have two Ethernet ports, as well as antenna ports, and a fairly plain, mostly white design.
Beyond the hardware differences, you should be selecting based on price, coverage, network speeds, and data allowance.
We'll get to Three's plans below, but they're very competitive. Three's 5G coverage is also growing rapidly, though of course that doesn't mean you'll have it in your home. At the time of writing if you have any 5G coverage it might be limited to just one network, so that by default will be the one to go for if you want 5G home broadband.
If you do have a choice though, then it's worth noting that Three's 5G is frequently faster than rivals. For example, a September 2022 report from Opensignal found that Three's average 5G download speed was the highest, at 228.4Mbps.
Similarly, a report from RootMetrics covering the second half of 2022 found that Three's median 5G download speed was the highest at 202.8Mbps, and its 95th percentile 5G download speed (meaning the 'best case' 5G speeds) was also the highest at 739.4Mbps.
These were tests of smartphones, but similar results would likely be found with 5G home broadband routers. You can read more about each network's 5G speeds in our 'how fast is 5G?' guide.
Plans
At the time of writing, Three offers its 5G hub on the choice of a 1-month or 24-month contract. Either way you get unlimited data, with 24 months coming in at £20 per month, while a 1-month plan costs £24 per month, and there's no upfront cost in either case.
We're fans of the simplicity of the plans on offer. While some networks offer a range of plans with differing data limits, the fact is that home broadband should be unlimited, so there's little need for that. The pricing here is also very competitive.
Conclusion
The Three 5G Hub is an excellent 5G home broadband router. It's fast, affordable, designed for maximum coverage, and has handy Ethernet ports and antenna slots.
We have no major complaints, so if you have 5G coverage at your home on Three, then this is a superb option and a strong alternative to fibre broadband. That said, price aside the rival devices from EE and Vodafone are similarly accomplished.
Three 5G Broadband


£22.00

a month
24 month contract
Three 5G Broadband


£25.00

a month
1 month contract
Specifications
Dimensions (mm): 132.5 x 134 x 230
Modem: 5G
Colours: White
Ethernet ports: 2 Ethernet ports
Download speeds: Up to 4.7Gbps
Upload speeds: Up to 2.5Gbps
Wi-Fi specs: Dual-band 802.11a/b/g/n/ac/ax (Wi-Fi 6) 4 x 4 MIMO
External Antenna: 4 x TS-9 antenna extension ports
Power: Mains powered
Launch date: Out now