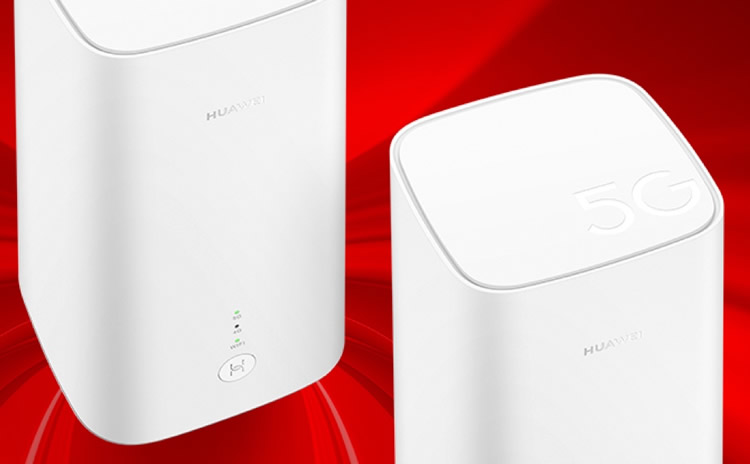 | Pros | Cons |
| --- | --- |
| Supports 64 simultaneous connections | Three offers the same for less |
| Very high speeds are possible | Only two Ethernet ports |
| Lots of plan options | Won't stand out |
Verdict
The Vodafone GigaCube 5G is your only choice if you want 5G home broadband from Vodafone, so it's fortunate that it's a very capable device, we just wish it was a bit cheaper.
Vodafone GigaCube 5G


£40.00

a month
24 month contract
Vodafone GigaCube 5G


£60.00

a month
24 month contract
Full Review

Specifications

Specs
Full Review
If you plan to get 5G home broadband on Vodafone, then at the time of writing it's the Vodafone GigaCube that the company will send you. Specifically, the Vodafone GigaCube 5G, as there's also a 4G version that's a completely different device.
While it's a shame that there's no choice offered, that's not unusual among broadband providers and – as you'll see below – the Vodafone GigaCube 5G is a very good 5G home broadband device, albeit one that doesn't offer much you won't get from rivals.
Below we'll cover everything you need to know about the Vodafone GigaCube 5G, including its design, specs, features, and the key rivals you'll find elsewhere.
Design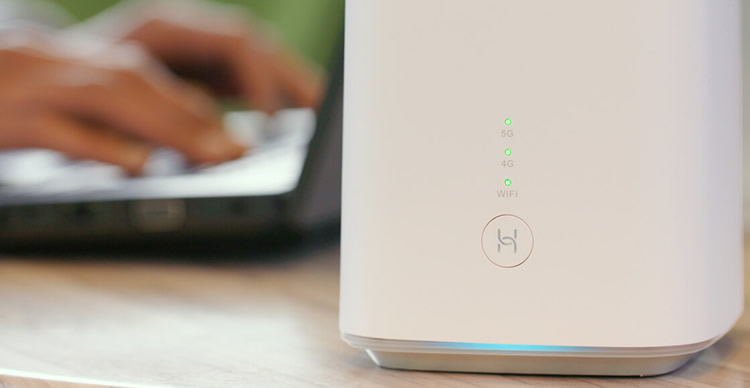 The Vodafone GigaCube 5G is a white rectangle that stands upright like a mini monolith. It has a blue light at the bottom, a few indicator lights for 4G, 5G and Wi-Fi performance just above, and higher still a Huawei logo, as while this is sold as the Vodafone GigaCube, it's actually a Huawei 5G CPE Pro, specifically the H112-370 version of the Huawei 5G CPE Pro.
You don't need to worry too much about the version number, but we'll get to how it performs below. In terms of how it looks, it's plain, with most of the points of interest actually being hidden away at the back. It's here that you'll find a pair of Ethernet ports, along with the power lead and power button.
At 99 x 107 x 215mm it's taller than most broadband devices, but should still comfortably fit on most surfaces.
Setup
One of the good things about 5G home broadband is just how quick and easy it is to set up. The process is similar on most devices, but essentially you just need to put the supplied SIM card in, plug the Vodafone GigaCube 5G in, switch it on, and then it should quickly get up and running.
From there you can connect to the network it broadcasts using the supplied Wi-Fi password, and optionally configure additional settings or change the password via a web browser.
Anyone who's ever set a router up before or has even the most basic of tech skills should find this refreshingly easy to set up, and the best bit is that there's no need for an engineer to visit and no need to wait for your connection to be switched on. So where wired broadband can take days or weeks to get up and running, with the Vodafone GigaCube 5G you can have your internet working within minutes of receiving the device.
Again though, this is similar to most 5G home broadband devices, so only really an advantage compared to traditional broadband.
Performance and speeds
While the GigaCube itself is theoretically capable of download speeds of up to 2.33Gbps, realistically you're not going to be getting that outside of lab conditions.
Vodafone for its part claims top 5G speeds of a more realistic 1Gbps at the moment, which is still extraordinarily fast, and still faster than most homes will probably get.
Given the performance of Vodafone and the UK's other 5G networks in general at the moment, most people probably won't see an average speed of much more than 250Mbps for the time being, but there is the potential that this could improve in time as networks do.
In fact, in many areas your average speeds will likely be lower still. Independent testing by Opensignal in 2022 found Vodafone's average 5G download speed to be 105.2Mbps, while RootMetrics similarly found its median to be 107.4Mbps, though actual speeds will very much depend on how close you are to a mast, among other factors.
Even at just over 100Mbps though you're looking at speeds that are far higher than a typical 4G connection, and while some fibre broadband will have that beat, most won't. So you're likely to be able to get speeds from the Vodafone GigaCube 5G that rival or beat the speeds you can get from conventional broadband – just as long as your home has Vodafone 5G coverage.
Features and software
Some 4G broadband devices allow for a frustratingly small number of simultaneous connections, but that's not so far the case with most 5G ones, including the Vodafone GigaCube 5G, which can get up to 64 devices online at once. That means even if you have multiple phones, tablets, TVs, computers, consoles and more all trying to connect to the internet at once, the Vodafone GigaCube 5G won't have an issue.
The device also has two Ethernet ports, so you can get a wired connection to a couple of your gadgets if you want, and it supports both 2.4GHz and 5GHz Wi-Fi.
The Vodafone GigaCube also has an internal antenna design that's configured to allow for 360-degree coverage. That means you shouldn't need to worry too much about placement, though as it doesn't need connecting to a landline you're also free to place it anywhere in reach of a socket, and if your signal needs a boost you can attach an external antenna.
Alternatives
The Vodafone GigaCube 5G has two main rivals, namely the Three 5G Hub and the EE Smart 5G Hub.
But actually underneath the branding those two devices are the same as each other – though different to Vodafone's.
So they both support download speeds of up to 4.7Gbps, making them faster than the Vodafone GigaCube 5G, though real-world speeds will typically be far lower than that peak and more in line with what you can expect from the GigaCube 5G.
That said, tests from RootMetrics and Opensignal suggest that Three and EE offer higher average and median 5G download speeds than Vodafone, so that's worth considering. As noted above though, the speeds you personally get will have as much to do with your location as your network.
Beyond speeds, these rival devices both support 64 simultaneous connections, matching Vodafone's, and they also have as many Ethernet ports.
Beyond these, some networks offer hybrid devices that can work either as home broadband or mobile broadband. That is to say, they pump out a 5G signal and can be either battery powered (to take with you) or plugged into the mains (for longer term use in one spot).
On EE for example you can get the EE 5G WiFi, a device that can also get up to 64 gadgets online at once but that has a 6,460mAh battery for use on the move.
Plans
At the time of writing, the Vodafone GigaCube 5G is available on a 24-month contract with unlimited data for £60 per month, plus £50 upfront, or with 200GB of monthly data for £40 per month plus £50 upfront, or 100GB of data for £30 per month plus £100 upfront.
Alternatively you can get it on just a 30-day plan where you essentially buy it outright for £325, then pay the same monthly prices as above for unlimited data, 200GB, or 100GB.
The option of short or long-term contracts is good, but on a 24-month plan Vodafone is charging significantly more than Three for the same device.
Conclusion
The Vodafone GigaCube 5G is an excellent 5G home broadband router, and one that's broadly competitive with rival devices, though tests suggest that Three and EE might have Vodafone's 5G speeds beat.
Still, Vodafone's 5G should be more than fast enough for most users, so the biggest deciding factor (assuming you have 5G coverage at home from multiple networks) is the allowances and prices, and on that front, while Vodafone has a pleasing number of plan options to choose from, it just can't compete with Three for price.
As such, we can't rate Vodafone's take on the device quite as high, but it's still an excellent purchase, and if you have Vodafone 5G coverage at home you won't likely regret buying it.
Vodafone GigaCube 5G


£40.00

a month
24 month contract
Vodafone GigaCube 5G


£60.00

a month
24 month contract
Specifications
Dimensions (mm): 99 x 107 x 215
Modem: 5G
Colours: White
Ethernet ports: 2 Ethernet ports
Download speeds: Up to 2.33Gbps
Upload speeds: Up to 1.25Gbps
Wi-Fi specs: Dual-band 802.11ax/ac/a/n 4 x 4 MIMO, and 802.11b/g/n 2 x 2 MIMO (2.4GHz and 5GHz)
External Antenna: 2 x 5G antenna extension ports
Power: Mains powered
Launch date: Out now