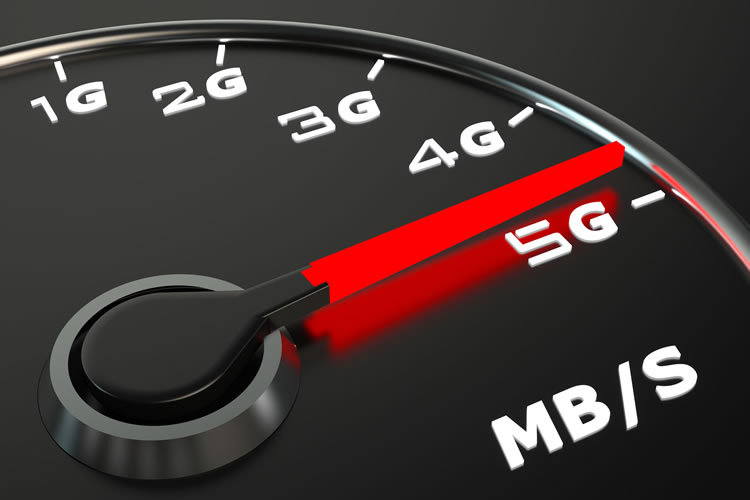 Updated : 27th September, 2018
5G is still in the early stages of development – the first trials in the UK are in the works, but the first commercial services won't be available until late 2019-2020 and widespread deployment will probably take years – but it will be far superior to 4G in every way.
5G is being designed to provide huge capacity and deliver extremely fast data speeds to support a wide range of innovative new services across different industries. It is the next generation of mobile technology but it will be leaps and bounds ahead of 4G. We've put the two head to head across various categories to give an idea of just how much better 5G will be, and how much more it will enable.
DOWNLOAD SPEED
5G will be much, much faster than 4G, making it and even high-speed fibre broadband seem sluggish. A minimum expectation is for download speeds of 10Gbps, more than 1000x faster than 4G and enabling an entire HD film to be downloaded in under 10 seconds. That compares with a similar number of minutes for 4G, which is contingent on having peak rates for the entire download – very rarely the case.
Download Speeds

4G real world

20Mbps average

4G theoretical

300Mbps

5G real world

10-50Gbps

5G test environment

1Tbps
There is considerable variation between the four operators, with the highest rates achieved by EE Mobile (27.29Mbps) and the lowest by O2 Mobile (14.46Mbps).
LATENCY
There's not much point in being able to download an HD movie in under 10 seconds if there's a lag in being able to watch it. 5G will have far superior latency than 4G enabling play to begin almost, if not, instantaneously. One of the criteria for 5G set out by the GSMA is for latency of 1ms, 50 times better than 4G, although it may be some time before those rates are achievable in the real world.
Latency

4G

50 milliseconds

5G real world

1 millisecond
SPECTRUM/CAPACITY
5G will operate in much higher frequency with larger bandwidths than 4G, to meet the capacity requirements of 5G. However, they can't travel as far as lower frequency bands and they are not as good as passing through buildings so will be used in combination with lower frequencies to enable wide area 5G coverage.
Spectrum at very high frequencies above 24GHz is commonly known as millimetre wave (mmWave) and has very large bandwidths that will provide ultra-high capacity and very low latency. Cells at mmWave frequencies will have very small coverage so 5G buildout in this spectrum will focus on specific locations requiring very high capacity or areas with high traffic demands.
Ofcom and other European regulators have identified three bands for 5G in Europe that can be globally harmonised:
700MHz low bandwidth spectrum
3.4-3.8GHz high bandwidth spectrum
24.25-27.5GHz very high bandwidth spectrum
After some legal challenges, Ofcom completed the UK's first auction of 5G spectrum in April 2018, with all four operators all winning some. In total, 40MHz of 2.3GHz spectrum and 150MHz of 3.4GHz were auctioned. The 2.3GHz spectrum is available for immediate use to provide extra capacity for 4G. The 3.4GHz spectrum has been identified as central to the rollout of 5G across Europe. A second auction is expected to comprise 116MHz of spectrum in the 3.6-3.8GHz bands as well as frequency in the 700MHz band. There's no indication yet when that could be held. Ofcom is in the process of clearing the 700MHz frequency for mobile use, with a target completion of no later than mid 2020.
| | |
| --- | --- |
| 4G Frequency Spectrum | 5G Frequency Spectrum |
| 800MHz | 700MHz |
| 1.8GHz | |
| 2.6GHz | 2.3GHz |
| | 3.4GHz |
| | 3.6-3.8GHz |
| | 24GHz and higher |
Ofcom has identified the 26GHz band (24.25-27.5GHz) as the next priority for global harmonisation, which – along with the 37-43.5 and 66-71GHz bands – it plans to put forward for use at the World Radiocommunications Conference in October 2019.
Further reading: 5G UK auction
TECHNOLOGY
5G will build on LTE technology used in current 4G networks but will employ other technologies – some that are already available and others yet to be developed – in order to provide the capacity, speed and ubiquity needed to support the vast range of services and use cases envisaged for 5G. It will use software, cloud-based and other intelligent technologies to deliver a network that is efficient, flexible, scalable, agile and dynamic.
It is likely to comprise lots of small-scale infrastructure deployments (aka small cells) rather than the smaller number of large masts in a 4G network.
Ultimately 5G could be a converged wireless and fixed network infrastructure that provides services to the end device wirelessly, as envisaged in the 5GIC's Flat Distributed Architecture proposal.
Further reading: Guide to Small Cells, HetNets and 5G
COVERAGE
5G is intended to give the perception of 100% coverage as the quality, speed and predictability of the user experience will give the impression of full coverage, continuous availability and infinite capacity whether the user is at rest or on the move, wherever the user is or going to. Of course, that will not be available nationwide at launch, and likely not for years after commercial services become available.
But, where services are available, 5G coverage will be far superior to 4G.
The UK's 4G operators are all stepping up their efforts to boost coverage. Ofcom is working with them and other bodies to improve coverage, with national roaming and greater infrastructure sharing high on the list, as well as femtocells and WiFi to boost indoor coverage and improving signals on the UK's roads and railways.
EE currently has the best coverage of the four, with its network reaching over 98% of the UK population. However, that's still only around 75% of the country and EE is planning to reach 95% geographic coverage only by 2020.
Even when 4G rollout is complete, there will still be some properties where the provision of mobile services is not commercially viable and there will still be no guarantee of an uninterrupted signal. Signals are not available, calls are being dropped and download speeds can be low in areas with supposedly full 4G coverage. 5G will eliminate those issues.
AND THE WINNER IS…
5G will clearly be superior to 4G in every way – and by a wide margin. However, early 5G services are unlikely to deliver the full potential in terms of speed and latency and full nationwide coverage is years, potentially decades, away. Operators are still investing to improve 4G coverage years after the first services became available, and 5G is going to require a level of investment that could make 4G deployment seem cheap in comparison.