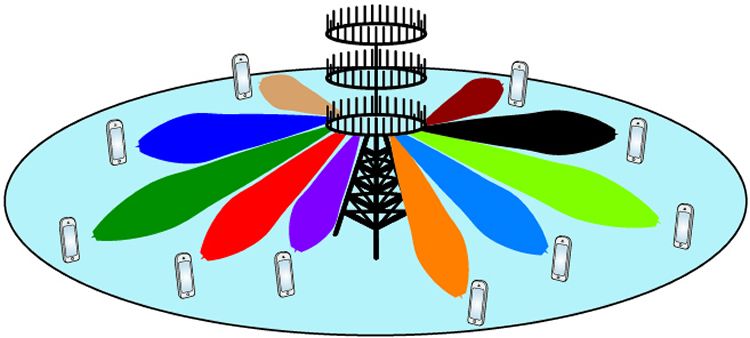 Massive MIMO technology is all set to be a core component of the super-fast 5G networks that will commence rolling out from the end of 2019. But what exactly is Massive MIMO, and why is it so essential to the operation of 5G?
What is Massive MIMO?
MIMO stands for Multiple-input multiple-output. While it involves multiple technologies, MIMO can essentially be boiled down to this single principle: a wireless network that allows the transmitting and receiving of more than one data signal simultaneously over the same radio channel.
Standard MIMO networks tend to use two or four antennas. Massive MIMO, on the other hand, is a MIMO system with an especially high number of antennas.
There's no set figure for what constitutes a Massive MIMO set-up, but the description tends to be applied to systems with tens or even hundreds of antennas. For example, Huawei, ZTE, and Facebook have demonstrated Massive MIMO systems with as many as 96 to 128 antennas.
Ericsson's AIR 6468, which the company claims is "the world's first 5G NR radio", uses 64 transmit and 64 receive antennas.
What are the advantages of Massive MIMO?
The advantage of a MIMO network over a regular one is that it can multiply the capacity of a wireless connection without requiring more spectrum. Reports point to considerable capacity improvements, and could potentially yield as much as a 50-fold increase in future.
The more antennas the transmitter/receiver is equipped with, the more the possible signal paths and the better the performance in terms of data rate and link reliability.
A Massive MIMO network will also be more responsive to devices transmitting in higher frequency bands, which will improve coverage. In particular, this will have considerable benefits for obtaining a strong signal indoors (though 5G's higher frequencies will have their own issues in this regard).
The greater number of antennas in a Massive MIMO network will also make it far more resistant to interference and intentional jamming than current systems that only utilise a handful of antennas.
It should be noted, too, that Massive MIMO networks will utilise beamforming technology, enabling the targeted use of spectrum. Current mobile networks are rather dumb in the way they apportion a single pool of spectrum between all users in the vicinity, which results in a performance bottleneck in densely populated area. With Massive MIMO and beamforming such a process is handled far more smartly and efficiently, so data speeds and latency will be far more uniform across the network.
MIMO and 5G
While standard MIMO principles are already in use across multiple Wi-Fi and 4G standards, Massive MIMO will really come into play once 5G arrives. Indeed, it's widely expected that Massive MIMO will be a key enabler and foundational component of 5G.
One of the key roles of any 5G network will be to handle the huge increase in data usage that's around the corner. Cisco estimates that by 2020 - when 5G is set to roll out to a mainstream audience - there will be 5.5 billion mobile users around the world, each consuming 20GB of data per month. That's not even factoring in the huge impact the Internet of Things is predicted to have on our mobile networks.
Massive MIMO's ability to serve multiple users - and multiple devices - simultaneously within a condensed area while maintaining fast data rates and consistent performance makes it the perfect technology to address the needs of the forthcoming 5G era.
Massive MIMO breakthroughs
Massive MIMO technology is already live commercially in China and Japan within a 4G LTE context. The latter country's Softbank network deployed the first ever commercial Massive MIMO network towards the end of 2016.
In early September 2017, Ericsson announced the launch of a new FDD (Frequency Division Duplexing) radio with support for 5G and Massive MIMO. It claimed that this would bridge the gap between 4G and 5G, boosting the capacity of existing 4G LTE while forming the foundation for 5G.
Chinese network technology companies ZTE and Huawei both announced new European Massive MIMO tests in October 2017.
Also in 2017, Vodafone and Huawei teamed up in Australia to show off Massive MIMO technology within a real world setting. They managed to use Vodafone's existing frequency spectrum, along with Huawei's 5G active antenna unit (featuring 32 internal transmitters and receivers) to hit transfer speeds of 717Mbps across eight devices.
Early in 2018, Nokia took a step towards refining Massive MIMO antenna technology itself with the production of its ReefShark chipset. By being smaller, lighter and more power efficient than its predecessors, Nokia has claimed that ReefShark reduces the massive MIMO antenna size by half and cuts the energy consumption in baseband units by 64%.
Korean tech giant Samsung has also been busy with Massive MIMO technology. At its headquarters in Suwon, Korea, the company has created a so-called '5G City' to provide some insight into a what life might be like when 5G is rolled out.
One major element of this 5G City was a so-called '5G Stadium,' which specifically demonstrated how massive MIMO technology can enable crowds of people to simultaneously stream HD video without any delays or interruptions.
Testing the performance of multiple parallel signals has actually been quite a challenge for the telecoms industry. Cobham Wireless addressed this in March 2018 with a multi-beam Massive MIMO performance test solution it developed in conjunction with the China Mobile Research Institute. It enables testing in a virtualised environment that simulates real-world conditions, which was a step forward from the limited-scale lab tests that had preceded it.
At MWC 2019 in Barcelona, Ericsson won the award for Best Mobile Network Infrastructure with its 5G high-band Massive MIMO. This is the first ever commercial enhanced mobile broadband solution operating on millimetre wave, aka the higher frequency bands that will come to define 5G.
What are UK mobile networks doing with Massive MIMO?
Vodafone became the first European mobile network to deploy Massive MIMO when it commenced upgrading a number of its UK sites in June 2017. The operator targeted UK hotspots where MIMO's key attributes could be best exploited, such as cities and sports stadiums.
Almost a year later, in April 2018, Vodafone conducted the UK's first 3.4 GHz spectrum trial using Massive MIMO technology.
In October 2018, Vodafone launched the first full 5G UK trial in Salford. This was the first to carry full 5G over a commercial network, and it utilised Massive MIMO technology in conjunction with 3.4GHz spectrum to do so. It has since rolled these tests out to Birmingham, Bristol, Cardiff, Glasgow, Liverpool and London.
A little later than Vodafone's test, in November 2018, O2 and Nokia teamed up to roll out two Massive MIMO trials in the King's Cross and Marble Arch areas of London. This put to use Nokia's Massive MIMO technology and the 2.3GHz spectrum that O2 won in the Ofcom auction of early 2018. Prior to this, O2 had revealed that it was "investing over £600m per year in innovations like Massive MIMO and 5G".
UK network EE as also been working with massive MIMO technology. In November 2017 it used Massive MIMO to demonstrate download speeds of 2.8Gbps across an end-to-end 5G test network. Parent company BT has also been working with Nokia to implement the aforementioned ReefShark chipset into its network.
Can current phones use Massive MIMO?
While Massive MIMO will be a key 5G technology, and there have already been tests run with current advanced 4G LTE network technology, you can't currently buy a Massive MIMO-ready smartphone. It would be pointless without a commercially available Massive MIMO-equipped network on which to operate.
However, many phones can benefit from regular MIMO on current 4G LTE networks. For example, the iPhone XR supports 2x2 MIMO, while the iPhone XS supports 4x4 MIMO. The latter is comprised of four antennas for four simultaneous data streams, thus making it able to transfer data twice as fast as 2x2 MIMO.
Samsung's recently announced Galaxy S10 family also supports 4x4 MIMO, though so does the Samsung Galaxy S9 and the Galaxy S8. Google's Pixel 3 and Pixel 2 are also in on the 4x4 MIMO game, as are the HTC U11 and HTC U12+, the the Huawei Mate 20 Pro and the OnePlus 6T. Essentially, if you bought a flagship phone within the past two years or so, it probably supports 4x4 MIMO.
However, it's worth noting that even older or less capable phones that don't support MIMO will be able to benefit from the more stable, more sensitive network environment that Massive MIMO will produce. Conversely, phones with 4x4 MIMO support will be faster even on 2x2 MIMO networks, as the two free antennas instead work to hone in on a stronger signal. In this way, you can expect Massive MIMO-supporting phones to sport excellent network connectivity, regardless of the network environment when they arrive.
Image credit: Linkoping University