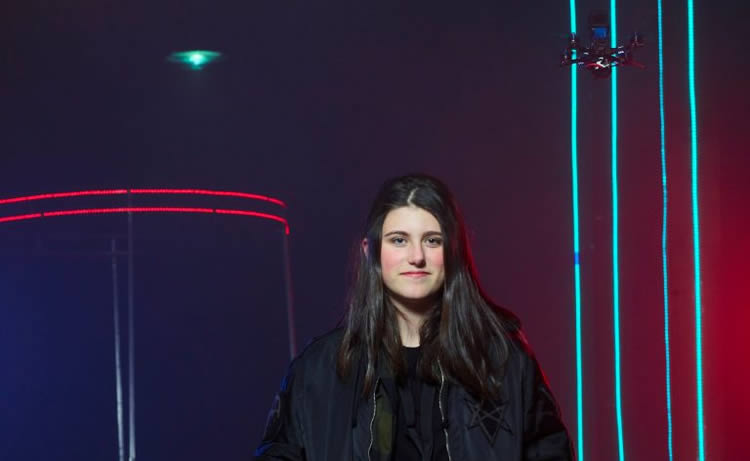 Vodafone has teamed up with six-time Formula 1 world champion and Vodafone ambassador, Lewis Hamilton, to show off what 5G connectivity can do for gaming and drone racing.
With drone racing fast becoming a popular activity, Hamilton spent some time in a warehouse in London's Hoxton district where he learned how to race drones via a virtual-reality headset. The headset gives one a drones-eye-view of what unfolds with a hand-held controller allowing the player to manipulate the drone during a race.
It's as tricky as it sounds with 16 year old drone racing champion, Kelsey Hunt (above), explaining that it takes most people about a week to master the controls but Hamilton got to grips with it quickly during the session.
Such drones can reach speeds of 80 to 90mph with the circuit taking them through the warehouse and over a nearby canal. Crucially, the wireless connection between the controller and drone is vital to success which is where a 5G connection is pivotal. It's the perfect demonstration of how 5G can be more than just about streaming content faster, as can be seen in a promotional video that shows off just how thrilling drone racing can be. Obviously, if the connection dropped, it'd be far less appealing.
Big gamer
As a big gamer, Lewis Hamilton was also taken through the paces of how 5G connectivity can improve one's gaming experience too thanks to the immersive experience of VR gaming. A second video below highlighted just how much fun it can be, when the connection never drops.
The benefits of 5G are a big step and one that Hamilton is keen to be part of. That's in part to the racing champion sharing the same core mission as Vodafone - concerns about the environment and sustainability. It's led to him switching to hybrid or electric cars, as well as a plant-based diet.
Regardless of your views on going green, it's clear that 5G connectivity is more than just faster downloads. Such recent work by Vodafone is a great example of how much more fun can be achieved through 5G.