One of the many ways 5G could benefit the world is by letting more people do their job remotely, and one new example of that involves the construction industry, as 5G has just been used to remotely control an excavator in South Korea, from a booth in Germany more than 5,000 miles away.
The demonstration - which was a world-first - was carried out by Doosan using technology developed with LG U+ and has been highlighted in the video below.
As the video below notes, this remote operation – which has been named 'TeleOperation' – is far more viable over 5G than 4G, as the tech involved is up to 10 times faster over 5G, with a response time over that distance of just 20ms (milliseconds) versus 200ms if 4G were to be used.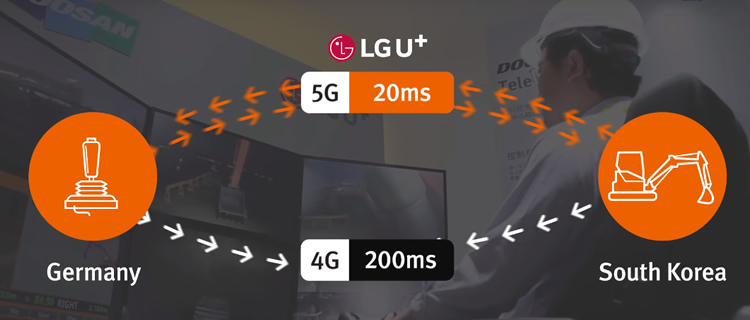 That's important because you can't afford lag. The remote operator needs to see what's happening on live video streams, making use of 3D machine guidance and real-time diagnostics, and if there's a delay on the stream that could lead to mistakes or accidents.
Excavating safely
So why might someone need to use an excavator remotely? Well, aside from the potential convenience of not having to get them to the site, this tech is also ideal for use in dangerous situations, such as for industrial waste disposal and in regions with buried mines, and it could also allow for remote training.
This is just one example of the kind of remote operation that wouldn't really be possible over 4G. Another example we've come across is real-time remote health monitoring, so doctors could free up more time.
Elsewhere, we're seeing that 5G could take people out of the equation almost entirely, with for example self-driving cars likely to take off in a big way once 5G networks are available to help them rapidly and reliably receive and share information.