Three launched its 5G network in London on August 19th, 2019. This makes it the third mobile operator to launch 5G in the UK, following EE and Vodafone's launches earlier in the year. Though it's worth noting that at launch its 5G network is only available as home broadband.
Three boasts that it is building the UK's fastest 5G network based on the fact that it has the largest amount of 5G spectrum.
Its 5G network is likely to grow quickly too. Read on below for full details of all Three's current and upcoming 5G coverage.
Coverage
Three's 5G is currently just available for home broadband and only in parts of London, as detailed below.
Which cities have Three 5G now?
At the time of writing you can get Three's 5G home broadband in parts of: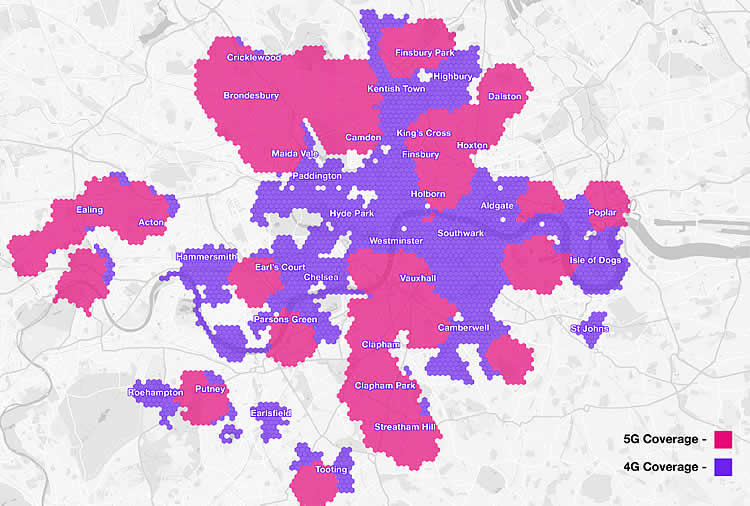 So while London coverage isn't comprehensive, you can expect 5G coverage in parts of Clapham, Vauxhall, Ealing, Dalston, Finsbury Park and more, as detailed in the coverage map above. You can expect coverage to grow, and at some point in 2019 Three will also start offering 5G for phones, in both London and the future coverage areas below.
What locations will Three 5G roll out to next?
The second phase of Three's 5G network rollout covers the period from launch to the end of 2019. In this phase Three will launch 5G in a further 24 locations. These towns and cities will get both mobile and home broadband services i.e. this is when 5G SIMS and/or phones are likely to become available.
Three has revealed that by the end of 2019 it plans to have brought 5G to parts of the following locations:
Birmingham
Bolton
Bradford
Brighton
Bristol
Cardiff
Coventry
Derby
Edinburgh
Glasgow
Hull
Leeds
Leicester
Liverpool
London
Manchester
Middlesbrough
Milton Keynes
Nottingham
Reading
Rotherham
Sheffield
Slough
Sunderland
Wolverhampton
That, notably, is more locations than any other UK network has currently committed to bringing 5G to this year.
Which other locations are scheduled to get Three 5G?
Three hasn't said which locations will be next in line for 5G beyond the announced locations. However, it looks like its network will expand quickly, as it has said that over the next three years it expects its 5G network to cover 80% of its network traffic.
Three has also revealed that it plans to invest over £2 billion in 5G.
We'll update this section as soon as we know any specifics, but as a general rule of thumb, large towns and cities will likely get 5G before smaller and more rural locations.
Note also that we'd expect city-wide coverage to quickly improve in the cities that already have 5G.
How do I check Three 5G coverage?
Three has an online coverage checker, allowing you to enter a postcode to see a coverage map for that area, complete with both indoor and outdoor 3G and 4G coverage, with 5G coverage sure to be added once any is available for phones.
You should check 5G coverage in your area before buying a 5G phone or plan, as it won't initially be available in most places.
How does Three's 5G coverage compare to the other mobile networks?
Three currently only has 5G coverage in London (and only for home broadband), which puts it behind EE and Vodafone.
O2 will also be launching 5G at some point in October 2019, initially in Belfast, Cardiff, Edinburgh, Leeds, London and Slough.
You can see a comparison of each network's launch locations below - note that this list of cities only includes places that at least one network offered 5G in on day one, and doesn't include places where no network yet has 5G. For more complete lists, check each networks' full coverage page (or scroll up for Three's).
5G confirmed launch comparison

Cities

EE

Vodafone

Three

O2

Belfast

Launched

2020

2020

October

Birmingham

Launched

Launched

2019

2020

Bristol

2019

Launched

2019

2019

Cardiff

Launched

Launched

2019

October

Edinburgh

Launched

2020

2019

October

Glasgow

2019

Launched

2019

2020

Liverpool

2019

Launched

2019

2020

London

Launched

Launched

Launched

October

Manchester

Launched

Launched

2019

2020

If your location is not listed in the table above use the coverage checker to find out more.
What happens if I'm not in a 5G coverage area?
Three customers who aren't in a 5G coverage area will get 4G or 3G, even if they're on a 5G plan, so the experience will be similar to how it is now. You'll find an overview of Three's 4G coverage below.
4G coverage / comparison
Three has around 99.8% UK population coverage with 4G, along with roughly 98.7% 3G coverage. That's largely comparable with rivals, based on the latest available data, as you can see in the 4G coverage comparison below.
| Network | 4G population coverage |
| --- | --- |
| EE | >99% |
| Three | 99.8% |
| Vodafone | 99% |
| O2 | 99% |
5G coverage abroad
Three hasn't yet announced whether it will offer 5G speeds when roaming abroad, but we suspect it won't initially, or at least not in many locations, as right now many of Three's roaming locations don't even allow 4G speeds.
Speed and latency
We don't yet know exactly how fast Three's 5G network will be for mobile, but you'll find some information on its 5G home broadband speeds and estimates for mobile below, along with information on latency.
Current speeds
Currently Three is offering average 5G home broadband speeds of around 100Mbps. However, that doesn't necessarily reflect what it will offer for 5G on phones.
Indeed, Three has revealed that it should offer peak 5G speeds that are twice as fast as any rival. Given that EE claims users could see peak speeds that exceed 1Gbps, that might mean Three's network can exceed 2Gbps.
It can seemingly achieve this because Three has far more '5G spectrum' than rivals (more on that in the spectrum section below). It's also the only UK network with more than 100MHz of the stuff, which is the amount that according to the ITU (the global standards body on 5G technology) is required for 'true' 5G.
That would be a massive boost on its 4G download speeds, which according to data from OpenSignal average 21.6Mbps, while peak real world 4G speeds are unlikely to reach 100Mbps. Of course, Three's 5G speeds probably won't reach those 2Gbps peaks most of the time either, but they should still be far, far higher than anything you'd get on 4G.
Future speeds
As fast as Three's network will be at launch, it's likely to get even faster over time as the company acquires more spectrum and improves its infrastructure.
We're not sure how fast, but some estimates have put 5G speeds at over 10Gbps eventually, which could be a truly transformative speed and enable all sorts of advanced 5G use cases, such as truly smart cities.
Latency
Latency – measured in milliseconds (ms) - is how long the network takes to respond to a request. A high latency can make things feel sluggish to respond, even if download speeds are high, and the good news is that with 5G, latency could ultimately be as low as around 1ms, though we don't yet know exactly what it will be on Three 5G.
That's compared to around 40-50ms on 4G.
Three spectrum
Three came away from the first 5G spectrum auction with less winnings than any other network, specifically just 20MHz of 3.4GHz spectrum, covering the 3460 – 3480MHz range, and paying £151,296,000 for it.
EE and O2 meanwhile each got 40MHz (with O2 also scoring 40MHz of 4G-ready 2.3GHz spectrum), while Vodafone secured 50MHz in the 3.4GHz band.
However, Three has lots of spectrum ideal for 5G overall, as while it only came away with a small amount at Ofcom's 5G spectrum auction, it already had a lot thanks to its purchase of UK Broadband.
Specifically, it has 40Mhz in the 3.4GHz band (namely the 3480 – 3500MHz and 3580 – 3600MHz range), plus 164MHz in the 3.6GHz - 4GHz range, on top of the 20MHz of 3.4GHz spectrum that it won at auction (covering the 3460 – 3480MHz range).
Three has specifically said that it believes all this spectrum makes it the best placed of the four main UK networks for early 5G leadership – a claim that it has since got into more detail about, saying that it's the only UK network that can offer 'true' 5G at launch, as it's the only one with more than 100MHz of spectrum that's ideal for 5G.
Three's position has improved slightly too, because it's had permission from Ofcom to adjust the location of some of the spectrum that it owns through UK broadband, with the 164MHz now being split between 3600-3680MHz and 3925-4009MHz.
The first of those blocks is the one that's changed here, as it now links up with the 3580-3600MHz spectrum which Three also has the rights to. That gives Three a 100MHz block of contiguous spectrum, which could allow for greater speeds and wider coverage when Three uses it for 5G.
Immediately useable spectrum

3.4GHz held

3.6 – 4GHz held

Total spectrum held

90MHz

60MHz

164MHz

314MHz

Note: 'Immediately useable spectrum' refers to spectrum in various bands that's already been put to use for 4G, 3G and 2G. Three holds this spectrum in the 800MHz, 1.8GHz, and 2.1GHz bands.
And this won't have been its last chance to secure 5G spectrum, as there will be future 5G auctions for spectrum in the 3.6GHz - 3.8GHz bands as well as the 700MHz band, and likely also the 26GHz and 8GHz bands.
Plus, Ofcom is also looking at other potential bands that could be used for 5G.