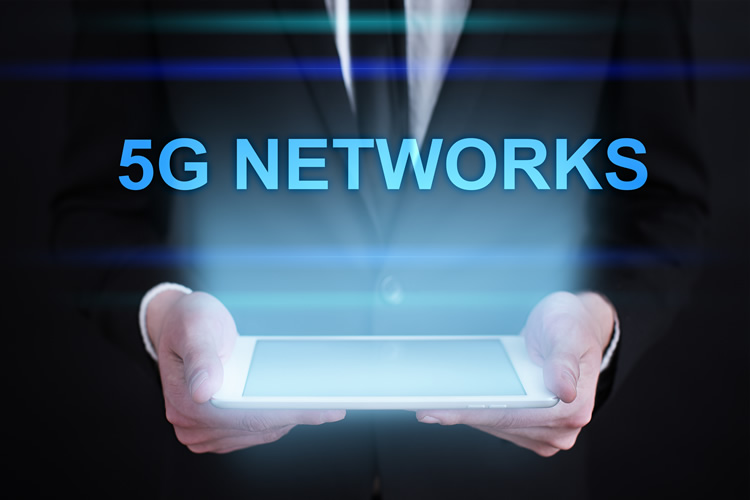 UPDATED: JULY 2017
5G is still some years away from commercial availability and in preparation Ofcom will auction off additional spectrum that will be ideal for the next generation of mobile networks.
We've put together a guide to everything you need to know about the 5G auctions, from what frequencies are being sold off, to the proposed timing, the auction rules and a whole lot more. More information about the specifics of the different frequencies can be found in our guide to 5G Frequencies in the UK.
What spectrum is being auctioned?
Ofcom is initially planning to auction 190MHz of high capacity spectrum in the 2.3GHz 3.4GHz bands, comprising 40MHz in the 2.3GHz band and 150MHz in the 3.4MHz band. That amount is equivalent to roughly three-quarters of the spectrum auctioned by Ofcom at the 4G spectrum auction in 2013 and will increase the spectrum available for mobile devices by nearly a third. Spectrum in these bands is well suited to 5G, as it can carry large amounts of data.
At a separate auction, Ofcom plans to auction 116Mhz of spectrum in the even higher bandwidth 3.6GHz - 3.8GHz bands, as well as in the 700MHz band.
What was the spectrum previously used for?
The 2.3GHz - 3.4GHz spectrum was previously used by the Ministry of Defence, but has been freed up by the government to make it available for civil uses. This is part of a wider government initiative to release or share 500MHz of spectrum for civilian use by 2020.
Some 3.4GHz spectrum is used for 4G wireless broadband, such as by Relish in London, which is now owned by Three following its acquisition of UK Broadband.
The spectrum in the 3.6GHz - 3.6GHz bands is partially in use by fixed links and satellite services, but Ofcom is aiming to auction off unused spectrum in those bands, hopefully without impacting those services.
The 700MHz band is used by Freeview television and wireless microphones. The government has contributed £500-600 million to clearing the spectrum, a process which began in March 2017 with the reconfiguration of a digital terrestrial television (DTT) transmitter in Selkirk. There's a lot to be done to move DTT to the 470-690MHz spectrum and making alterative spectrum available for wireless microphones.
What will the auctioned spectrum be used for?
The 2.3GHz spectrum will be available for immediate use by operators to provide extra capacity for their existing networks. The band is already supported by mobile devices from the likes of Apple and Samsung.
The 3.4GHz spectrum is not compatible with most current devices and will be used for the rollout of 5G networks. It has been identified as central to 5G rollout across Europe.
When will the auctions be held?
The first auction of 2.3GHz and 3.4GHz spectrum was initially expected to take place in 2016 but should now be held later this year – currently expected in October. The delay was at least in part due to the proposed merger between O2 and Three, which was blocked by competition watchdogs last year. Ofcom published its rules for the auction in July 2017 (more below) but legal challenges from Three, which has threatened action over the rules, could yet delay the process further.
The 3.6GHz – 3.8GHz and 700MHz band auctions are currently expected to take place in 2020.
2017 auction rules
Ofcom published its final rules for the 2.3GHz and 3.4GHz auction in July 2017, designed to reflect recent market developments and safeguard competition now and in the future.
The rules impose two restrictions on bidders to limit the amount of spectrum dominant operators can win:
No operator will be able to hold more than 255MHz of immediately usable spectrum, ie in the 2.3GHz band, following the auction.
No operator will be able to hold more than 340MHz of the total amount of spectrum following the auction, equivalent to 37% of all the mobile spectrum that is expected to be useable in 2020. This includes spectrum available in this auction and in the 700MHz band.
By imposing a cap on the overall amount of spectrum Ofcom hopes to satisfy competition concerns while enabling all operators to develop 5G services, hence there is no limit on the amount of 3.4GHz spectrum a company can hold.
Ofcom isn't proposing any coverage obligations on the winning bidders like it did with the 4G auction in 2013. That's because the provision of these latest frequencies is more about boosting network capacity than expanding network coverage.
What do the caps mean for potential bidders?
All four UK mobile operators are expected to bid in the 2017 auction, but the Ofcom caps will limit the amount those with the largest amount of spectrum can bid for.
EE will not be able to bid for spectrum in the 2.3GHz band and will be able to win a maximum of 85MHz of 3.4GHz spectrum. EE currently has around 45% of the UK's immediately usable spectrum following its acquisition by BT, which bid for spectrum in 2013 even though it did not have a mobile operation at the time.
Vodafone will be able to win a maximum of 160MHz of spectrum across both bands.
There will be no restrictions on the amount of spectrum O2, Three or indeed any other bidder can win.
The following graph via Ofcom illustrates the amount of spectrum currently held by each operator.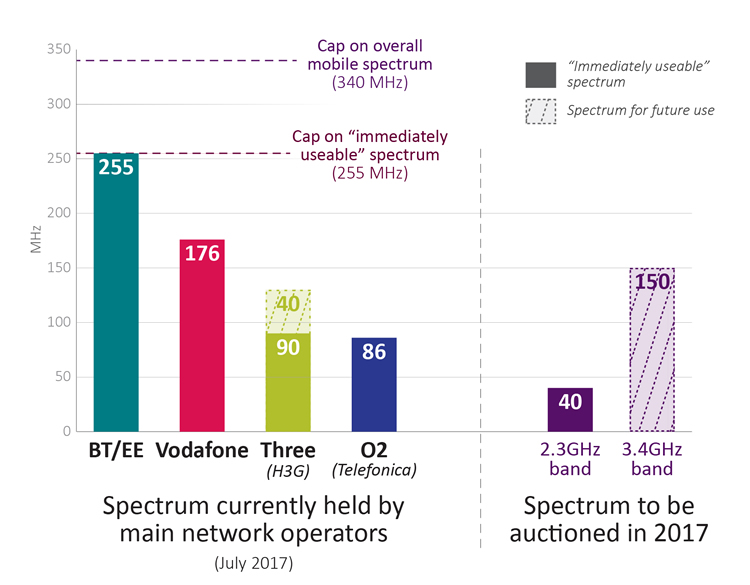 Three had campaigned for a total cap of 30% and has threatened legal action to the auction rules, objecting to the 37% total cap imposed by Ofcom. It has more spectrum since its February acquisition of UK Broadband, with access to 40MHz of 3.4GHz spectrum and 84MHz in the 3.6-3.8GHz band. It also has 20MHz of spectrum in the 1400MHz band acquired from Qualcomm in 2015 (as does Vodafone), which is now becoming useable for mobile in Europe and could be used to improve network capacity in the near term. Its rivals fear that it will seek to delay the auction so it can get a head start in 5G using UK Broadband frequencies. They claim that its recent launch of unlimited Netflix streaming means it has sufficient capacity.
O2 had sought a more reasonable 35% cap and appears to be (grudgingly) satisfied with the 37% limit.
BT (owner of EE) and Vodafone argued against any cap, saying they had built their strong positions through investment, but will not challenge the rules.
What will the spectrum cost?
That's the big question! Ofcom's role is not to raise money to boost government coffers but to ensure – as far as possible – that spectrum is used optimally and there is a level playing field so that operators with deep pockets do not squeeze out the smaller players. And of course the operators will need to take care not to overspend so they have sufficient funds to exploit the licences, particularly with regards to 5G development which will not come cheap.
Ofcom will auction the spectrum in lots, with reserve prices of £10m per 10MHz lot of 2.3GHz spectrum and £1m for a 5MHz block in the 3.4GHz band. This gives a total reserve price of £70m for the total 190MHz of spectrum to be auctioned.
We expect there'll be considerable interest in the spectrum and that it will all be sold above the reserve prices. However, it's unlikely we'll see a bidding frenzy such as happened in 2000 when 3G spectrum auctions netted the government a whopping £22.5b (against projections of a maximum of £5b) but left operators somewhat strapped for cash when it came to capitalising on the licences. But will we see greater interest than the 2013 auction of 4G spectrum which raised (just) £2.3b? Only time will tell.
What will be the rules for future auctions?
The first spectrum will be nowhere near enough to satisfy the need for high speed mobile broadband, let alone 5G.
Auctions of further spectrum are currently expected to be held in 2020, and Ofcom won't publish rules for those until much nearer the time. Those rules will take into account the competitive landscape and spectrum holdings of the operators at that time, and may include further caps on the amount of spectrum operators can win.
However, Ofcom has indicated that licences for 700MHz spectrum to be auctioned will include obligations to ensure improved rural coverage.
What's next?
Ofcom's auction rules were never going to satisfy all four of the country's mobile operators, but hopefully Three's threat of legal action is mere posturing. The auction has already been delayed and any further setback could have material consequences for the operators' ability to meet the ever-growing demand for mobile services as well as the UK's hopes of being at the vanguard of 5G development.
We'll keep you informed every step of the way!
Useful reading: What is 5G?
Back