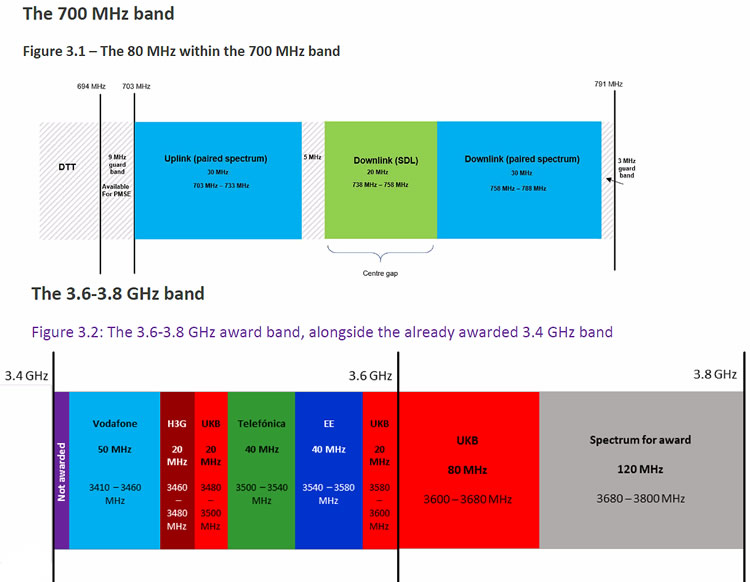 U.K. regulator Ofcom has proposed removing coverage obligations from spectrum licenses in the 5G auction scheduled for spring 2020, following a voluntary agreement among all four mobile operators to improve rural mobile coverage.
Next year's auction will release 80 MHz of spectrum in the 700MHz band and 120 MHz of spectrum in the 3.6GHz-3.8GHz band. Ofcom had originally planned to impose coverage obligations to the licenses, which would have forced operators to roll out mobile services to more areas.
But EE, O2, Three and Vodafone last month agreed an alternative plan. The mobile operators struck a deal with the government to build a Shared Rural Network (SRN) to provide 4G coverage to at least 92% of the UK over six years. The operators committed to investing £530 million in new and existing cell sites in rural areas that they will all share, while the government said it will chip in £500 million for the project.
Since the SRN agreement will result in better mobile coverage than Ofcom's original auction proposals, the regulator has decided to drop the coverage obligations. But there will be binding conditions written into the new licenses based on the agreed SRN terms.
An Ofcom spokesperson said: "We warmly welcome these commitments, which follow detailed discussions between Government, Ofcom and the mobile operators. These improvements will make a real difference to mobile customers across the UK, and we'll ensure they're legally binding by writing them into operators' licences. We will also monitor and report on companies' progress in achieving better coverage."
New Rules Under Consultation
Ofcom is now consulting on the updated auction rules. The consultation ends on December 9. In addition to the removal of coverage obligations, Ofcom also proposes to structure the auction using a format called "simultaneous multiple round ascending." This is the same format used in the 2018 spectrum auction in the 2.3GHz and 3.4GHz bands.
The auction structure involves two stages of bidding and is intended to help reduce fragmentation within the broader 3.4GHz to 3.8GHz band by allowing winning bidders to negotiate how specific frequencies will be allocated and better align newly acquired frequencies with their existing holdings.
Both the 700MHz band and the 3.6GHz-3.8GHz band are key airwaves for 5G. The characteristics of the lower 700MHz band offer broad wide area coverage and indoor signal penetration. The higher 3.6GHz-3.8GHz band is ideally suited for high-capacity data over shorter, concentrated ranges.
Ofcom plans to publish its final decision in early 2020 and hold the 5G auction in the spring.