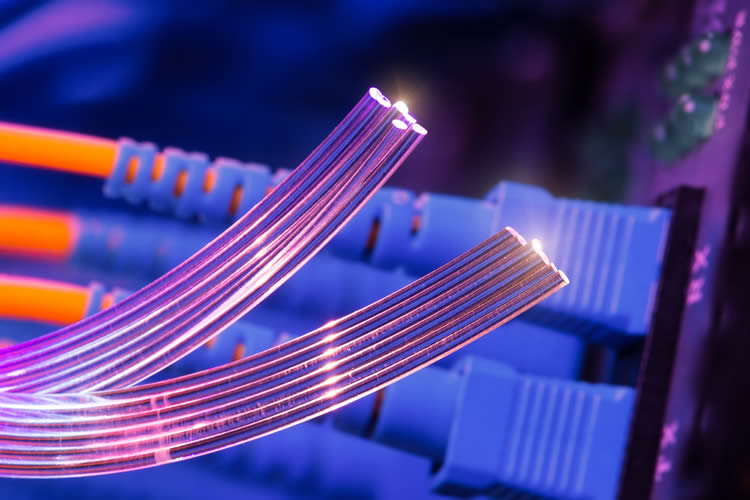 Dark fibre will empower businesses and drive down internet costs for consumers, and it could be a vital component of 5G
There has been a lot of talk in the telecommunications industry about dark fibre and its potential for granting cheaper, faster, more flexible internet connectivity to businesses. But what exactly is dark fibre, and what does it mean for 5G?
What is dark fibre?
Modern internet traffic is carried by miles and miles of fast fibre optic cabling that's been laid in the ground. However, not all of that fibre optic cabling is being utilised.
This unused cabling, which has no electronic devices attached at either end, has been given the moniker dark fibre in reference to its 'unlit' state.
Why does dark fibre exist?
By far the biggest cost involved with laying fibre optic cabling lies in the process, rather than in the actual fibre optic cable materials themselves.
This means that internet infrastructure companies will tend to lay a good deal more fibre optic cabling than is strictly necessary. It's simply far more cost-effective to build in plenty of headroom in a single visit than to repeatedly dig up the ground and lay fresh cabling as required.
This has resulted in the situation where there's a large amount of potential network capacity laying dormant in the form of dark fibre. Thankfully, there are ways to put this dark fibre to good use.
How can dark fibre be put to use?
At present, any companies reliant on network connectivity (which is the vast majority of them) rely on the exact same network that you or I will use when we launch a Google query or check our social media.
As the level of data consumption heads for the stratosphere, this can pose problems for companies that require clear headroom and a certain level of consistency in the network environment. It's also relatively expensive for companies to pay internet providers such as BT to use their network in this way.
Dark fibre will essentially be offered as a means for a company to set up their own bespoke network. They will simply lease the unused fibre optic cabling, and will then provide all of the equipment at either end themselves.
What are the benefits of dark fibre?
A company using dark fibre rather than currently 'lit' fibre optic network will be masters of their own domain. They will have full control over their network equipment and connection settings, and won't be forced to share their portion of the network with anyone else.
By using these less travelled pathways, there will be a good deal less traffic congestion and wasteful rerouting. The result of this will be faster network speeds and lower latency (or better response times).
In cutting out the middleman, running a dark fibre network should also be cheaper for businesses to run and potentially quicker to troubleshoot.
When will dark fibre be utilised in the UK?
Here in the UK, after much toing and froing, Ofcom set out a regulatory framework for dark fibre usage with its November 2018 Business Connectivity Market Review (BCMR).
The UK regulator then entered a phase of consultation, with the closing date for responses passing on January 18th, 2019. It plans to release its conclusion in the spring of 2019, so we could start seeing some movement on dark fibre access around then.
Otherwise, Ofcom plans to release a "holistic residential and business market review" in 2021, which is when its all-encompassing dark fibre regulation should really come into effect.
How will dark fibre benefit 5G?
While the forthcoming 5G network will rely on countless base stations to connect to mobile devices and fixed wireless broadband routers over the final mile, it will still be reliant on the existing physical fibre optic network to carry that traffic over distance.
To that end, several UK mobile network operators have voiced their concerns that this country's fibre infrastructure isn't ready for 5G. Back in June 2018, O2, Three and Vodafone joined together in an appeal to Ofcom for dark fibre access. This was just one incident in a long-running struggle to free up latent capacity for use in 5G.
The response has been encouraging. In its aforementioned BCMR, Ofcom proposed that BT provide access to dark fibre at cost. It also proposed that companies be granted unrestricted access to BT's duct and pole equipment.
Together, these two measures should open up the way for mobile networks to provide competitive 5G offerings, as well as enabling more internet providers to enter the market. Ideally this will provide healthier competition, driving down internet package prices for consumers.
It remains to be seen if opening out dark fibre access will be a net positive for consumers in the traditional broadband space. But it seems certain to be a vital component in the fully formed 5G network we've been promised.