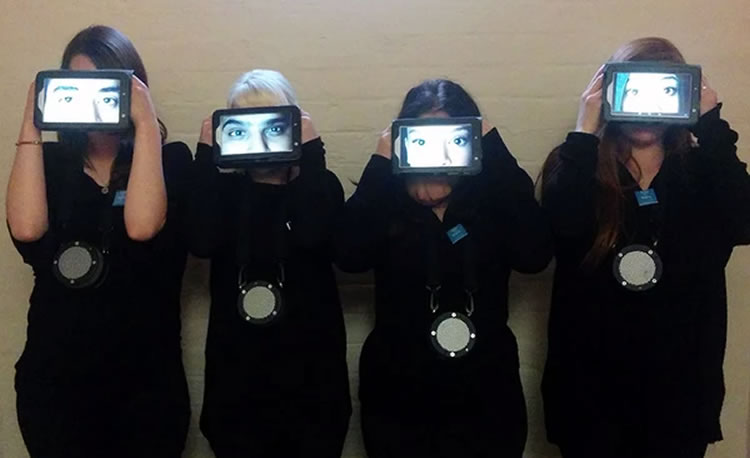 See what the world's first urban 5G network can conjure up this week in Bristol through lots of free events – from (virtual) trips inside black holes to looking at how ubiquitous, super-fast connectivity could change live events. The event runs from Sat 17 - Sun 18 March.
The Layered Realities Weekend 5G Showcase is put on by Watershed, the Smart Internet Lab at the University of Bristol and various tech partners to explore what differences 5G could make a city's culture, society and the economy, and to consider what opportunities or challenges it could bring.
5G Fellows
Watershed's group of 5G Fellows will share their thoughts At We The Curious, one of the UK's biggest and most advanced interactive science centres, including:
How 5G's dense availability and high bandwidth could enable digital experiences for crowds of people through their mobile phones simultaneously. Tim Kindberg asks questions like: what types of experience could we create; what are people keen and prepared to do together; and what type and degree of coordination is involved? The audience will take part in a synchronised audio experience using their mobile phones.
Privacy and inequality – how will 5G and so-called ubiquitous computing affect these things? The talk considers what could happen when large numbers of 5G-networked devices operate in public space.
Will our mental, physical and emotional connections be impacted by 5G connectivity? Stuart Nolan combines traditional disciplines of deception (magician) with innovative and questionable technology in this session.
What will 5G mean to the music industry? Jake Applebee will discuss how mass cultural events will change, for example, through the integration of augmented and virtual reality. How will live-streaming evolve with much 5G providing mass, real-time access? An experiment allows the audience to meet Frank Zappa's hologram and watch Kraftwerk's musicians live in different locations around the world.
Experience 5G
As night falls, you can travel from Millennium Square to the heart of a black hole and back again through a spectacle of 3D-like visuals, projected onto a screen of water, exploring how technology modifies our perception of the world. Every half hour, Joanie Lemercier's set will move the audience between time and different galaxies. Puts a bit of a different spin on network slicing.
The Dancing Shadows show explores two sides of a VR experience, one within the VR experience and the other looking on. In that scenario, are you a Witness (listening through your own headset) or a Player (on the stage with a VR headset, immersed in the interplay between light and shadows)? This activity will use a prototype 5G network to enable people to collaborate in the same virtual world at the same time, outdoors and in a public space. Note – this is not a competitive game, but "a gentle, poetic VR world".
The guided tour through time has future architecture appears before the tourists' eyes, hearing and seeing what future worlds might sound like. Participants can layer their imagined future buildings onto the real city now.
Finally, Billennium Square (named after the short story by J.G. Ballard which explores the themes of a dystopian shortage of space and overcrowding in cities) relies on data transmission between the audiences in Millennium Square and a visual artist collaborating from off site, enabled by the reduced latency of 5G networks.
Professor Dimitra Simeonidou, Director of the Smart Internet Lab at the University of Bristol said: "We are really excited to be hosting this weekend's public event. This is a unique chance, thanks to the close co-operation of our technology partners BT, Nokia, CCS, Zeetta Networks, and pureLiFi, for members of the public to experience the world's first 5G urban network. During the two days, citizens and visitors at Bristol will have the opportunity to discover how this new network technologies will transform the way we live, work and study in our cities."