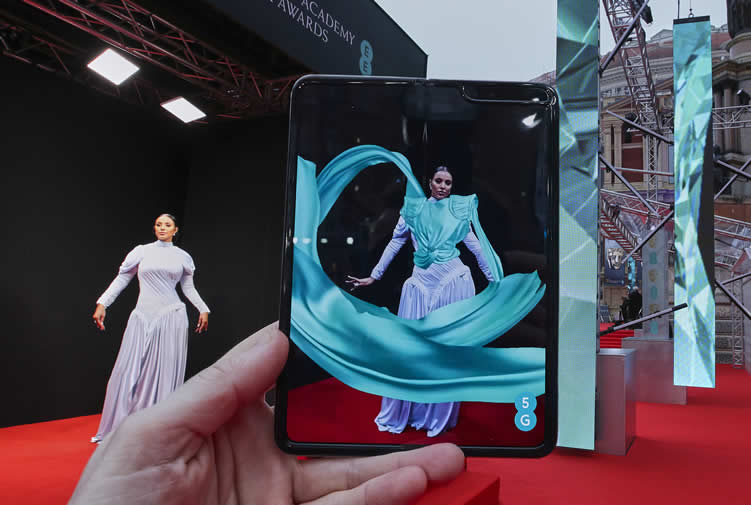 At the 2020 EE BAFTA Film Awards, EE unveiled the world's first 5G-powered AR dress, showing off just what can be accomplished through 5G technology.
The dress worn by EE's red carpet presenter, Maya Jama, was designed by multi-disciplinary artist, Richard Malone. It was made from ethically sourced fabric including recycled ocean waste, ensuring it was as good for the environment as it was for the eyes.
As you can see in the video, it's a gorgeous looking gown in its own right. Those who watched the red carpet event through the Samsung Galaxy Fold 5G smartphone on EE got an even better sight though. They were able to see lengths of shimmering digital material begin to swirl around the dress giving it a magical feeling and quality. The fabric could also form digital sculptures on either side of Maya Jama, responding to her movements in real time and thereby wrapping around her to form a whole new design to the top half of her dress.
Such evolution continued throughout the red carpet event with effects such as providing new detailing around her shoulders, as well as billowing out to form a spiral type effect. At the end of the event, it changed form on screen, turning into a crystallised structure before shattering and falling away from her to display her physical dress.
EE brings you the world's first 5G powered AR dress worn by @mayajama designed by Richard Malone at the #EEBAFTAs #AR pic.twitter.com/UcdL52T9Zn

— EE (@EE) February 2, 2020
Even if you're not a fashion fan, it's a remarkable piece of technology showing how 5G and AR can be used for a wide range of different purposes, right down to changing how we look throughout the day.
The dress took over 250 hours to complete and was hand-sewn with over 100,000 stitches. It's made up of six layers in total and contained over 12 full body length wires, totalling over 18 metres in length, with 18 sensor bulbs to help show off its splendour. Impressive going for a couture dress that's also made from recycled, regenerative ocean waste, as well as recycled wool and wadding from ex-factory waste.