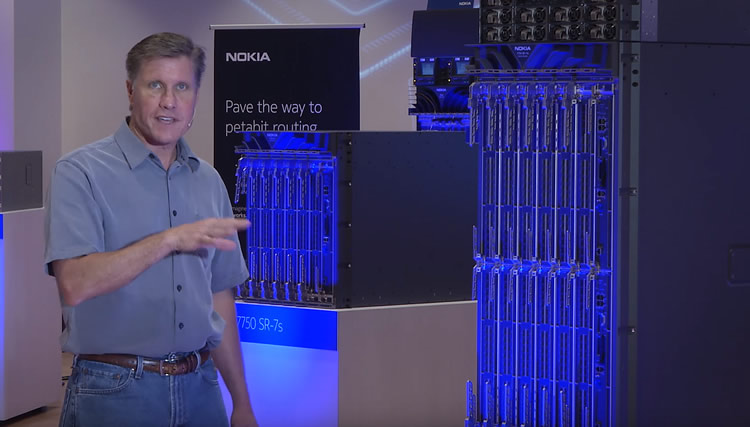 BT has turned to Nokia to help deal with the anticipated high traffic demands of 5G and fibre-to‑the‑premise (FTTP). Using the Finnish vendor's 7750 Service Router platform, the aim is to dramatically boost capacity in the backbone of its 'converged' network, which supports both broadband and mobile traffic.
According to BT, total traffic across its core network is growing upwards by an enormous 40% year-on-year, apparently driven by video and gaming over high-speed fixed lines and mobile broadband. This rate seems likely to increase when 5G arrives and FTTP adoption expands.
It's not just a capacity boost that BT is seeking, but ways of dynamically allocating network resources where and when it's needed without the need for human intervention. The Nokia kit, emphasised BT, extends its 'programmable network architecture'.
"We have to stay ahead of the massive traffic growth that [5G and FTTP] will bring, and Nokia are a key part of that, giving us the capacity and automation that we need," said Howard Watson, CTIO at BT Group.
5G in the pipeline
BT aims to "switch on "5G within the busiest parts of 16 UK cities during 2019. Phase one covers London, Cardiff, Edinburgh, Belfast, Birmingham and Manchester. Phase two cities are Bristol, Coventry, Glasgow, Hull, Leeds, Leicester, Liverpool, Newcastle, Nottingham and Sheffield.
But it's unlikely that 5G will put an enormous strain on UK mobile networks this year. Out of a projected worldwide total of one million 5G-ready smartphones shipped in 2019, business advisory firm Deloitte reckons a modest 50,000 will arrive in the UK.
Further along the line, however, the impact of 5G will be more keenly felt. According to Ericsson's latest Mobility Report, published November 2018, 5G will reach 40% population coverage worldwide and attract 1.5 billion subscriptions by the end of 2024. And unsurprisingly, monthly mobile data traffic per smartphone is expected to increase, driven by improved device capabilities and more affordable data plans (as well as an increase in data-intensive content).
Ericsson thinks total mobile data traffic, worldwide, will be five times higher in 2024.