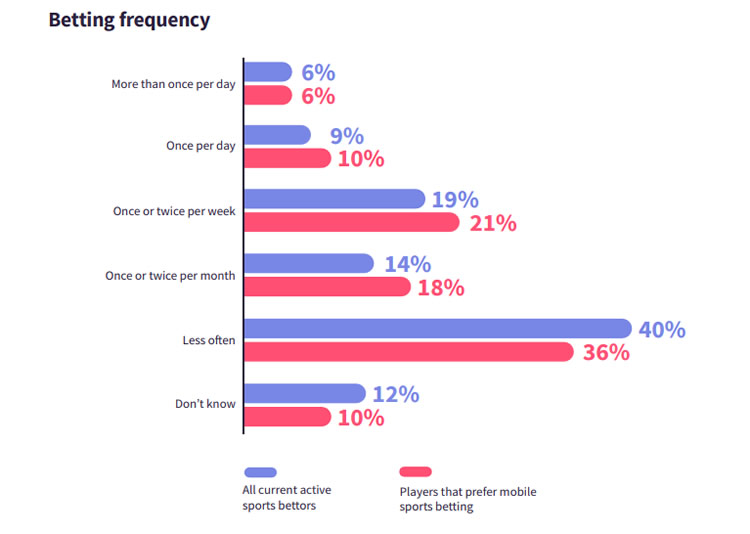 5G is benefiting many different areas and industries, and the latest looks likely to be sports betting. A new report from online payments company, Paysafe, has found that almost half of weekly sports bettors believe that the introduction of 5G to sports arenas will be an important step forward.
The research was conducted across the US, UK and Germany, and found that just under half of the people polled feel that their in-play betting activities will increase with the emergence and growth of 5G. In a similar vein, 21% of them think it will increase the number of different sports they bet on.
Bets during events
Currently, only 14% of them express having no concerns at all about placing bets during events, so this seems like a substantial increase at this relatively early stage in 5G technology. Related to that, about a quarter of the people polled were worried about delays in placing bets right now, with about 20% citing poor internet connections as the reason. 5G with its faster speeds and lower latency should circumvent those issues and clearly bettors have realised the potential advantages here.
20% of those polled also feared they didn't have enough information available to know how to bet, something that faster internet could help facilitate.
Mobile betting
As it stands, 37% of all active players prefer to place bets on a smartphone or tablet, so better connectivity via 5G could boost this number substantially. With half of all current bettors saying they like mobile platforms because of the ability to make payments from anywhere, it's a shrewd move to demonstrate the benefits of 5G to such users. Indeed, two thirds of those surveyed said they want to make more wagers via mobile platforms.
Better speeds and lower latency aren't the only reason why 5G sounds appealing. With increased bandwidth, it should be able to hold up to large venues such as sporting events where currently 4G connections can offer varying levels of quality. When time is of the essence, in the case of sports betting, almost half of bettors found themselves reluctant to place bets while attending because of such issues. The same number felt that 5G coverage would make them more likely to place a bet.
Such evidence may lead to in-stadium betting becoming more commonplace, both down to bettors being more knowledgeable about connections as well as companies and stadiums encouraging such activities. 41% of bettors certainly feel that way, expecting in-play betting to be made available at most large sporting events in the future.
With the appetite there and the technology, it'll be interesting to see what happens in the near future given the opportunity that seems to be ahead of firms.