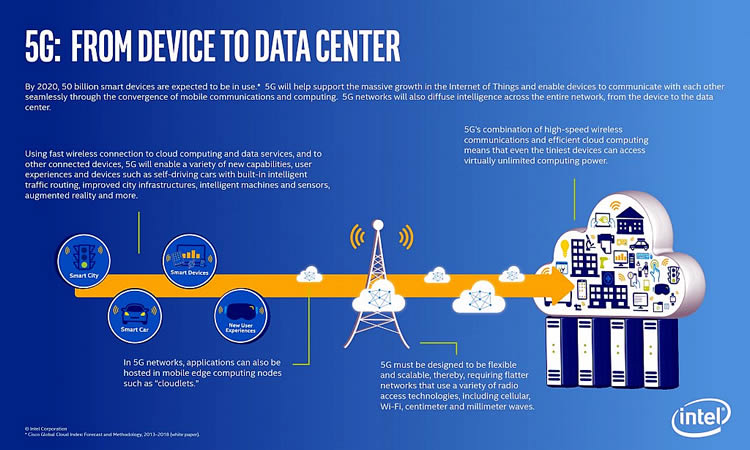 Intel has used MWC 2016 to announce a variety of products and partnerships, which could help lead to faster, smarter and more efficient 5G networks.
On the partnership front the company is teaming with Ericsson, KT, LG Electronics, Nokia, SK Telecom and Verizon.
Intel and Ericsson are carrying out joint trials and working with mobile operators on 5G solutions. Intel and LG are developing and piloting 5G telematics technologies for next-generation cars and Intel is working with KT to implement 5G trials in 2018, with the aim of verifying 5G technology and devices.
Then there's SK Telecom, which is partnering with Intel to develop advances in radio access network technologies, including massive MIMO and anchor-booster cell. The two companies are also developing and verifying 5G networks and devices, much like Intel is doing with KT.
That leaves Verizon, which is conducting 5G field trials with Intel to demonstrate the potential of millimetre-wave spectrum and in particular how it can support far higher data capacity and speeds than today's mobile networks.
On the product side, Intel used MWC to highlight its 5G mobile trial platform, which delivers faster integration and testing of 5G devices and wireless access points.
The company also offers a wide range of wireless communications products, which could help power the Internet of Things and become a key part of future 5G networks.
These include solutions ideal for automotive applications, machine-to-machine applications and endpoints requiring wide-scale coverage at low power and low cost.
Additionally, Intel announced the Intel XMM 7480, which is a smartphone modem offering 4G speeds of up to 450Mbps. It's not 5G then, but it's a step in the right direction.
Of the announcements, Aicha Evans, corporate vice president and general manager of the Intel Communication and Devices Group said:
"Billions of increasingly smart and connected devices, data-rich personalized services, and cloud applications are driving the need for smarter and more powerful networks.
"The transition to 5G brings communications and computing together and is a fundamental shift for the industry. It is essential to lay the foundation for future 5G networks now to make amazing experiences of the future possible."