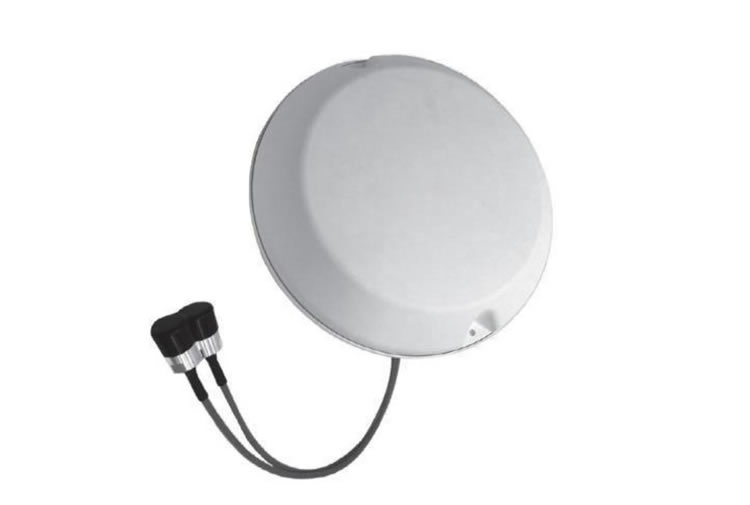 Wireless antenna specialist Laird Connectivity has unveiled a new Multiple Input Multiple Output (MIMO) antenna that is designed to provide discreet cellular coverage and high performance in challenging indoor environments.
Operating between 698MHz-960MHz and 1300MHz-4200MHz, the new antennas are ready for 5G deployments, and can also be rolled out for 3G and 4G applications. The 2-port MIMO, omnidirectional, ceiling-mounted antenna is the latest edition to Laird's CMD series of indoor antennas.
The company says that the antenna is ideal for any indoor location where wide-angle coverage is necessary, such as offices, shopping malls, hospitals, train stations or bus terminals.
Given the many proposed business and Internet of Things (IoT) use cases for 5G, indoor coverage is likely to be a huge issue for the new wireless technology. Whether its factory automation, healthcare applications, the retail sector or large sports and entertainment venues, an important part of the business case for mobile operators and enterprises will be the ability to ensure consistent, high-performance 5G coverage indoors.
Useful read: How Will Businesses Benefit from 5G?
In addition, providing reliable indoor coverage is also important for delivering better quality services for consumers and the 5G enhanced mobile broadband use case.
Gordon Barber, Laird Connectivity's Director of Product Management, said: "The CMD69423P's multi-port functionality saves time and money, as fewer antennas are needed to provide excellent coverage and throughput. This is because the antenna has been designed for robust radiation performance including coverage and low correlation between ports."