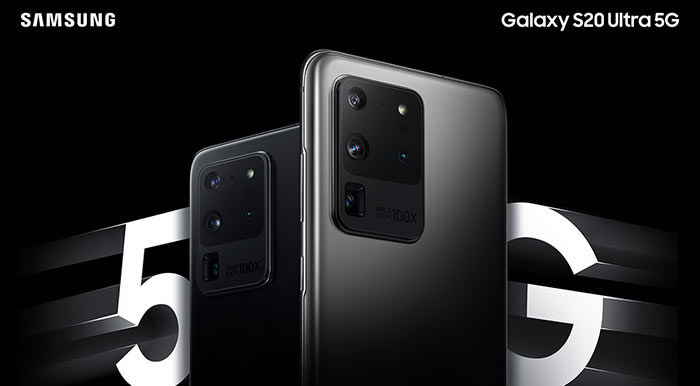 At Samsung's Unpacked 2020 event last night, the company announced its new range of flagship Galaxy S smartphones in the form of the Samsung Galaxy S20 range. Far from cheap, the range is set to include some of the mobile phone giant's largest ever updates.
The range will now consist of the standard Galaxy S20, the bigger S20+, and then the ultimate upgrade - the S20 Ultra. In the case of all three phones, there will be 5G support highlighting Samsung's plans to keep things safely future proofed for a while to come.
Elsewhere, other features include a rather gorgeous sounding 120Hz AMOLED display, smaller bezels so you can focus more on the action on screen than the outskirts, and a powerful processor that means HDR10+ support is there, as well as some very speedy performance across the board.
A new smartphone needs a snappy processor and 5G nowadays to be noticed, but it also needs a good quality camera. It looks like the Samsung S20 series has that covered.
The S20 and S20+ will have a 64MP camera while the S20 Ultra has an utterly remarkable sounding 109MP camera. It's not just about megapixels here either with Samsung also providing a hybrid optical zoom and AI-powered digital zoom which goes up to 100x zoom on the S20 Ultra, dropping to 30x for the two lesser models.
There's also the option to film in 8K resolution and there's a Pro-mode for those that want to do even more with their snaps. Even the selfie/front camera is 10MP for the S20 and S20+, ramping up to 40MP for the S20 Ultra.
Battery life is also set to be better than most too, with fast charging and wireless charging making things easier during downtime.
If you're looking for the ultimate new 5G phone, this is probably the phone for you. So, how much does it cost?
Well, it won't be cheap by any means. The Samsung Galaxy S20 starts at £799 with the S20+ priced at £999 and the S20 Ultra available for £1,199. Obviously, mobile phone service providers are unleashing a variety of deals with the likes of EE starting at £49 per month for the S20, and £74 per month for the S20 Ultra.