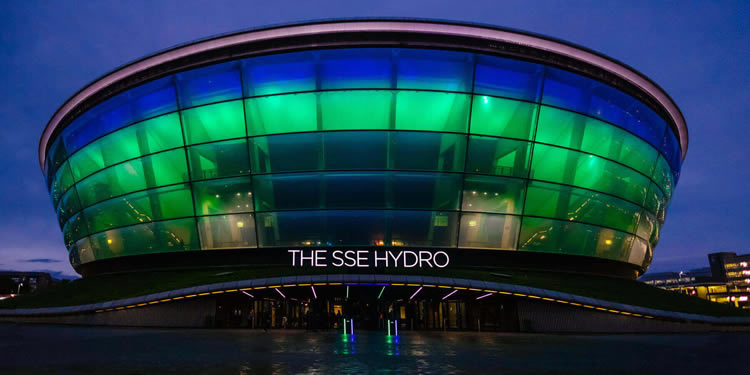 Vodafone has recently announced a new partnership with the SSE Hydro Arena in Glasgow which should mean advanced technology at the entertainment venue.
Scotland's largest entertainment venue, the SSE Hydro Arena hosts around 150 different events each year including music and sporting occasions. It has a capacity of 15,000. With the agreement with Vodafone, those 15,000 people will soon be able to enjoy their trips even more than before. Vodafone has plans to use it for branded experiences as well as to showcase how 5G and the Internet of Things can bring things alive when it comes to providing richer entertainment to the masses.
Launching in Spring 2020, Vodafone customers will also be able to win tickets to major flagship events at the arena via the Vodafone VeryMe loyalty app. If that sounds like O2's method of rewarding, you'd be right, but is sure to be an appealing proposition to those who are able to travel to the SSE Hydro Arena.
City of Glasgow
The endeavour reinforces Vodafone's commitment to the city of Glasgow with the location being one of the first places for Vodafone to launch 5G, as well as Glasgow University becoming the first educational institution in Scotland to have a 5G network, all down to the mobile network.
In a statement, Anne Sheehan, Director of Vodafone Business, explained, "Scotland is a hugely important country for us and our new partnership with The SSE Hydro Arena reinforces our commitment to area. I'm delighted we will be able to showcase our new technologies to both Vodafone Business guests and to music and sports fans from across the country. We're looking forward to working closely with The SSE Hydro Arena to explore how 5G can enable the creation of new and compelling experiences for fans."
That news was further reiterated by AEG Global Partnership which brokered the deal between Vodafone and the SSE Hydro Arena. Director, Liana Mellotte, said "bringing the Vodafone partnership to The SSE Hydro marks another important milestone in the evolution of the arena, which now ranks highly in the world. Vodafone's technology capabilities match the ambitions of the Scottish Event Campus and will keep it at the forefront of advances in technology."
It certainly seems to be a crucial step in the growth of the arena's popularity, and it'll be fascinating to see how 5G will be implemented within the arena. We're assuming that the technology could be used in some ways to enhance the shows and events depicted at the arena, but we'll have to wait and see what Vodafone has in mind.