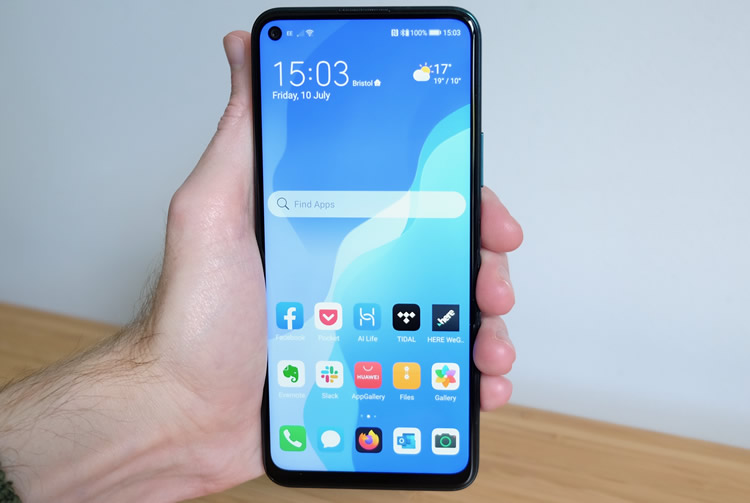 | Pros | Cons |
| --- | --- |
| Tidy build quality | No Google Play Services or apps |
| 5G for sub-£400 | Convoluted app-finding experience |
| Decent camera in good lighting | Screen LCD rather than OLED |
Verdict
The Huawei P40 Lite 5G is one of the cheapest 5G phones on the market, and you won't find it wanting for power or camera quality. However, Huawei's troubles with Google make for a deeply
compromised and unintuitive day to day experience.
Full Review

Specifications

Specs
Full Review
Intro
The Huawei P40 Pro was a brilliant flagship phone with a class-leading camera, but one that was hamstrung by a sub-par software offering thanks to external political factors.
With a fresh app-finding tool and the offer of 5G connectivity on the cheap, can the mid-range Huawei P40 Lite 5G provide a more compelling proposition to UK buyers?
A launch price of £380 means that it manages to undercut the equally 5G-ready Samsung Galaxy A51 5G and Oppo Find X2 Lite. But are the savings worth it?
Screen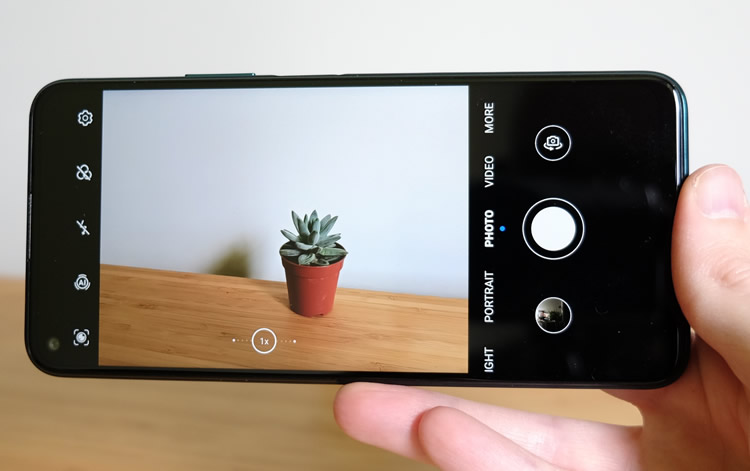 The Huawei P40 Lite 5G packs a 6.5-inch FHD+ display with a 20:9 aspect ratio. It's a decent all-rounder, but it lacks one vital attribute that its aforementioned 5G rivals possess.
Both the Samsung Galaxy A51 5G and the Oppo Find X2 Lite use OLED display panels, which output deeper colours and purer blacks than the P40 Lite 5G's IPS LCD. This is an older, less advanced, and cheaper form of screen technology, which might well be what accounts for the £20 to £50 saving you'll make.
While we would have preferred to have an OLED screen, though, there's no faulting the quality of the P40 Lite 5G's picture on LCD terms. It's big, sharp, and well balanced, and while it could perhaps do with getting a little brighter for those sunny conditions, it's not dim by any means.
By default, the Huawei P40 Lite 5G display will scale its resolution according to the task at hand in order to save battery. You can force it to 1080p or 720p in the Settings menu if you wish, but we found the existing intelligent option to be fine.
Design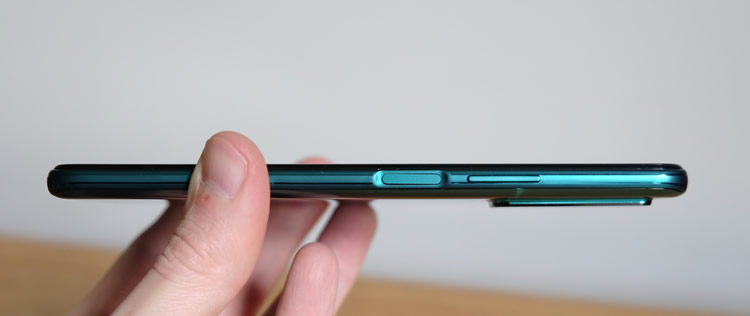 While it shares a name with the Huawei P40 Pro, the Huawei P40 Lite 5G doesn't share much of that phone's stunning design. Its frame has a slight plasticky feel to it, even if it seems to be made of aluminium, while the rear cover is shiny plastic rather than glass.
Still, it's a very well put together piece of kit, with solid build quality and minimal creak. It's weighty, too, at 189g.
The buttons are well placed on the right hand edge, and that includes a larger-than-normal power button, which incorporates a speedy and accurate fingerprint sensor. It's become the norm for aspirational phones to pack a fingerprint sensor under their displays, but these rarely perform as well as dedicated sensors, so we're perfectly OK with Huawei's decision.
One premium design flourish is the inclusion of a hole punch notch rather than the slightly more dated-looking dewdrop notch of the Oppo Find X2 Lite and co. Sure, it gets in the way of some landscape video content, but it looks smart.
You also get a USB-C port and, notably, a 3.5mm headphone jack on the bottom edge of the phone.
Power
The Huawei P40 Lite 5G's Kirin 820 chip isn't the top chip produced by Huawei subsidiary HiSilicon. It's a class down from than the Kirin 990 that drives the Huawei P40 Pro.
Even so, this is a very capable chip for this end of the market. Going by Geekbench 5, it offers similar single core performance to Qualcomm's equivalent Snapdragon 765G, which powers the likes of the Oppo Find X2 Lite and the Motorola Edge. In terms of multi-core performance, the Kirin 820 actually scores around 600 points higher (around 2300 versus 1700).
Benchmark bragging rights aside, the Huawei P40 Lite 5G feels fast in day to day usage. Multitasking, jumping to the camera app from sleep, and general home screen navigation proves slick and smooth. Only the lack of a high-refresh rate display really makes it feel any slower than a more expensive phone.
Games run well on the P40 Lite 5G too. Once we'd hunted it down from the far corners of the internet (stay tuned for more on that), PUBG Mobile ran smoothly on its default High/HD settings, no doubt aided by the allotted 6GB of RAM.
Camera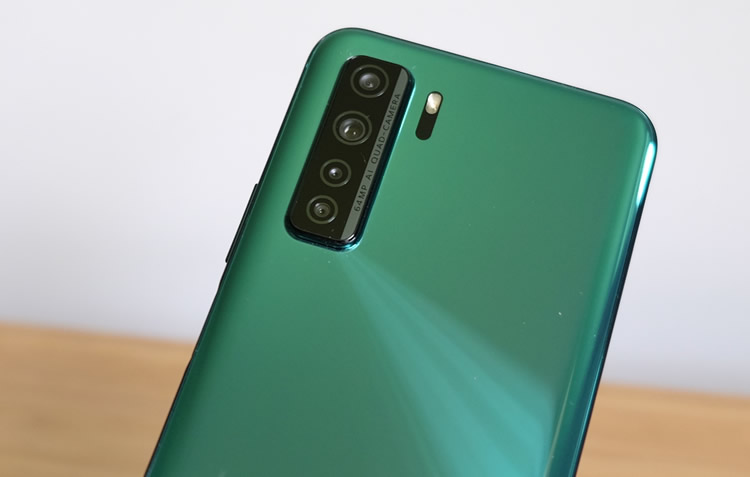 One thing you can always count on with a modern Huawei phone, whatever issues there are elsewhere, is a very good camera experience. The company has achieved an admirable mastery of the optics and algorithms necessary to create punchy, eye-pleasing snaps in a variety of conditions - however much you're paying for the phone.
In the case of the Huawei P40 Lite 5G, that works out to pseudo-quad-lens set-up, with a 64-megapixel wide sensor and an 8-megapixel ultrawide. There's no telephoto here. Rather, the other two lenses are a pointless 2-megapixel macro and a 2-megapixel depth sensor that services the others.
The general quality of the photos we obtained with the P40 Lite 5G were impressive, with plenty of detail and particularly rich colours. As always, Huawei likes to jazz its colours up a little, especially if you activate the AI Camera assistant. But this is a stylistic choice rather than an outright weakness, and most people will appreciate the vibrant results.
Despite the omission of a dedicated telephoto lens, you'll still get surprisingly decent 2X zoomed shots with the P40 Lite 5G, thanks to that high-megapixel sensor and Huawei's advanced image processing. The wide angle camera, while not up to the main sensor's standard, does a reasonable if not exceptional job at getting close to the punchy tone of the main sensor, even if it loses detail at the edges.
Night Mode here works hard to pull out results in low light conditions, though it takes an excruciatingly long time to fully execute a shot, and there's plenty of noise. You won't get anything in very dark conditions, as you might with a high-end phone like the Huawei P40 Pro or the OnePlus 8 Pro.
But for this sort of money, the Huawei P40 Lite 5G takes some really good shots.
Features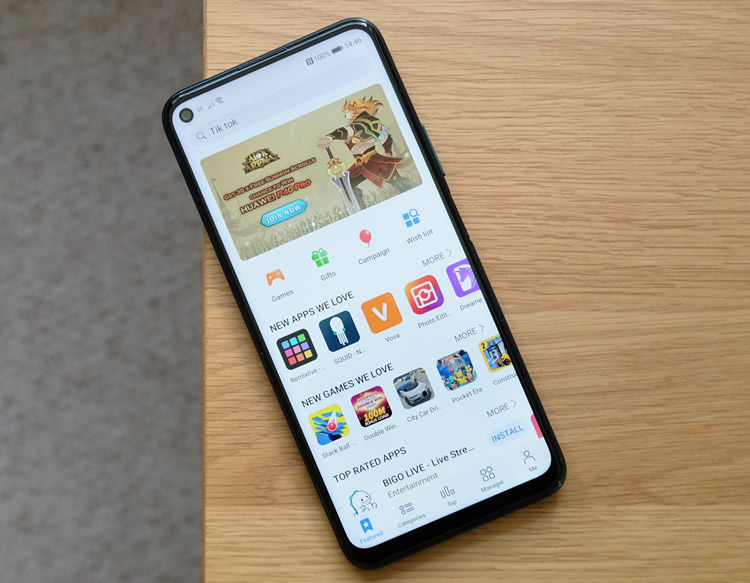 While 5G for less than £400 is a headline-grabbing feature, the Huawei P40 Lite 5G is likely to be noted for something entirely less welcome. Thanks to Huawei's ongoing spat with US legislators, the P40 Lite 5G doesn't run Google Play Services, which means you don't get any of Google's apps or its App Store.
Huawei stresses that its own App Gallery is the third biggest app store worldwide. However, it strongly leans towards Asian markets, and lacks many of the big apps Western users will want to download.
Of the 18 apps this writer most commonly uses, only one (Tidal) was on App Gallery. The likes of WhatsApp, Netflix, Slack, BBC Sounds, Pocket, Outlook and Facebook were nowhere to be found.
Or rather, they were to be found in other, less official corners of the internet. Huawei has rushed through a new stand-alone search tool called Petal Search, which scours the many other Android app stores out there for your apps and provides download and update links. We were able to grab all of those 18 apps, as well as games and even Google apps, using this tool. But it's a less secure and significantly much more convoluted process.
Returning to the point of stand-out features at the price, we should probably note that at launch Huawei seems to be offering its Huawei FreeBuds 3i wireless earphones for free with the P40 Lite 5G. These are worth £90 on their own.
We gave these earphones a test alongside the phone and found them to offer a decent and highly intuitive Bluetooth listening experience, with a neat hook-like form factor and compact charging case. While the sound quality and active noise cancellation might not be up to Apple AirPods Pro standards, they're a decent approximation at less than half the price, and they're very appealing indeed for free.
Battery life, memory and connectivity
The Huawei P40 Lite 5G runs on a 4000 mAh battery, which will easily carry you through a full day of usage and often well beyond.
Media streaming will eat into this run time, but not too much. After 30 minutes of Netflix streaming, with the screen at half brightness, the battery lost just 3% of a charge. We should provide the caveat that both Netflix and Amazon's video streaming services only stream at 720p here.
Thankfully, Huawei packs its phone with a meaty 40W SuperCharge charger, which can charge from 0 to 70% in just half an hour. There's no wireless charging, but only the iPhone SE really offers such a feature at this end of the market.
This is a well equipped phone when it comes to storage, with 128GB as standard and expansion potential for up to 256GB more through a microSD slot.
The headline feature for the Huawei P40 Lite 5G - quite literally - is that it offers 5G for well under £400. There aren't many phones that can boast this combination of value and next generation network connectivity.
Verdict
The Huawei P40 Lite 5G offers 5G connectivity at one of the lowest prices we've seen. Alongside this stand-out feature, you get strong performance and a good camera for a phone at this end of the market.
However, the display isn't as vibrant as some other phones in the £400 bracket, and the design won't exactly knock your socks off. Most crucially of all, Huawei's ongoing Google issues mean you'll have to jump through hoops just to get the apps that you want. If you're willing to do the legwork, the P40 Lite 5G is a good phone, but for most people it will be too much like hard work.
Specifications
Camera: 64MP wide, 8MP ultrawide, 2MP macro, 2MP depth
Operating System: Android 10, EMUI 10.1
Internal storage: 128GB
Expandable storage up to: 256GB
Processor make: HiSilicon
RAM: 6GB
Pixels per inch (PPI): 405ppi
Processor: Kirin 820 5G
Screen size (inches): 6.5
Resolution: 1080 x 2400
Battery capacity (mAh): 4000
Colours: Crush Green, Space Silver, Midnight Black
Dimensions (mm): 162.3 x 75 x 8.6
Weight (g): 189