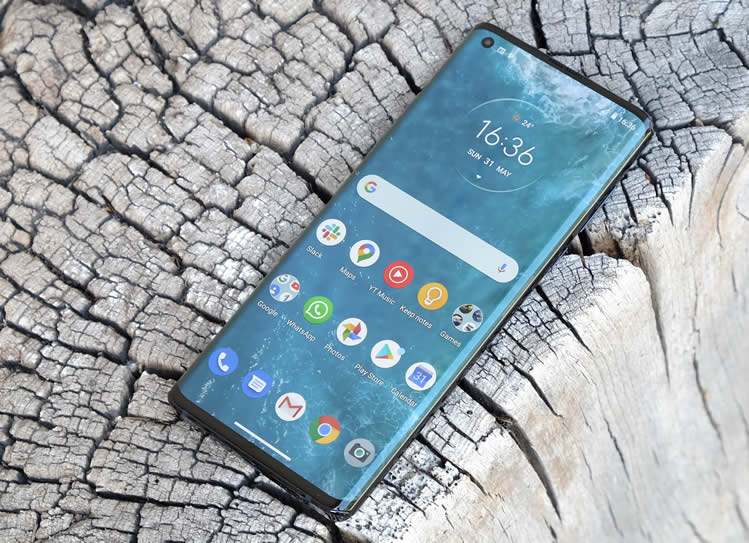 | Pros | Cons |
| --- | --- |
| Nicely balanced display | Relatively underwhelming CPU |
| Clean Android experience | Edge display poses some issues |
| 5G connectivity | Camera results a little flat |
Verdict
The Motorola Edge 5G offers a strong all-round package for £550, with a vibrant and fluid AMOLED display, a flexible triple-camera system, 5G connectivity, and appealingly stripped back software. Unfortunately it can't help but seem a little lacking when compared to the OnePlus 8, which offers an all round superior mid-range package for just a little more money. But it's a solid alternative, particularly if you prefer your displays to be as thin and curvaceous as possible.
Full Review

Specifications

Specs
Full Review
Motorola has long been the go-to smartphone brand if you're after refinement and reliability for around the £200 mark. But the Motorola Edge 5G sees the Lenovo-owned manufacturer reclaiming some of its premium pedigree.
While the Motorola Edge + will be providing high-end competition to the OnePlus 8 Pros and Samsung Galaxy S20s of this world, the Motorola Edge 5G comes with its own mid-market proposition.
Here's a classy-looking, well-specced, 5G-ready smartphone at a price of just £550. The question is, can this Edge 5G cut it against similarly priced opposition from the OnePlus 8?
Screen
The Motorola Edge 5G display is a real beauty. Its 'Endless Edge' design might be a bit of an acquired taste (more on which in a bit), but we can't fault the basics of this large, vibrant 6.7-inch 1080p screen.
Such a combination doesn't make for the sharpest picture output, but 385ppi proves ample detail in the scenarios that matter most. Browsing the web, streaming Netflix videos, and playing games are a pleasure here. Besides, the Edge 5G has a couple of image-boosting tricks up its sleeve.
For one thing, this is an AMOLED display, so colours really pop. Indeed, we actually found the regular 'Boosted' mode to provide slightly harsh reds for our tastes, so we opted for the more muted 'Natural'. In general, Motorola's display tuning is a little cooler and bluer than rival equivalents from OnePlus and Apple displays.
Motorola has also given its screen an elevated 90Hz refresh rate, like the OnePlus 8, which means that content scrolls across it 50% more smoothly than most other phones. By default the Edge 5G is set to pick and choose its moments to output at 90Hz, and you'll have to go into the settings menu if you want to force it on all the time.
Compare Motorola Edge 5G deals
Design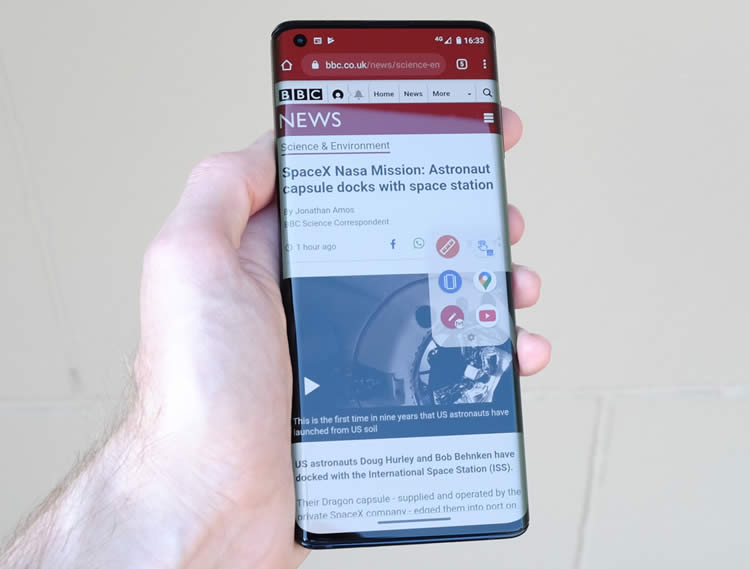 The Motorola Edge 5G gets its name from is dual curved-Edge design, with the left and right sides of the display dropping off at 90-degree angles.
This is something it shares with a number of other phones, like the OnePlus 8 Pro and the Huawei P40 Pro. The OnePlus 8 and the Samsung Galaxy S20 curve off a little less aggressively, and we probably prefer this less extreme approach.
While the Edge 5G screen looks and feels great, it can make full-screen content look a little odd, with notable distortions on the two angles. By default, web text will go right up to those Edge 5Gs, which can be distracting. Motorola has all but acknowledged that this might prove problematic for some by including an option to decrease the limits of the screen via the Edge 5G touch function (see the Features section).
Elsewhere the Motorola is a handsome, well-built phone, and slightly taller and narrower than the OnePlus 8, with a super-skinny 19.5:9 aspect ratio.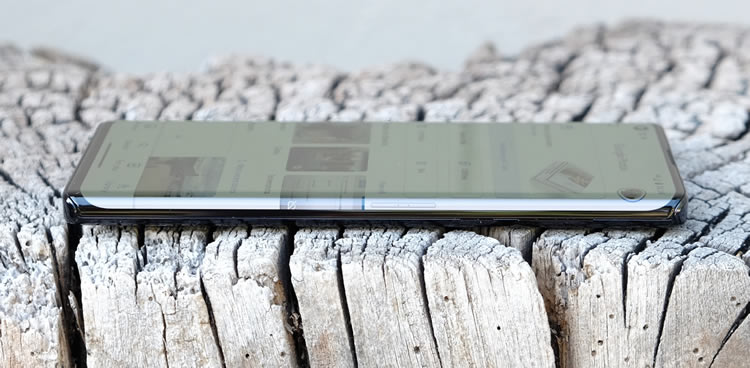 It doesn't quite match the high-quality feel of its key rival though. A pronounced ridge where the curved screen meets the back panel might well aid grip, but it also makes the phone feel a little less premium.
Power
For the most part, the Motorola Edge 5G presents itself as a flagship (or thereabouts) device. But if there's one component that stands out as a clear compromise, it's the phone's Snapdragon 765 CPU.
We're not saying that this isn't a highly capable chip. It's got plenty of poke, with fluid general performance and the ability to run 3D games on high settings.
But this is still a decidedly mid-range processor. And while you could justifiably argue that £550 is a mid-range price to pay, that argument flounders a little when you consider that the £600 OnePlus 8 packs a full fat Snapdragon 865.
For just a little more money, you're getting a phone that benchmarks at almost twice the performance (going by the popular Geekbench 4 multi-core test), opens apps quicker, and runs games more fluidly.
Camera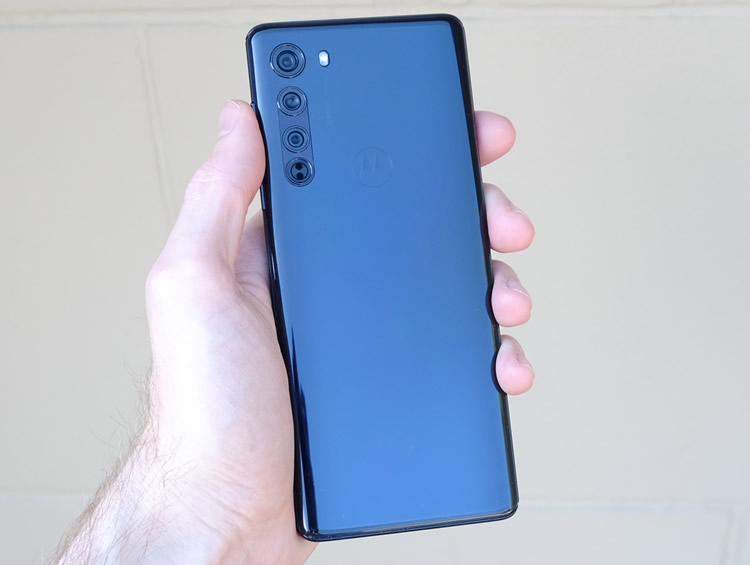 The Motorola Edge 5G has a nicely stacked camera module, with a 64-megapixel main sensor backed by an 8-megapixel telephoto and a 16-megapixel ultrawide lens, complemented by a dedicated ToF depth sensor.
This means that you can take decent shots in a variety of scenarios and lighting conditions. Unlike the OnePlus 8, the presence of an 8MP telephoto camera lets you take proper 2x zoomed shots, though the tone of these can vary quite a lot from the other two cameras. The Edge 5G's ultrawide also has the ability to shoot worthwhile macros, which plenty of low to mid-range phones have seemingly been incapable of - including the OnePlus 8 with its dedicated macro camera.
But while the Motorola Edge 5G camera is ostensibly more versatile than that of the OnePlus 8, we generally preferred the results that we got from the latter phone. Given the direct nature of the rivalry, we decided to take a sample of around 15 nigh-on identical shots on both devices. While the two phone cameras had their own distinct characteristics, the OnePlus came out with the preferable shot more often than not.
Its snaps were brighter and more vibrant, while the Motorola's shots often looked a little washed out. While the OnePlus would occasionally stray into garishness compared to the Motorola's more natural hue, it would typically pull out more detail in a scene, and would handle extremes of light and shade (aka HDR) better.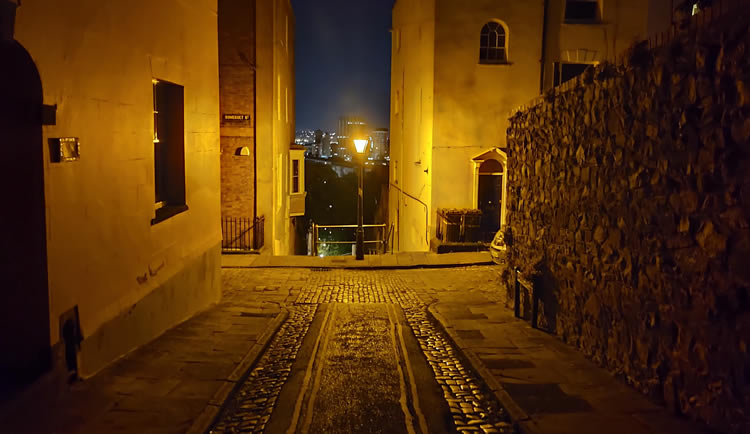 We found that the Motorola Edge 5G's Night Mode (see above), while adequate, was also far inferior to the OnePlus 8 equivalent, with the latter capturing way more detail and less noise in extremely low-light conditions. You could flip a coin when it came to the quality of Portrait shots, however.
We should issue the caveat here that we took these comparison shots after the OnePlus Camera app had received a major update. There's every chance that Motorola could improve things in a similar fashion. But for now, the OnePlus 8 offers the better photographic experience for £600.
Features
One of the key features of any Motorola phone is its super-clean Android OS. Unlike other manufacturers, it chooses not to apply a hefty custom UI. That's a strength compared to Huawei, but perhaps less so next to OnePlus.
Motorola has added a couple more embellishments with its new My UX. You still get the usual Moto Actions, which are thoughtful gesture-based shortcuts. But added to these are customisation options that let you personalise the look of your home screen, from fonts to app icons.
Then there's the aforementioned Edge 5G Touch virtual button, which sits right at the Edge 5G of the screen, and can be swiped or dragged to bring up shortcuts or access menus.
Talking of those curved Edge 5Gs, they will light up for notifications, which is handy if you tend to keep your phone face down. And in games, Motorola's Gametime function will let you add mappable virtual shoulder buttons on the top Edge 5G.
The Edge 5G also features an in-display fingerprint sensor, but its implementation is far from the quickest or most reliable, especially when taking it out of a pocket on a warm day.
You don't get wireless charging here, but we're happy to report the presence of a 3.5mm jack. This is an increasingly rare inclusion, and will be enough to sell the phone to a small but dedicated minority.
Battery life, memory and connectivity
We can't knock the Motorola Edge 5G's stamina. Its 4500 mAh battery is larger than that of chief rival the OnePlus 8, and is more than up to the task of carrying you through a full day of intensive usage.
If you're not a particularly heavy user, you'll probably find that you can get through two full days of usage before needing to recharge. But in general, expect a full day with bags of room to spare.
You'll find ample storage here too, with 128GB of internal capacity. It's true that you can specify double that for the OnePlus 8, but unlike that phone the Edge 5G also has a microSD slot for up to 1TB of memory expansion.
One of the Motorola Edge 5G's key boasts is that it features 5G connectivity. This is still quite a premium feature (though things are starting to change), so being able to get next-generation network speeds for £550 makes the Edge 5G a tempting proposition. It won't stretch to advanced mmWave bands, though.
Verdict
The Motorola Edge 5G provides a slick flagship-like experience for almost half the price of many top-end phones. It's got a big, vibrant AMOLED display, crisp software, and a highly flexible triple-camera system. You won't find many cheaper 5G-ready phones, and any that you do will lack the Edge 5G's all-round poise.
If it comes down to a straight choice, however, then the OnePlus 8 provides a tighter design, significantly superior performance, and (at the time of writing) a better camera for just a tad more money. But if you're already stretching your budget to the limit, then you can't go far wrong with the Motorola Edge 5G.
Specifications
Dimensions (mm): 161.6 x 71.1 x 9.3
Weight (g): 188
Battery capacity (mAh): 4500
Colours: Solar Black, Midnight Magenta
Screen size (inches): 6.7
Resolution: 1080 x 2340
Pixels per inch (PPI): 385
Processor: Octa-core
Processor make: Qualcomm SDM765 Snapdragon 765
RAM: 6GB
Internal storage: 128GB
Expandable storage up to: 1TB
Camera: 64MP, 8MP, 16MP (25MP front-facing)
Operating System: Android 10