Three has recently launched its 5G home broadband service, and it looks very appealing. Offering super fast download speeds and upload speeds, it's set to eclipse 4G rapidly and potentially many fibre broadband connections too.
Even better, it doesn't require a landline to use and it should only take moments to set up. Sounds too good to be true, right? Well, you'll be surprised. It's a trend that's fast developing across numerous different 5G networks, providing you live in the right area that is.
We've previously taken a look at what networks offer 5G home broadband and the general benefits, but now it's time to focus on what makes Three's 5G home broadband service such an attractive proposition.
What plans do Three offer?
Three keeps things very simple for new customers. 5G home broadband comes in at £35 per month with no upfront cost on a 12-month contract with unlimited data. That includes next day delivery or you can pay £20 for same day delivery if time is of the essence. That's substantially lower than nearest rival, Vodafone, which charges £50 a month for their unlimited service as well as a £50 upfront fee.
For the price, you get the aforementioned unlimited data along with a Three 5G Hub to provide your home internet connection.
Three 5G Hub - 5G Mobile Broadband

Powerful router that shares a single 5G connection with a household or office (up to 64 devices).

Unlimited data

£35 a month
What does the Three 5G Hub offer?
The Three 5G Hub is a powerful router that can share a single 5G connection across up to 64 simultaneous connections. That means there's no shortage of room for all your devices at home from your computer to your phone, games console, tablet, and anything else you can think of.
Unlike other broadband routers from service providers, the Three 5G Hub is plug and play. There's no need for an engineer visit. You can set it up yourself within minutes. It's easy enough to set up that you can easily take it with you when you move house, assuming your new home has 5G coverage, of course.
Superfast speeds
Speeds vary depending on your postcode. We checked some London postcodes and found average speeds of about 100 Mbps were expected, while other locations suggested 400 Mbps was more likely. Those estimates are based on the speed you should expect during peak times between 8 and 10pm for at least half of Three's customers.
Where is Three 5G home broadband available?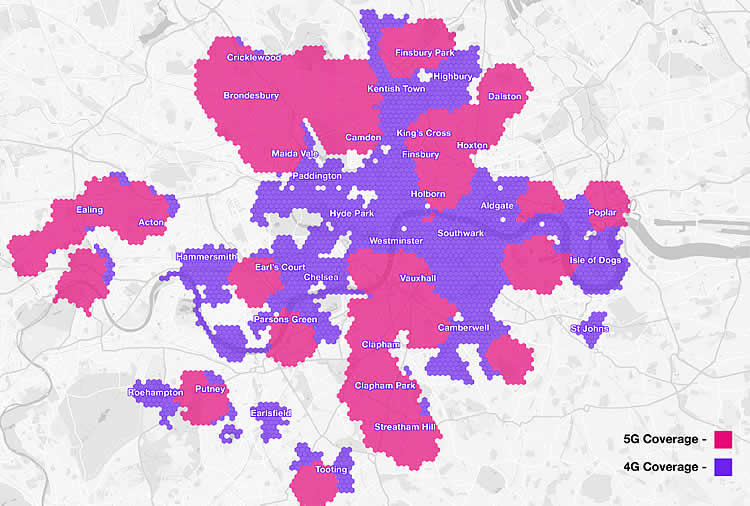 Predictably, you have to be in London to take advantage of Three 5G home broadband right now. Even then, it's only available in select areas such as parts of Camden, Ealing, Acton, Clapham, Hoxton, Dalston, Finsbury Park, and Putney. That's an issue for many but Three plans to bring 5G to 25 cities and towns by the end of the year. The list includes Birmingham, Bolton, Bradford, Brighton, Bristol, Cardiff, Coventry, Derby, Edinburgh, Glasgow, Hull, Leeds, Leicester, Liverpool, Manchester, Middlesbrough, Milton Keynes, Nottingham, Reading, Rotherham, Sheffield, Slough, Sunderland and Wolverhampton.
Check if 5G home broadband is available in your area here
What alternatives are available?
If you're keen to embrace 5G as quickly as possible, the only viable alternative right now is Vodafone and its Gigacube. The router and home broadband service works much like Three's 5G Hub, allowing for up to 64 devices to be connected at once, and being plug and play without the need for a landline or an engineer visit. The catch? It's a lot more expensive.
For an unlimited data package plan, expect to pay £50 per month with an upfront fee of £50 for the GigaCube. However, it does cover more parts of the country. This includes parts of Birmingham, Bristol, Cardiff, Glasgow, Manchester, Liverpool, as well as London. 12 more locations are set to be included by the end of 2019. It's almost a form of postcode lottery so check Vodafone's coverage and compare it with Three's coverage to see what's available to you.
Alternatively, if you're keen to stick with Three but don't live in an area that has 5G just yet, you can use its 4G Home Broadband plan. Like the 5G plans, data is unlimited. Typically, you have the choice of two different hubs. There's the Huawei HomeFI which allows you to connect up to 32 devices or the Huawei AI Cube which allows for 64 devices, as well as offers an in-built Alexa assistant.
The cheapest deals are 24 month contracts with the Huawei HomeFI costing £22 a month for the duration, and the Huawei AI Cube costing £26 per month. Switch to a 12 month contract and expect to pay £29 upfront for either hub and £27 per month for the Huawei HomeFI and £30 per month for the Huawei AI Cube.
As before, everything is plug and play so you don't have to worry about an engineer visiting.
Although, if you're fine with an engineer calling round and losing a little flexibility (such as the ability to take your router and connection elsewhere), Fibre broadband is still an appealing option. You don't have to worry about whether you have a signal and Fibre broadband packages are far more widely available.
The major options out there are
BT Fibre
Sky Broadband
Virgin Media
Each service typically costs more for slower speeds than Three and other 5G networks offer. For instance, BT's Fibre Essential package works out at £29.99 per month for average speeds of about 36Mbps. Virgin fares better speed wise with averages of about 54Mbps for £28 a month, with Sky roughly the same at £27 a month for about 59Mbps. For all of these, you'll need a landline installing which might not be very attractive to you if you conduct all your calls via your mobile phone.
What should I do?
For now, if speed is everything and you live in one of the few areas that has Three's 5G Home Broadband, it's a no brainer of an option. Speeds are great and the price is good too.
Otherwise, if you're willing to pay a little more, Vodafone is a decent shout providing you're in one of the areas it covers. Otherwise, you may have to settle with Fibre broadband while keeping a keen eye on developments. O2 and EE has yet to release their 5G home broadband plans and they could shake up the landscape significantly.