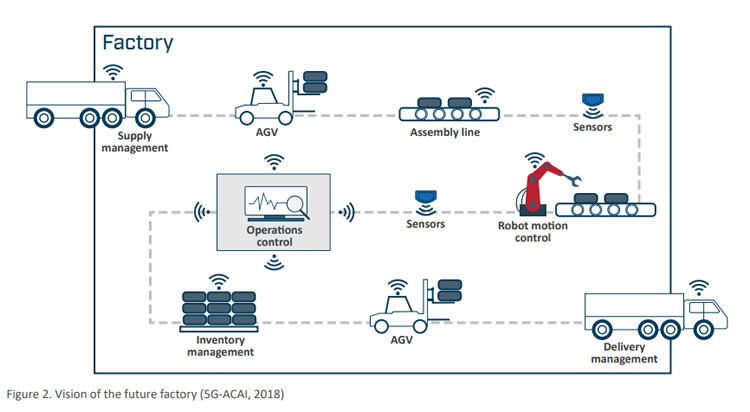 5G will revolutionise production processes on the factory floor. This was the unequivocal conclusion of a new free white paper
The paper has been published by HMS Labs. Part of HMS Networks, a specialist in industrial communications, HMS Labs works solely on investigating and pioneering new technical solutions.
"Safer, flexible and more efficient manufacturing systems will be possible thanks to the ultra-low-latency and reliability of 5G connectivity," said Dr Jens Jakobsen, Development Manager at HMS Labs.
Entitled 'The Benefits of 5G in The Factory', the white paper argued that the way factories produce goods today is far from ideal. While mass production has clearly lowered product prices, factories are typically not geared up to satisfy demand for customised products – at least if costs are not to spiral out of control.
Which is where 5G can help. By enabling much more automation, said HMS Labs, factories can not only lower costs and improve product quality – less scope for human error – but they can be more flexible on what they produce.
"None of the wireless technologies used today have the reliability, scalability and performance which is needed for tomorrow's industrial production," claimed Dr Jakobsen. "From a technical perspective 5G cellular technology has the potential to meet all the requirements."
Plugging the automation gaps
HMS Labs highlighted the main processes which have so far not been automated – namely the integration of logistics, material handling and factory automation. This sort of integration and automation, claimed the white paper, can only be achieved by wireless technology and machine-to-machine communications.
To illustrate the point, HMS Labs outlined a 5G-based vision (above) of what future production processes might look like. In this vision, a truck arrives at the factory carrying material and then communicates wirelessly with an AGV (automated guided vehicle). The AGV then unloads the truck and delivers the material to an assembly line, where machines and robots are connected wirelessly. In this scenario, workers are mobile and use wireless devices to monitor and control the factory. Finished products are then placed in an automated warehouse before they are loaded onto a truck.
HMS Labs further flagged a need to migrate some of today's powerline communications from industrial Ethernet to 5G. The driver for this is increased flexibility, increased reliability and reduced cost for some use cases.
Can 5G do everything? Not quite
Despite 5G's much more sprightly latency times than 4G, it is still not swift enough for all factory applications. "The only area not suitable for 5G within industrial production is motion control with sub-millisecond cycle time requirements," conceded Dr Jakobsen.