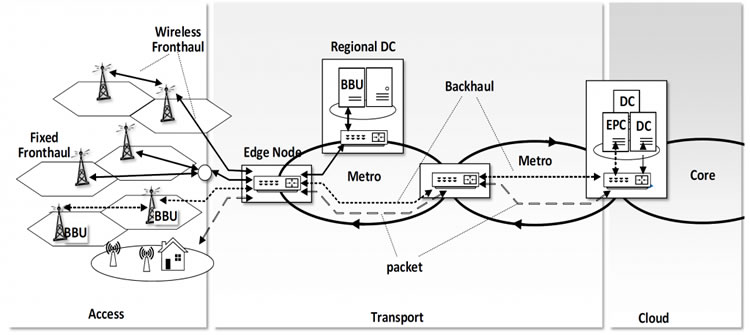 €7.7 million in EU funding has been awarded to the Metro-Haul European consortium to research the application of optical infrastructure to 5G wireless networks.
Metro-Haul (full name: Metro High bandwidth, 5G Application-aware optical network, with edge storage, compUte and low Latency) is the name of a three-year project from a consortium headed by British Telecom. Its 19 other members include major network operators, equipment manufacturers, specialist small businesses and universities from seven different European countries.
The goal of the Metro-Haul project is to come up with flexible and efficient optical metro networks that can support data traffic from 5G. Taking into account the predicted dramatic increase in traffic that will accompany 5G's introduction, Metro-Haul is expected to be able to support more than 100 times the capacity of current metro networks.
Despite this, Metro-Haul will be consume 10 times less energy than current standards. It will also be able to meet specific characteristics of 5G networks such as mobility and low latency.
As part of the project, Metro-Haul will carry out proof of concept demonstrations of its networking solution, which will involve the demonstration of actual 5G services across its test-bed.
Andrew Lord from British Telecom said, "This work is very important for forward-looking service providers, and we are pleased to be working with Telecom Italia and Telefonica on this project. We hope to deliver on a number of targets that will increase the capacity of metro networks, provide dynamic end-to-end connectivity using network slicing and software defined networking (SDN), and achieve significant reductions in operational and capital costs for future 5G services."
In addition to its work developing 5G-ready optical infrastructure, Metro-Haul will actively participate in the relevant standardisation bodies in order to promote its solution.
Image credit: Metrohaul