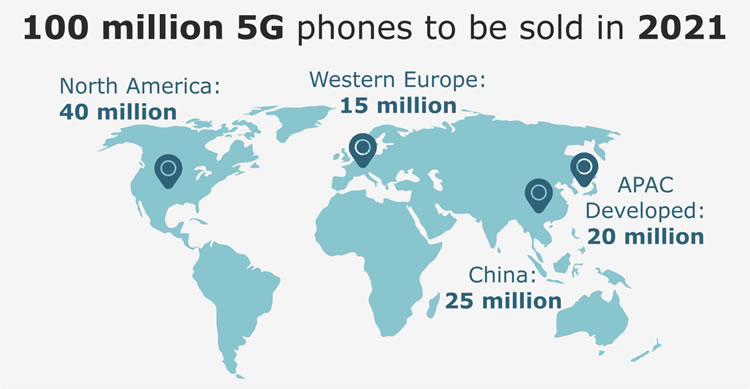 As many as 100 million 5G-capable phones will be shipped in 2021, according to a new analyst report.
CCS Insight has released the latest update to its worldwide forecast of mobile phone shipments, which states that almost 2 billion mobile phones will be shipped in 2017. That will represent a rise of two percent from 2016.
However, the most interesting prediction made in the report is that as many as 100 million 5G-capable phones will be shipped in 2021.
While this may only represent a fraction of the total estimated mobile phone sales for the year of 2.08 billion, it would remain an impressive figure. After all, 5G mobile network technology itself isn't expected to be available to the public until 2020.
CCS Insight goes on to break down where those 100 million 5G smartphone sales are likely to occur. It seems North America will see the largest initial proportion of 5G smartphones at 40 million handsets, followed by 25 million for China, 20 million in the Asia Pacific region (which includes the major smartphone markets of South Korea and Japan), and 15 million here in Europe.
While total mobile phone sales will only grow a little over the next five years, the proportion of smartphone sales to feature phone sales will continue to increase. By 2021, smartphones will account for 92 percent of the total mobile phone market.
Marina Koytcheva, VP Forecasting at CCS Insight, said: "The mobile phone continues to power one of the most vibrant sectors of the consumer electronics market. Although total shipment volumes will remain largely flat over the next five years, the proportion of smartphones continues to grow and the technology landscape is changing rapidly".
While China is expected to remain the largest overall global market for mobile phones over the next five years, India could well be the biggest mover. The country's mobile phone market is expected to grow four percent between 2016 and 2021, which is considerably higher than the global average of 1.3 percent.
If that sounds like good news for smartphone manufacturers, think again. Rising component prices will squeeze margins yet further.
Image credit: Shutterstock