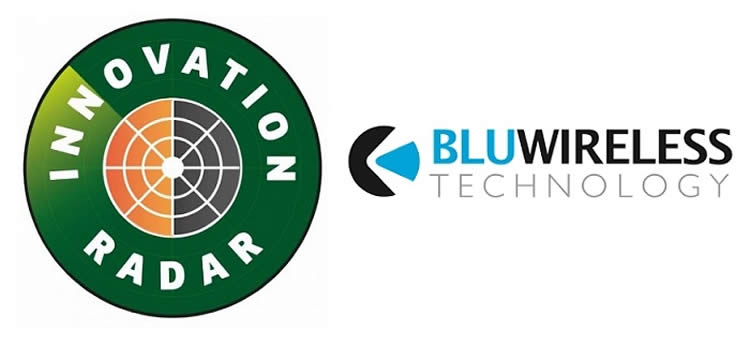 The European Commission has named Bristol's Blu Wireless Technology as a Key Innovator in its Innovation Radar Platform, which the Commission launched in April.
The platform is a data-driven, online tool designed to provide easy access to individuals, public officials, professionals and business people to innovations supported by European Union funding and the innovators behind them. Previous beneficiaries of EU funding in their early days include companies such as Skype, TomTom and ARM Holdings.
Key Innovator nomination
The Key Innovator nomination recognises Blu Wireless's involvement in the 5G-XHaul project, which is part of the Horizon 2020 framework – the largest research and innovation funding programme in Europe.
The Innovation Radar is not simply a databank, but is intended to act as a broker between innovators and those who can help them turn their innovations into commercial products, through additional expertise or capital or both.
5G-XHaul project
The 5G-XHaul project proposed and is evaluating a converged optical and wireless transport network able to connect small cells to the core network flexibly. This is challenging because small cells combined with cloud and virtualisation impose stringent requirements on the transport network. Hence flexible wireless solutions are needed for dynamic backhaul and fronthaul architectures (which move traffic from the radio access network to the core network and vice versa), along with high capacity optical interconnects.
Before the 5G-XHaul project, there was no consensus on how the technologies could be most efficiently combined. Blu Wireless has developed and demonstrated 60GHz millimetre-wave (mmWave) backhaul networks that are ready to be deployed and offer carrier-grade 5G connectivity for backhaul and broadband. It's for this reason that Blu Wireless has been named as a Key Innovator.
Other participants in the 5G-XHaul project include Huawei, I2CAT, the University of Bristol and Telefonica I&D. Blu Wireless' mmWave technology provides a perfect complement to this syndicate of partners who have been chosen to lead the European initiative.
Blu Wireless has also teamed up with LGS Innovations on gigabit wireless communications for 5G applications such as gigabit fixed wireless access.
Ray McConnell, CTO, Blu Wireless, said, "EU-funded projects like these have access to a plethora of cutting-edge, life-changing research concepts and technology advancements. To stand out from such an impressive profile for having truly innovative and forward-focused technology and market potential means there is genuine confidence in our ability to facilitate delivery of the networks of the future."
Useful read: What is 5G?