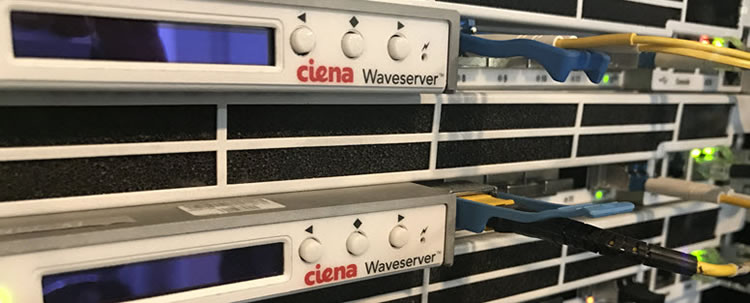 BT is getting ready for 5G with a network upgrade that will add significant capacity to the long-haul connections between its data centres and the main Internet peering nodes in the UK. The move will also support growing traffic from the operator's Fibre-to-the-Premises (FTTP) rollout.
BT will deploy Ciena's Waveserver stackable data centre interconnect (DCI) platform to support mobile data traffic growth from 5G and higher residential broadband data traffic from FTTP.
5G isn't just about fast connections from local base stations to our smartphones or other devices. Achieving 5G speeds of between 1Gbps and 10Gbps for users requires not only higher speed radios, but also greater capacity across the entire network. According to Ciena, the Waveserver DCI platform will allow BT to quickly add larger and multiple low-latency connections to its data centres while providing up to 2.4 Tbps of capacity per stackable device.
BT's Chief Architect Neil J. McRae said: "We are launching 5G in 2019 across the busiest parts of 16 UK cities, and our FTTP footprint is growing on a daily basis. We have to stay ahead of the massive traffic growth that this brings, and the Ciena DCI platform ensures we can do that – quickly, making maximum use of automation."
Gearing Up for 5G Launch
BT, which owns EE, plans to launch 5G some time this year. The first cities to get EE's 5G service will be London, Cardiff, Belfast, Edinburgh, Birmingham and Manchester.
In addition to BT's long-haul capacity upgrade, EE has also been preparing for commercial service launches by upgrading transmission capacity to 5G sites to 10Gbps as well as filling out its selection of 5G smartphones and devices. So far, the operator has four 5G smartphones from Samsung, OnePlus, Huawei and LG, as well as the Mobile Smart Hub home router from HTC.