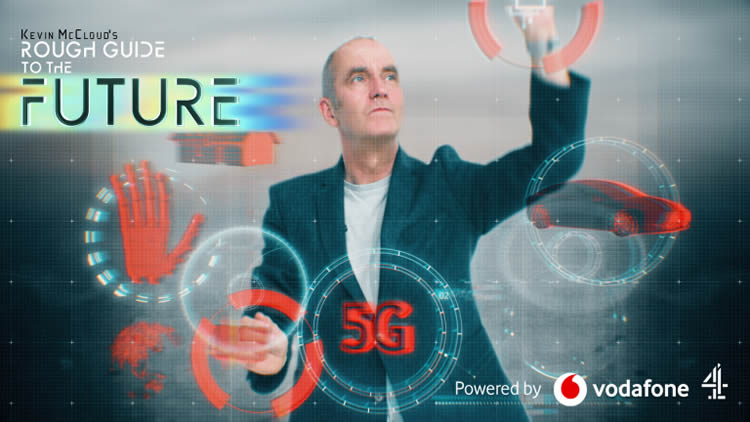 Kevin McCloud's Rough Guide to the Future (includes how 5G technology could help meet the challenges facing consumers and businesses).
Channel 4 has recently launched a new TV show that explores how new technologies including 5G could change and improve our world.
The Rough Guide to the Future started on Channel 4 last night and is sponsored by Vodafone. Fronted by McCloud of Grand Designs fame who credits himself as an optimist when it comes to what technology and human endeavour can achieve, he looks at it from a positive angle, albeit with some cynical backup.
First epidsode
The first episode featured comedians Jon Richardson and Phil Wang, along with broadcaster Alice Levine, as they travel to the USA, China and Japan to see how 5G and other technologies have changed living. It explored how blockchain technology can help with fresh food and autonomous vehicles, as well as looked at avatar robots, holograms, haptic gloves and waste management systems.
Throughout, Vodafone UK's Chief Technology Officer is available to explain how the technology works as well as its impact, and where 5G is able to help such as by being able to transmit data faster and more reliably, in the case of critical systems like autonomous vehicles.
In a trailer above for the series, McCloud explains that "no-one can predict the future. But we are, right now, at a crossroads. We drive too much, fly far too much, eat too much and shop insatiably….Humanity is facing some monumental challenge," going on to explain how while technology got us into "this mess", it can also get us out.
It's an interesting perspective and the Rough Guide to the Future's aim is to keep it light yet also informative, with the all-important cynics there to aid any viewers who aren't yet sold on 5G and the like. As the trailer shows, it's light yet smart.
First episode catch-up
The first episode aired last night, but it's available on Channel 4's All4 streaming service, along with the rest of the series. It airs each Wednesday night at 9pm on Channel 4.