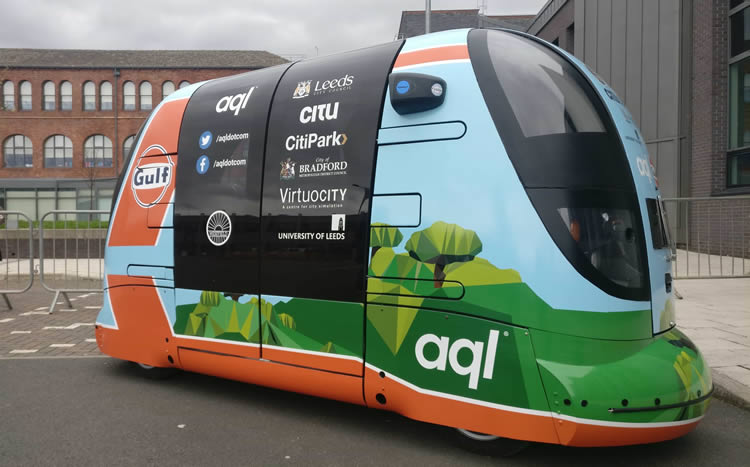 Leeds will be trialling self-driving public transport pods in the South Bank area of its city centre later this year.
This is part of a wider programme which will be run by a consortium that is looking at how to integrate autonomous vehicles into the city. Consortium members include aql, Gulf Oil, the University of Leeds, Leeds and Bradford city councils, and developers such as Citu and CitiPark.
aql's mobile operator division hold 5G test licences in the UK and will build the complex communications infrastructure needed to support the autonomous vehicle trial. "We see the South Bank as a blank canvas to create an integrated plan," said Professor Adam Beaumont, Founder and CEO, aql. His company has 20 years' experience in cyber security and will manage the vehicles' safety controls, as well as opening the vehicles - which are based on the Westfield POD - to the developer community to foster innovation.
Beaumont explained that the software to enable autonomous vehicles has so far been developed by the automotive industry, but the experience and expertise from other sectors could and should be brought to bear. He said, "We want to embrace other disciplines such as VR [virtual reality] and gaming, which have strong transferable spatial awareness skills to help innovate and create the next generation of smart city."
He insisted that without this more advanced technology, "driverless cars, for example, will simply join the traffic queues – we need cross-city communication and coordination via the [5G] next generation of mobile network technology to unlock the potential of driverless platforms."
Commercially proven since 2011
The Westfield POD is claimed by its maker to be the only autonomous transport system in the world that is commercially proven: it has been used at Heathrow Terminal 5 since 2011 to transport more than 1 million people over 4 million kilometres. The company states, "Compared to traditional airport transfer buses, it is cleaner, quicker, more comfortable and far more reliable: wait time is measured in seconds, not minutes".
This supports the belief that autonomous technology could transform public transport by reducing congestion, commuting time and pollution while improving safety for passengers, pedestrians and other road users.
The announcement of the trial follows the debut of the first POD as part of Leeds Digital Festival. It has been on display around the city, including at Leeds City College alongside a jet pack flight – part of aql's commitment to inspiring the next generation of innovators. It will appear at the Open Data Institute (ODI) Leeds' showcase, The Future of Transport in the North, and at the University of Leeds' Institute for Transport Studies.
Useful read: How fast is 5G?