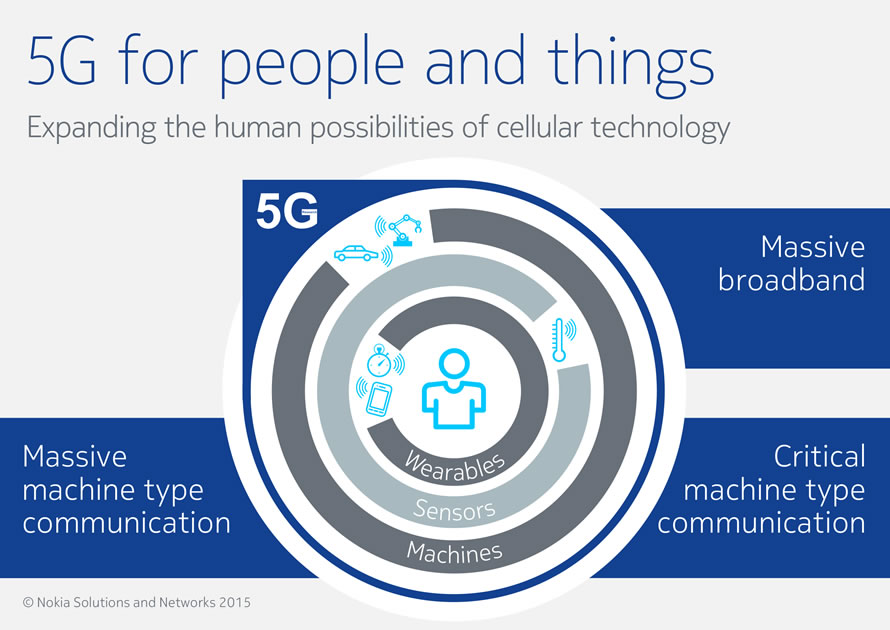 5G is the next generation of mobile data, so it's no surprise that the mobile industry, from networks, to manufacturers and academic institutions, is taking it seriously.
Nokia is no exception to that and in fact it's likely to be one of the driving forces of 5G in Europe, as it's carrying out various research projects and work into making 5G a reality. Read on for all the details of what Nokia is up to.
Nokia's vision for 5G
Nokia has big visions for 5G. It sees networks with speeds as high as 10Gbps and extremely low latency as core features of it. This will be necessary to drive all the new applications which 5G could enable.
There'll be ever more connected devices, leading to a true Internet of Things and the improved mobile data technologies will also allow for growth in numerous industries, including entertainment, agriculture, manufacturing, IT and cars.
But for this to happen there'll need to be a seriously capable and ultra-reliable 5G network, not least because beyond 2020 Nokia predicts there'll be up to 10,000 times more mobile data traffic and between 10 and 100 times more devices.
The three pillars of 5G

For 5G to become a reality Nokia sees three key areas that need to be focused on. For one thing there needs to be far more spectrum available. This is vital in ensuring the networks of the future can meet demands.
Nokia sees this problem being solved by both adopting new frequency bands and using the available spectrum more efficiently, both in terms of frequency and when and where it's deployed.
Networks will also need to become denser, with far more base stations. This in Nokia's view will mean combining macro sites with smaller base stations and using a range of radio technologies. These technologies won't be limited to 5G itself, as Nokia sees LTE-A and Wi-Fi also being flexibly integrated in any combination needed.
The final goal is to get the best possible performance from radio networks by both evolving existing radio access technologies and building new 5G wireless access technologies in order to decrease latency, increase speeds and support a wide range of applications, all at an affordable cost.
Nokia's research in a nutshell
Nokia's work on 5G is broad, but its main focus is on the flexible use of spectrum and its propagation in new, higher bands.
The company is also focused on designing a system for ultra-dense small cell deployments, with an aim of delivering high data rates at ultra-low latency.
Beyond this Nokia is looking at wide area enhancements, 5G architecture and analysis of how 5G may adapt to novel use cases. Read below for some specific examples of Nokia's 5G research and development.
5G radio systems
Nokia Networks is already developing new 5G radio systems which use advanced antennas and operate in bands of up to 100GHz. This allows for almost no latency at all and extreme throughput.
While spectrum below 6GHz will also be needed there's a growing requirement for spectrum of between 6GHz and 100GHz for use with 5G, so finding ways to make use of these bands is vital.
5G deployment should also be versatile and scalable, so that any number of users have a reliable service anywhere and at any time, even during times of peak activity.
In order to ensure this happens massive MIMO (multiple-input and multiple-output) and beamforming techniques will likely be required.
Nokia has already tested these technologies with the help of Mitsubishi. The two companies created and demonstrated an antenna with four movable beams, allowing beams to be positioned in the most efficient locations at any given time. Check out the video below to see the antenna in action.
A fast 5G network
Nokia has already tested a 5G network, reaching speeds of 10Gbps. That's in line with what we hope 5G will be capable of when it's available commercially and is one of the fastest 5G demonstrations yet.
Deployment studies
Efficiency is key in deploying 5G networks, especially as by 2030 there is likely to be as much as 10,000 times more wireless data traffic than there was in 2010.
Nokia aims to make the network requirements for this economically feasible, by both leveraging existing investments and ensuring that infrastructure grows in line with traffic demands.
Nokia Networks has already carried out extensive deployment studies in Chicago, Madrid, New York and Tokyo to find the most efficient deployment strategies.
Check out the video below for a visual overview of how Nokia has carried out these deployment studies.
Collaboration on millimetre-waves
Millimetre-wave frequencies are likely to be a vital part of 5G, as more spectrum is needed than can be found in the currently used frequencies.
To help leverage these Nokia has teamed with NTT DOCOMO to carry out trials in the 70GHz band. The problem with millimetre-waves is that they're very narrow, so they need to be accurately directed. As such Nokia has tested directional antennas, which could enable the beams to follow moving pedestrians and keep them connected. You can see this in action in the video below.
Looking ahead
5G development is really only just taking off and while Nokia is already deeply involved it's sure to grow its research over time, with new projects and new collaborations, keeping the company at the very cutting edge of this exciting new mobile technology.