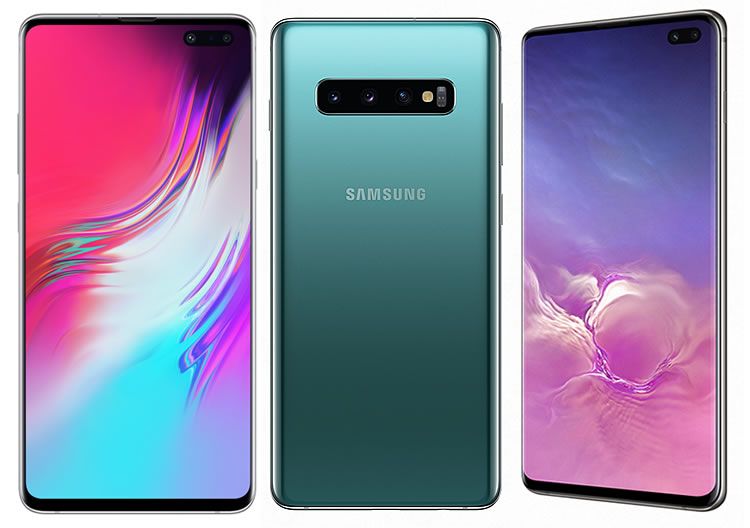 5G has hit a major landmark as Samsung has announced the Samsung Galaxy S10 5G, which could be the first 5G phone available. We say could be, because it's not out yet and a number of others are hot on its heels, but at the very least, the S10 5G is sure to be one of the most exciting and high-end.
It would be exciting enough if this was just an ordinary Galaxy S10 with added 5G, but the Samsung Galaxy S10 5G is an improvement in a lot of ways.
You can see the full specs list below but read on for a closer look at the main ways this is different to and better than the rest of the Galaxy S10 range.
Bigger and better
It has for example a 6.7-inch curved QHD+ Dynamic AMOLED screen with a 19:9 aspect ratio (where even the Galaxy S10 Plus only has a 6.4-inch screen).
It also has more cameras than the rest of the range, with four lenses on the back, specifically a 12MP f/2.4 telephoto lens, a 12MP lens that can switch between f/1.5 and f/2.4, a 16MP ultra-wide f/2.2 lens, and a 3D depth sensor. It also has a dual-lens camera on the front, with both a 10MP lens and a 3D depth sensor.
Those depth sensors will help with augmented reality (AR), facial recognition, virtual reality (VR) and any photography where depth is a major factor. The other big difference is the battery, which at 4,500mAh is enormous and bigger than the battery in any of the other Galaxy S10 models.
Samsung claims that it has made these changes to ensure that users can take full advantage of 5G, such as playing graphic-rich cloud games with no lag and making 4K video calls. The depth sensors especially could play nicely into 5G, since 5G itself is expected to enable lots of new AR and VR use cases.
Specifications
Dimensions (mm): 162.6 x 77.1 x 7.94mm
Weight (g): 198
Battery capacity (mAh): 4500
Fingerprint scanner: In-screen
Screen size (inches): 6.7
Resolution: QHD+
Pixels per inch (PPI): TBC
Processor: Octa-core
Processor make: Exynos 9820
RAM: 8GB
Internal storage: 256GB
Expandable storage up to: N/A
Camera: 12MP, 12MP, 16MP and 3D depth sensor (10MP and 3D depth sensor front-facing)
Operating System: Android 9