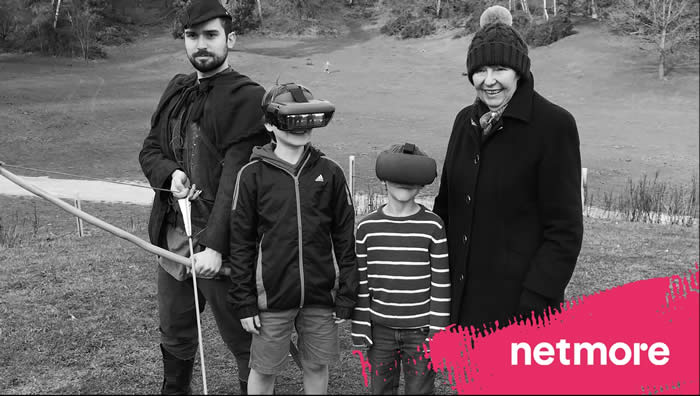 Nottingham's famous Sherwood Forest Country Park is aiming to be the world's first 5G 'Connected Forest' as part of a massive £10 million project.
Part funded by the government and partly funded by a consortium led by Nottingham County Council, the project aims to combine 5G technology, robotics, drones, and the beauty of the natural world all into one exciting package. It's all part of a series of government-funded trials that we reported on yesterday.
Netmore
The 25-month test bed and trial programme is in conjunction with Netmore, a Scandinavian mobile operator that specialises in private mobile networks. It aims to bring its first 5G network to the UK in the form of this project at Sherwood Forest. So, what does it actually mean?
In the past, Sweden has been known for embracing the use of emerging technologies to enhance its country and it's done a fantastic job so far. The thinking here is that 5G technology can benefit both tourism and the safe and reliable running of the environment.
Connected forest
At the simplest level, the 5G Connected Forest will offer more reliable coverage thanks to passive antenna technology and the use of Ofcom's newly liberalised spectrum. It'll also offer a 3D/4D virtual reality experience at the Sherwood Forest Visitor Centre, bringing Robin Hood to life for many.
There'll also be more environmentally aware uses such as the implementation of smart devices to reduce the environmental impact of visitors who stay, along with semi-autonomous vehicles to transport them around in a safe manner.
The plan also includes a 5G Innovation Hub which will host new research, encouraging other businesses to embrace such technology. Slightly more vaguely phrased, there are also plans to use technology to teach children about the forests, although concrete details haven't been offered here yet.
Robotics and drones
Robotics and drones have been used in the past in forests for commercial purposes, as seen in New Zealand. It sounds like Sherwood Forest will have similar given drones and robots are likely to help survey and monitor the health of the forest in a way that is more efficient than sending out individuals or vehicles. Combined with the education element that such connectivity will offer, this could be a big shift in terms of how we can protect our forests while still encouraging people to visit them.
In full the 5G Connected Forest project will include:
Use of Ofcom's newly liberalised spectrum, distributed small sites and some innovative passive antenna technology to provide coverage in what is difficult terrain for 5G radio coverage.
Bringing the Robin Hood legend to life at the Sherwood Forest Visitor Centre via an incredible 3D/4D virtual reality experience.
Trialling more energy-efficient visitor accommodation using smart devices to reduce the environmental impact of a visitor's stay as well as other improvements to encourage longer stays in the county.
Testing of semi-autonomous vehicles to transport visitors, particularly those with mobility issues, with plans for on-board narration.
Technology to teach children about the natural habitat of the forest to inspire the next generation of conservationists.
UK specialist Connect Fibre to provide backhaul open access fibre to enable spin-off projects to share relevant assets.
A 5G Innovation Hub to host new research and to provide businesses with access to facilities to trial new ideas and innovations.
Hopes are that the VR experience will be available from March 2021.