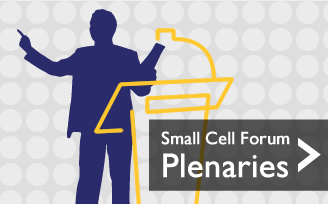 The Small Cell Forum is focused on driving the wide scale adoption of small cells and it sees them as being at the heart of 5G infrastructure.
But that's not the only requirement for 5G and recently the Forum has been setting out what will be required. It did this first by unveiling six key small cell work programmes aimed to drive the development of future networks.
These were outlined at its Rome 30th Plenary and each has a team focused on it. The programmes include 'Licence-exempt spectrum', which has a team looking at making optimum use of available spectrum and the potential to boost coverage through the use of licence-free spectrum.
There's also a 'Virtualisation' programme, which looks at moving network resources to the cloud, a 'Multi-Operator' programme, which aims to make small cells the preferred solution for delivering multi operator applications and 'Enterprise' which looks at opportunities for small cells in the Enterprise market.
Then there's 'HetNet and SON' which is focussed on ensuring networks can support ever growing mobile traffic and '5G, M2M and IoT', which looks generally at 5G, machine-to-machine (M2M) and the Internet of Things (IoT) and the role of small cells within them.
Since laying out these projects the Small Cell Forum has spoken at a 3GPP 5G workshop, where it outlined the role of small cells in a 5G network, setting out requirements in three key areas, specifically multi-operator support, RAN virtualisation and monetisation through common APIs.
Small Cell Forum Chair Alan Law said: "The small cell will play a central role in the high capacity, densely deployed HetNet networks of the future – both for current 4G/LTE systems and for future 5G networks.

"We were able to share with 3GPP the work we are doing on multi-operator small cells, on access virtualization over different latency transport networks, and on monetizing 5G through the establishment of common API frameworks – all challenges we have been addressing from a 4G perspective and where we have strong learnings to bring to the 5G table.
"As experts in supporting the commercialization of dense, efficient networks, we believe the Forum and its members have real-world experience that can help advance 5G deployments. We look forward to continuing to contribute to the process."