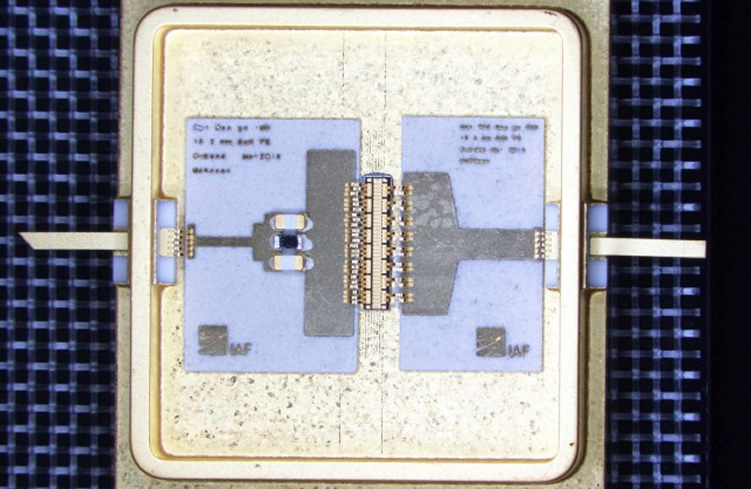 The arrival of 5G will bring about higher mobile network connection speeds and greater data capacity. In order to power this boosted performance, however, new base station technology is required.
Base stations are a key bottleneck through which all mobile network traffic must pass. It's this bottleneck that currently restricts 4G to an average peak data rate of 50 megabits per second, and prevents it from being able to handle true real time transmissions.
Conversely, 5G could well enable real-time radio communication and maximum data rates of 10 gigabits per second.
The Fraunhofer Institute for Applied Solid State Physics IAF in Freiburg, Germany, claims to have "special knowledge on how to widen this bottleneck".
Its researchers are developing new types of power amplifiers that can send higher quantities of data more quickly than current 4G technology. These new power amplifiers utilise additional radio frequencies of up to 6 gigahertz - LTE, by comparison, is limited to 2.7 gigahertz.
However, while these higher frequencies lead to faster data transmission, they are also much harder to power efficiently. As such, Fraunhofer IAF's scientists are using gallium nitride (GaN) to create power transmitters that are better suited to higher 5G frequencies.
Dr. Rüdiger Quay of Fraunhofer IAF explains, "Due to its special crystal structure, the same voltages can be applied at even higher frequencies, leading to a better power and efficiency performance".
Combined with new electronically steerable antennas that will deliver data to customers with pinpoint accuracy, 5G networks will be able to handle an expected 200-fold increase in data transmission without a massive increase in power expenditure.