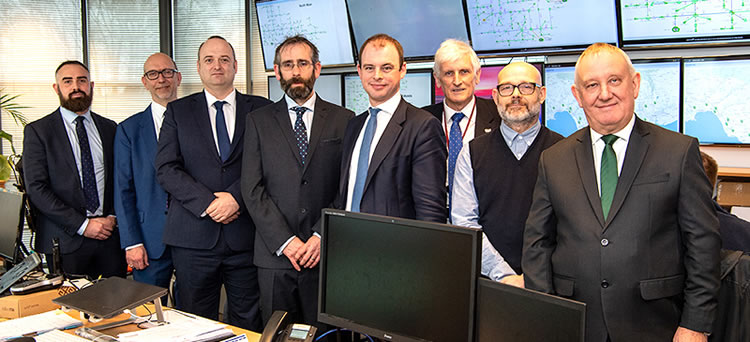 Three and Airband are teaming up together as network partners on the West Mercia 5G project, in a bid to provide 5G connectivity solutions in rural areas of the UK.
Airband reports that it's part of a wider plan by the UK government to invest £65 million into 5G trials. It's still worth mentioning that there's also a £30 million investment plan by the government into bringing 5G to rural areas that may also have something to do with it. This plan aims to provide 5G for areas that have historically missed out or suffered significant delays when it comes to technological advancements.
Photo shows: Digital minister Matt Warman and members of the West Mercia 5G consortium at Airband's Worcester headquarters.
The project comes in at roughly £3.2 million and hopes to provide better 5G technology across the West Mercia region, with a specific focus on the rural area where the counties of Shropshire and Worcestershire meet.
The 5G project has ambitious plans in terms of what West Mercia want to accomplish. There are hopes to use 5G across health and social applications, thereby creating solutions for support for remote health and social care workers who may need more communication-based assistance than they've been receiving in the past. The project is partnering up with Worcestershire County Council and Shropshire Council, with support from the University of Worcester, University Centre Shrewsbury, and West Midlands Academic Health Science Network.
Transformation
It's hoped that it'll be able to transform the lives of rural residents, as well as aid the workers who help them.
In a statement, Airband cites the matter of the UK's ageing population and how social care workers are under growing pressure because of this. While specific details weren't provided, it also mentions seeking out solutions for tackling loneliness, particularly amongst elderly people, so it sounds like there's a plan afoot here to bring people together via the medium of ultra-fast connections.
In the past, Airband director, Redmond Peel, has founded three telecoms businesses including one in South Africa. It's a similar story with the chair of the Worcestershire 5G consortium, Mark Stansfeld, who has a wealth of experience as well as helping lead Giffgaff to become one of the fastest growing businesses in the UK, so the right hands seem to be in charge of this project.
As Stansfeld explained in a statement, the key wish here is that "rural and under-served communities can enjoy connectivity solutions that help solve social and healthcare issues and help them to thrive and prosper". It's a lofty ambition but an important example of how 5G can achieve so much more than just provide superior internet connections to the already converted.