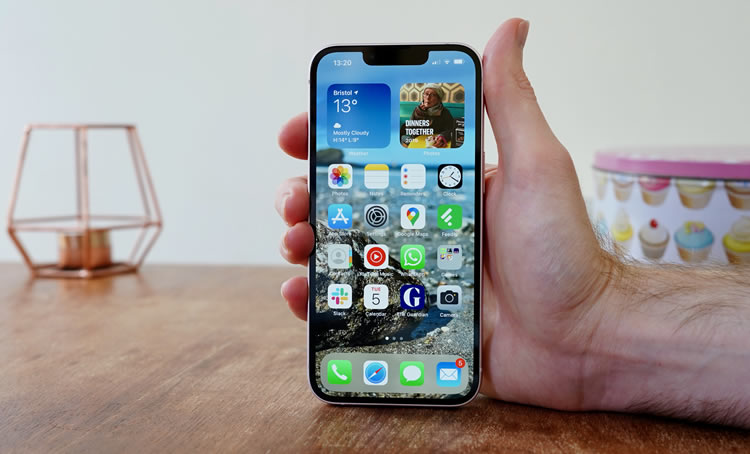 | Pros | Cons |
| --- | --- |
| Excellent battery life | Slightly thicker and heavier than before |
| Much improved camera system | Design now very familiar |
| Brighter display | No 120Hz ProMotion |
Verdict
The iPhone 13 is a lot like the iPhone 12 before it, but there are several significant improvements for anyone who didn't upgrade last year. Its camera system has been significantly improved, while battery life has also received a welcome bump. It's a shame the iPhone 13 Pro's key display improvement didn't filter down, but otherwise the iPhone 13 is a solid step forward.
Full Review

Specifications

Specs
Full Review
Last year's iPhone 12 tore up the overfamiliar Apple design playbook, and instigated a new sharp-edged era of industrial-chic iPhones. The iPhone 13 represents the second generation of that refreshed look, which initially makes it feel like another iterative update.
While the iPhone 13 could justifiably have been called the iPhone 12S, however, it's far from a lazy rehash. Significant improvements to the camera, battery, and performance make it a solid step forward for Apple's most popular phone line.
Unlike the iPhone 12, it's not the stand-out performer of this year's line-up - that honour goes to the iPhone 13 Pro - but it's still an easy recommendation for anyone upgrading from the 2019 vintage or older.
Screen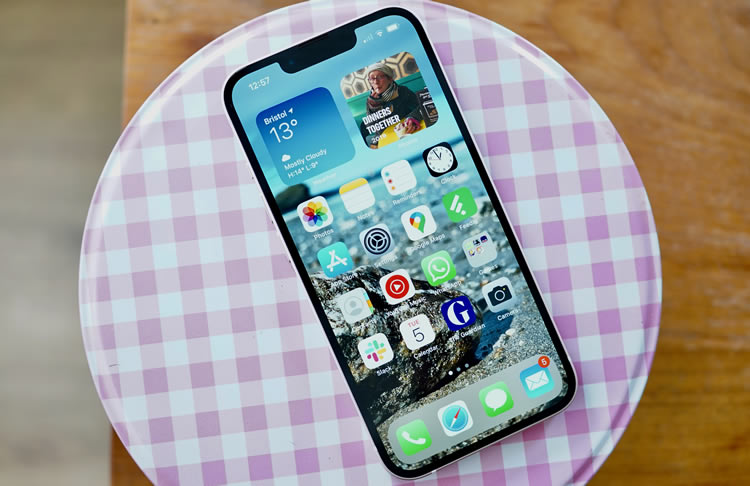 The iPhone 13 packs in a 6.1-inch AMOLED display with a super-sharp 1170 x 2532 resolution. So far, so iPhone 12.
However, this year's screen does make a couple of improvements. It gets a fair bit brighter at 800 nits compared to the iPhone 12's 625 nits, though it doesn't extend quite as far as the 1000 nits of the iPhone 13 Pro.
It also benefits from a 20% smaller display notch, which technically gives you more pixels in the top corners of the device.
All in all, it's a brilliant screen, with some of the most balanced and accurate colours on the market. But one facet leaves us a tad disappointed.
The big improvement found in the iPhone 13 Pro is a 120Hz refresh rate, which makes everything scroll by more smoothly and efficiently. It's nowhere to be seen in the iPhone 13, though, which leaves it feeling ever so slightly behind the times compared to similarly priced Android phones.
Design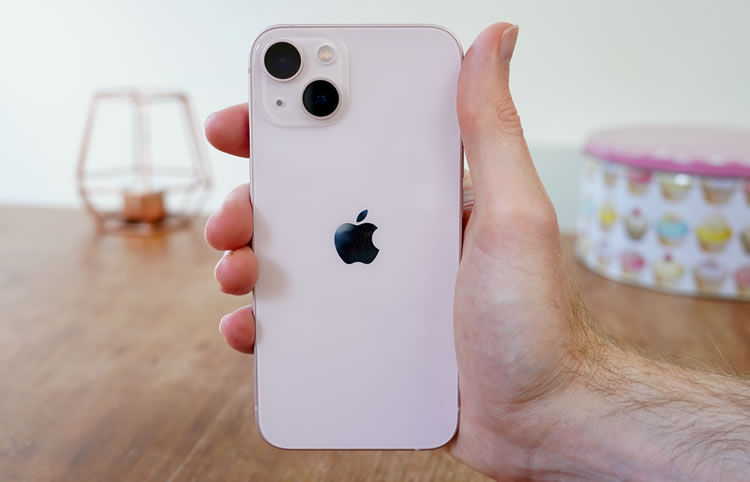 One thing's for sure, virtually all of the improvements with this year's iPhone are internal. Its design is virtually unchanged, aside from that shrunken display notch.
Not that this is a bad thing. Last year's iPhone 12 was the boldest iPhone redesign in years, and it still looks quite unlike any other phone on the market.
Apple has introduced some new colours for the iPhone 13, including our model's brilliant baby Pink shade. It looks great to our eues, but you can also get the iPhone 13 in a vibrant shade of Blue, Starlight, Midnight, or Red.
There is a slight difference to the iPhone 13's dimensions, too. At 7.7mm it's a tad thicker than the iPhone 12, and at 174g it's also 10g heavier. In both cases, you can put that down to a larger battery.
Also bigger is the iPhone 13's camera module, and with every good reason as we'll go on to discuss. Even so, it's not the monstrosity that is the iPhone 13 Pro camera module.
Power
We can't remember the last time a new iPhone found itself outgunned by the competition. Sure enough, the iPhone 13 is way ahead of any of its Android-based rivals, courtesy of a speedy new A15 Bionic chip.
In popular CPU benchmarking tool Geekbench 5, it scored around 1700 single-core and 4500 multi-core. That's very similar to the more expensive iPhone 13 Pro, with which it shares a basic chip architecture.
The iPhone 12 A15's GPU isn't quite as strong however, with one less core than the iPhone 13 Pro. It seems the iPhone 13 has 50% less RAM, too, at 4GB vs 6GB.
But we're talking about the difference between very fast and extremely fast here. The iPhone 13 will run any game you care to mention at full whack without breaking a sweat, and can multitask and crunch through image processing tasks as quickly as any phone.
Unlike with last year's iPhone 12 range, the Pro model definitely has the edge among the iPhone 13 family. But in practical terms, they're all lightning fast.
Camera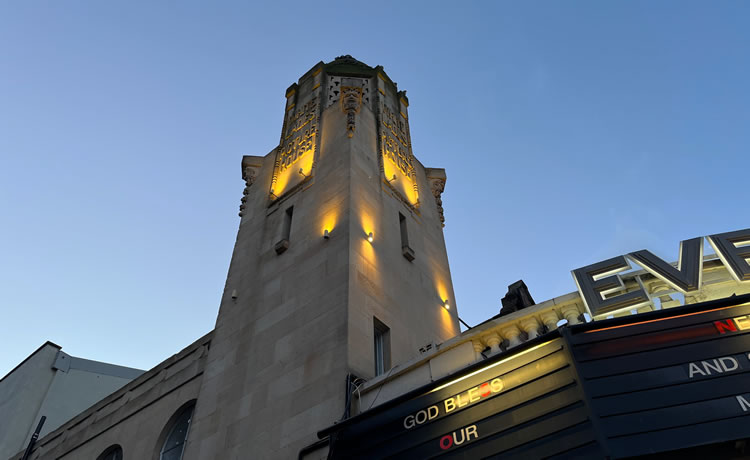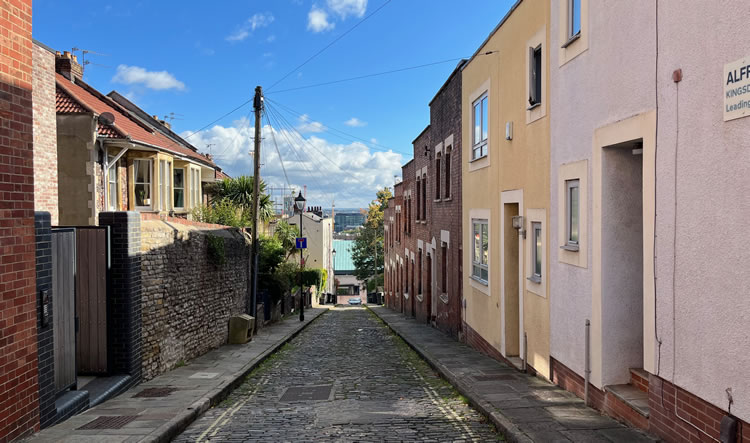 The iPhone 13's dual 12MP camera set-up is a sizeable improvement over the iPhone 12's. And that remains one of the finest camera phones on the market.
This year Apple has rather impressively brought over the larger, more sophisticated main image sensor from the iPhone 12 Pro Max, along with its sensor shift stabilisation, and fitted it all into the iPhone 13's smaller body.
The result, other than a noticeably larger camera module, is an improvement in detail and contrast. The main benefit of this set-up, however, will be seen in more challenging lighting conditions, where the iPhone 13 takes a big step forward from its predecessor.
This sensor is accompanied by a 12MP ultra-wide, which is also larger, clearer and crisper than its predecessor. Shots taken with the phone are sharp, well exposed, and far more natural looking than rival Android handsets.
We should note that the iPhone 13 Pro has taken a further step forward in every regard, and that it also benefits from a dedicated 3X telephoto lens. It's the best camera phone on the market, but the iPhone 13 isn't so far behind, and it costs hundreds of pounds less.
The iPhone 13 is as excellent at video capture as ever, and gains a new Cinematic video mode that lets you switch focus between subjects either during shooting or in post production. It's not yet the finished article, but it's a lot of fun to play around with.
Features
As we've already discussed, the iPhone 13 isn't really about bold new features. It's much the same basic package as last year's iPhone 12.
That includes a second pass at MagSafe, Apple's repurposes magnetic charging and case-affixing standard. Purchase a MagSafe charger or wallet separately, and it'll snap onto the back of the iPhone 13 as if by magic.
You also get a more-than-solid set of stereo speakers here. Apple really has gotten very good at squeezing big sound from the tiniest of spaces.
Another hardware feature that's almost unique is the iPhone's physical alert slider. Being able to quickly put your phone on silent without messing around in menus is a feature we always miss when we switch back to a (non-OnePlus) Android device.
Battery life, memory and connectivity
Aside from the cameras, the single biggest improvement to the entire iPhone 13 range is battery life. It might even be the most consequential improvement for most people.
The iPhone 12 didn't have bad battery life as such, but the iPhone 13 will comfortably get you through a full day of intensive usage without causing any worry.
On one day of light usage, we were able to get through a long 15-hour day of light usage (just 2 hours of screen on time) with a staggering 77% left in the tank.
On a more intensive 15-hour day of usage, with a moderate 3 hours 30 minutes of screen on time but also with 1 hour 30 minutes of background music streaming, 30 minutes of Google Maps navigation, and 50 minutes of web browsing, we were left with over 40% in the tank.
5G connectivity was finally introduced with last year's iPhone 12, and it finds its way into the iPhone 13 too. We did find the phone getting uncomfortably hot when browsing the web in one 5G hotspot, but this seemed to be a one-off.
We're glad to report that Apple has finally done away with the 64GB storage tier this year. The iPhone 13 starts at 128GB, and also comes in 256GB and 512GB flavours. There's no 1TB storage option, as with the iPhone 13 Pro, but most people won't need anything like that kind of capacity.
Verdict
The iPhone 13 is a solid improvement on the iPhone 12 in many of the ways that matter. It's faster, longer lasting, and its cameras are much better.
We wouldn't recommend that iPhone 12 owners upgrade, as the difference isn't that pronounced. But anyone with an iPhone 11 or older will find the iPhone 13 to be a sizeable step-up.
It's true that the design has barely changed since last year's model, but given that the iPhone 12 represented a radical revamp for the series, we're willing to let than one go for another year.
More of a shame is the fact that the iPhone 13 doesn't get the iPhone 13 Pro's key addition of a 120Hz display refresh rate, which leaves it feeling slightly creaky next to some of its Android rivals. But this remains a fine display, and it's brighter than ever too.
All in all, this year's iPhone 13 family treads on its own toes a lot less than last year's muddled iPhone 12 range, with proper differentiation between the Pro and non-Pro models. The iPhone 13 Pro is the best buy if you've got the money to spare, but for anyone unwilling to spend the best part of £1,000 on their next smartphone, the iPhone 13 is a superb all-rounder.
Specifications
Specifications:
Camera: 12MP wide, 12MP ultrawide
Operating System: iOS 15
Internal storage: 128GB/256GB/512GB
Expandable storage up to: No
Processor make: Apple
RAM: 4GB
Pixels per inch (PPI): 460
Processor: A15 Bionic
Screen size (inches): 6.1
Resolution: 1170 x 2532
Battery capacity (mAh): 3240
Colours: Starlight, Midnight, Blue, Pink, Red
Dimensions (mm): 146.7 x 71.5 x 7.7
Weight (g): 174