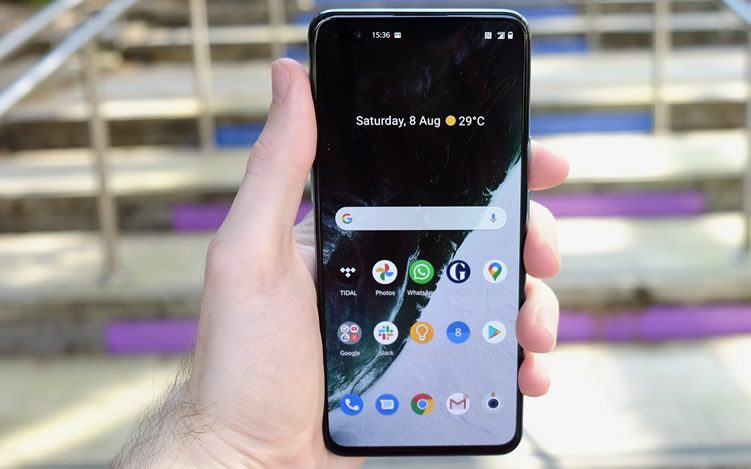 | Pros | Cons |
| --- | --- |
| Excellent value | Build slightly plasticky |
| Fluid 90Hz display | Weedy audio offering with no 3.5mm jack |
| Decent camera | Pointless macro camera |
Verdict
The OnePlus Nord isn't a 'flagship killer', but it is a superbly well rounded phone that gives you a distinctly flagship-like flavour. Its fluid display, decent performance and competent camera will be more than enough for most people, and you'll have several hundred pounds free to spend on something else.
Full Review

Specifications

Specs
Full Review
OnePlus started the year strongly with the OnePlus 8 and the OnePlus 8 Pro, two of its best and most premium phones. The latter in particular probably gets our vote for the best phone on the market right now.
But one thing has been lost, or at least minimised, in attaining this level of excellence: the sense of outrageous value that defined the Chinese brand in its early days.
The OnePlus Nord seeks to redress that balance, with a £379 starting price and a level of experience that isn't all that far removed from its bigger, pricier brothers - including 5G connectivity. Could this be the Android equivalent of the iPhone SE, a classy, top-performing phone at a third of the price?
Screen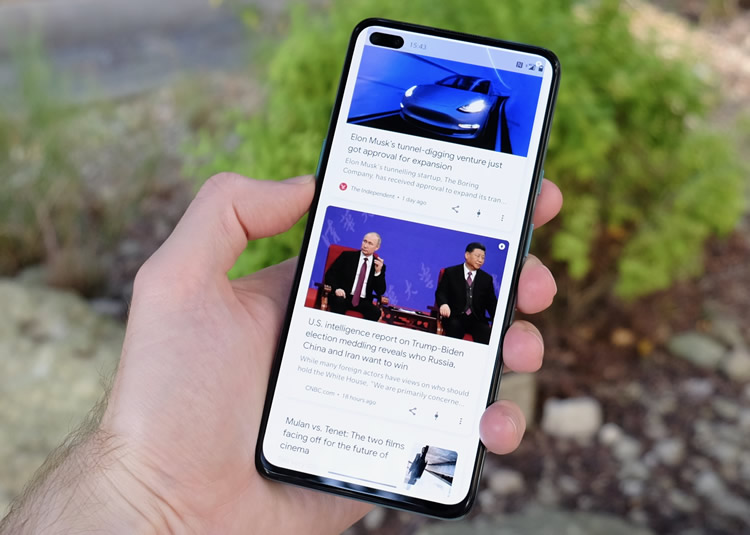 The OnePlus Nord's 6.44-inch FHD+ display is quite the eyebrow raiser. For one thing, you get the rich colours and deep blacks of OLED technology, which is far from a given at this price. Held side by side with its OnePlus 8 brother, it's a noticeably dimmer and less punchy panel, but on its own terms it's a lovely screen to use.
You also get a 90Hz refresh rate, which means that the screen refreshes 50% faster than even such premium phones as the iPhone 11 Pro and the Sony Xperia 1 II. This results in noticeably smoother scrolling when surfing the web or moving through menus.
We've seen these elevated refresh rates many times before, including the Huawei P40 Pro, the Samsung Galaxy S20 range, and the rest of the OnePlus family. What's more, those phones provide a more consistently fluid experience due to their superior processors.
Even so, we haven't seen (or felt) such a fluid screen in a mainstream sub-£400 phone before. It marks the Nord out as something rather special straight off the bat.
Design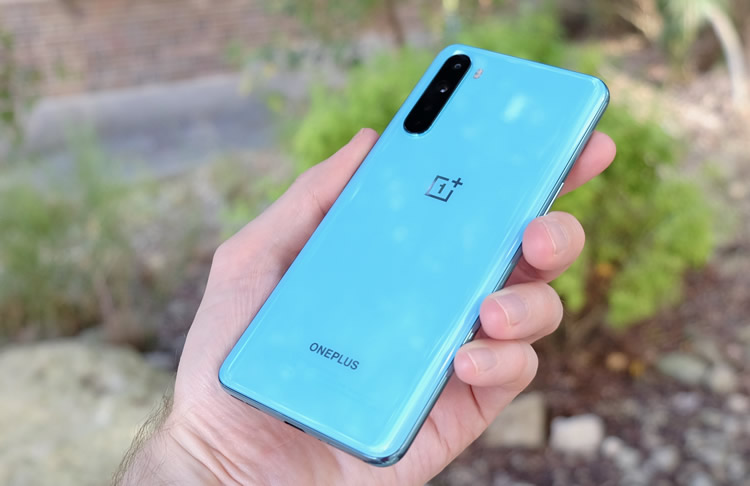 The OnePlus Nord sports a solid, somewhat utilitarian design that instantly tells you where it falls on the price spectrum. That's not a bad thing by any means, and it still feels good in the hand, with a moderate size, slight screen bezels, and a just-so weight of 184g.
But even without holding the phone alongside a more premium phone you'll notice the telltale signs of a shiny plastic-finish rim and a flat, plastic-bordered display. When you do hold it next to the OnePlus 8, you see that the Nord's glass back lacks the same tactile matte finish, that it has a less solid feel, and that its buttons and alert slider feel cheaper.
It's worth noting that you don't get any serious form of water or dust resistance here either.
Overall, this isn't a design to thrill, but nor is the Nord distractingly ugly or chintzy like many of its mid-range rivals. OnePlus has smartly kept the fancy flourishes to the minimum, which is probably why we can get that 90Hz display and a strong camera for less than £400.
Power
In a a very real sense, the Nord's level of performance is its defining factor. OnePlus claims that the whole reason it's able to once again make an affordable 'flagship killer' comes down to the existence of the Snapdragon 765G CPU.
We've already experienced the capabilities of this new generation of mid-range chip in such phones as the Motorola Edge 5G. It offers performance roughly in the ballpark of flagship phones of two or three years ago.
In practical terms, and coupled with OnePlus's customary software optimisations, this means that the Nord feels like a much more expensive phone in most scenarios. Opening apps and flicking between menus and home screens - all at a fluid 90Hz, remember - feels great here.
Can we tell the difference between this and more premium phones like the OnePlus 8? Yes. There are little micro-pauses and stutters when using the Nord that you don't get with phones packing the Snapdragon 865 (or equivalent).
But we use lots of different phones in a year, and had several to hand for a direct comparison. The vast majority of people who buy the OnePlus Nord simply won't be able to tell that they're getting a slightly less-than-premium experience. Even demanding 3D games run well in higher settings on this phone.
Camera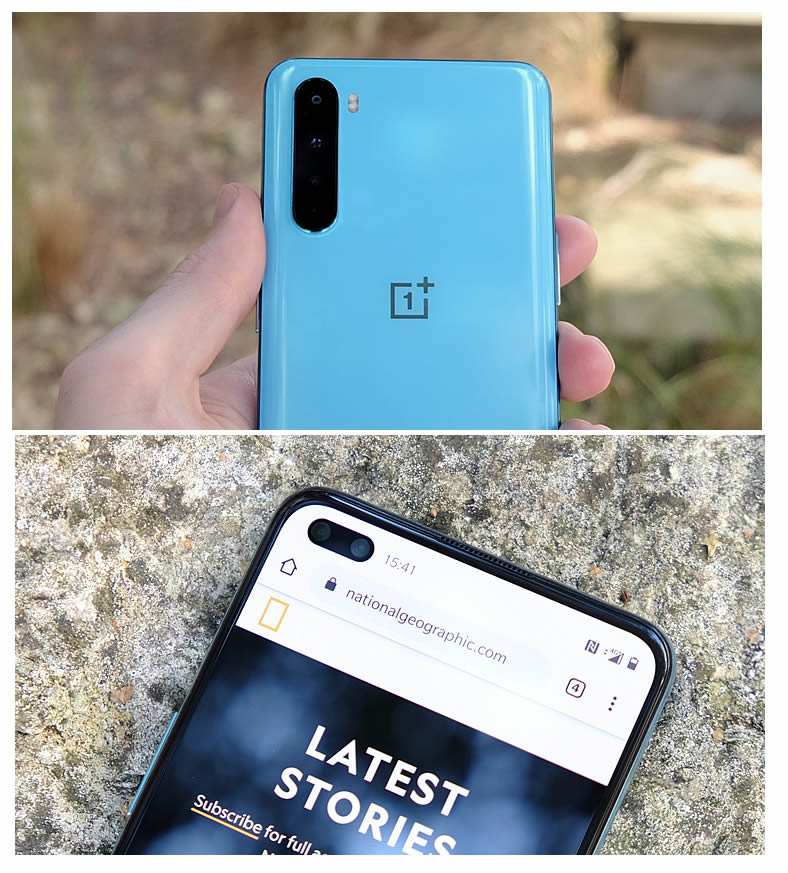 OnePlus's smart cost-saving measures with the Nord's design and specifications have meant that it can show a strong hand in the camera department.
That's why we get a quad-camera set-up with the very same 48-megapixel main sensor as the OnePlus 8. This is backed by an 8-megapixel ultrawide sensor, a 2-megapixel macro sensor, and a 5-megapixel depth sensor for helping with those bokeh-rich portrait snaps.
We wish OnePlus and other manufacturers would stop including pointless macro cameras with their cheap phones just to bolster the spec sheet. That aside, though, this is a very respectable camera offering indeed.
In good lighting the OnePlus Nord takes detailed, well-balanced shots with pleasingly natural colours. It has a slight tendency to overexpose in certain scenarios, but for the most part we were impressed.
Ultrawide shots get reasonably near the main sensor for tone, though they lack a certain crispness, especially around the edges. But that's normal at this end of the market.
Night shots are certainly usable, though they come out less natural and more washed out than on the OnePlus 8 - which is hardly a stand-out performer in this regard.
Unique to the Nord is a dual front camera, which lets you take wide-angle selfies as well as the usual kind. We were surprised how useful this provision could be, giving you a little more background context to your self-snaps, or just letting you squeeze more people in.
Features
The OnePlus Nord is relatively light on additional features. OnePlus has largely refrained from attention-seeking gimmicks in favour of creating a compelling all-round package at a bargain price.
As such, you don't get any wireless charging, though you don't tend to get such a thing from a £400 phone (iPhone SE aside). You might have been expecting a 3.5mm jack, however, in which case we have bad news.
Indeed, the Nord's audio offering is rather lacking in general, with a slightly weedy mono speaker and no bundled USB-C earphones. OnePlus expects you to buy some of its (admittedly very well priced) USB-C or wireless Buds.
Elsewhere, you get a speedy and reliable in-display fingerprint sensor, which is another premium touch. You also get OnePlus's signature alert slider, which we'd love to see other Android manufacturers adopt.
One of the stand-out features for any OnePlus phone is the company's OxygenOS. This light reskinning of Google's Android 10 is fast, attractive, intuitive, and blissfully free of unnecessary apps. It keeps pace with that zippy 90Hz display, too.
Battery life, memory and connectivity
The battery life during our time with the OnePlus Nord has been nothing exceptional - certainly not at the level of its big brothers. But it lasts through a full day of moderate usage comfortably, which is the main thing.
Four hours of screen on time is going to see that percentage indicator dropping down into the 20s, which is the red alert zone for most people. On lighter days, we were getting to bed with around 50% in the tank.
When you consider that the phone is driving a fluid 90Hz display with a mid-range processor (which means it's having to work a little harder than usual), that's not bad going. Recharging is pretty snappy, courtesy of a bundled 30W Warp Charger, which should have the phone juiced up within half an hour, as long as you haven't let it run completely dry.
There's ample storage, with a choice of 128GB or 256GB. You don't get any expansion potential with that though.
The provision of 5G connectivity makes the Nord one of the more affordable 5G phones on the market. If you live in an area that can take advantage of those download speeds, it's another premium-level feature.
Verdict
The OnePlus Nord is a brilliant phone that offers the kind of smooth, balanced, and downright classy experience you don't typically get so far south of the £500 mark. It boasts a fluid 90Hz display, a punchy camera, a tidy design and reasonably strong performance.
It's perhaps overstating things to say that the Nord renders the £599 OnePlus 8 superfluous. OnePlus's current mid-ranger is comfortably better than the Nord in virtually every way, with a brighter and more vibrant screen, a tangibly superior design, and noticeably zippier performance. The Nord gets close on the camera front, but it still plays second (or rather third) fiddle in the family.
But are those differences worth the £220 premium? For our money, all three OnePlus phones earn their place in the range. That the Nord is worthy of standing with its illustrious brothers is the major achievement here, and it's a more than worthy alternative to the iPhone SE - especially if you're after that 5G factor.
Specifications
Camera: 48MP wide, 8MP ultrawide, 2MP macro, 5MP depth
Operating System: Android 10, OxygenOS 10.5.4
Internal storage: 128GB, 256GB
Expandable storage up to: None
Processor make: Qualcomm
Processor: Snapdragon 765G
RAM: 8GB, 12GB
Pixels per inch (PPI): 408ppi
Screen size (inches): 6.44
Resolution: 1080 x 2400
Battery capacity (mAh): 4115
Colours: Blue Marble, Gray Onyx
Dimensions (mm): 158.3 x 73.3 x 8.2
Weight (g): 184