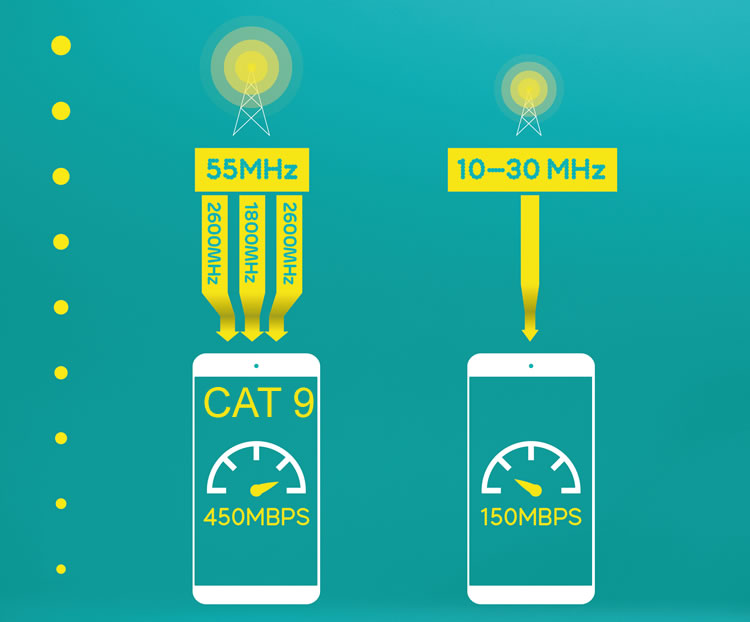 Cat 9 is the latest advancement in 4G network technology, and EE has become the first UK network to support it.
With Cat 9, we can expect faster mobile internet speeds than ever before. But what exactly is it, how does it work, and which phones support it?
What is Cat 9?
Cat 9, which is simply short for 'Category 9', is a new standard of advanced 4G network connectivity that's capable of significantly faster download and upload speeds. It follows on from Cat 6 and Cat 4 before it.
How fast is Cat 9?
Cat 9 phones are capable of download speeds of up to 450Mbps and upload speeds of 55Mbps. In real world usage, EE has shown that it can attain speeds of 360Mbps, which the network says is equal to the best connection speeds in the world.
To place that speed in context, the fastest UK broadband service currently on offer comes from Virgin Media, which offers download speeds of up to 200Mbps. Cat 9 4G has been shown to be capable of almost double that.
In terms of practical usage, EE says that Cat 9 connection speeds will be fast enough to download an HD film in just a couple of seconds.
Which phones support Cat 9?
You will need to own a phone that specifically supports Cat 9 connectivity.
A number of high-end phones released onto the market in 2016 support the Cat 9 standard. These include the iPhone 7 and iPhone 7 Plus; the Samsung Galaxy S7, S7 Edge and Galaxy Note 7; the HTC 10; and the Sony Xperia X Performance.
Samsung actually got in quite early with Cat 9 compatibility, so you'll find that the manufacturer's 2015 flagship phone range also supports the standard. If you own a Samsung Galaxy S6, Galaxy S6 Edge, or Galaxy Note 5, you'll be able to take advantage of Cat 9.
Which UK networks support Cat 9?
Only EE has the necessary Cat 9 infrastructure up and running at present.
EE CEO Marc Allera said: "There's no point having the latest smartphones on a network that can't support the top speeds the device is capable of. We've invested in our network to ensure that all of our customers get the most out of the amazing smartphones they have, and can keep up with the highest speeds that the latest devices offer. With 4G+ now supporting Cat 9 devices, plus Wi-Fi Calling and 4G Calling, customers on EE will continue to get more from their new smartphone than on any other network in the UK."
None of Vodafone, O2, or Three have announced any Cat 9 plans at the time of writing.
How does Cat 9 work?
Cat 9 operates on the same 4G+ or LTE-A network technology as Cat 6. However, it can boast higher speeds by combining three lots of spectrum as opposed to Cat 6's two.
EE combines 20MHz of 1800MHz spectrum with 35MHz of 2600MHz spectrum to create 55MHz of spectrum dedicated to its 4G services.
Where can you access Cat 9?
Cat 9 will initially roll out across London, starting in Wembley - where it's been available since the beginning of September - and moving on to London's Tech City before reaching other major UK cities (starting with Manchester and Birmingham) throughout 2016 and 2017.
EE intends to have Cat 9 support up and running at 500 sites across the UK's busiest cities by the end of 2017.
What comes after Cat 9?
There's still room to improve the 4G network standard before 5G's arrival in 2020. Next up is Cat 11, which will offer download speeds of up to 600Mbps.
Australian network Telstra became the first to offer Cat 11 support in September 2015, but so far that's the only network in the world to do so. What's more, the very best phones available today only go so far as Cat 9 support.
Essentially, then, the UK will be on the leading edge of 4G network standards upon its adoption of Cat 9.
Useful reading: What is 5G?