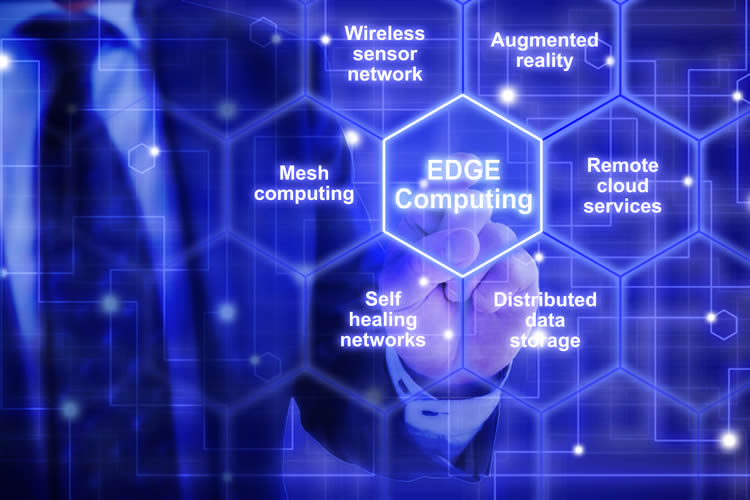 Mobile edge computing - or to give it a more technically accurate name, Multi-access Edge Computing (MEC) - is a form of network architecture that enables cloud computing to be done at the edge of a mobile network.
At present, most applications tend to handle their online computations and content storage on remote servers, which are typically situated far away from the end user and their smart device. With MEC, those processes will be brought closer by being integrated into local cellular base stations.
In a 2015 white paper on the subject, the European Telecommunications Standards Institute (ETSI) said that MEC "represents a key technology and architectural concept to enable the evolution to 5G".
What are the advantages of mobile edge computing?
The primary benefit of shifting and spreading the load of cloud computing with MEC is to reduce congestion on our mobile networks.
With current 4G networks strained to their absolute limits, and with the number of connected devices set to reach 100 billion by 2025, 5G is going to have to have to manage online traffic far more intelligently. MEC will be key to that.
In addition to managing the data load, MEC will play a major part in reducing latency for 5G networks. Wi-Fi levels of responsiveness (1ms, which is 30 to 50 times more responsive than 4G) are a major part of the 5G package.
By bringing the data closer to the end user and streaming it more directly to their phones, such low latency promises can be kept.
MEC and the importance of the cloud
Pretty much every major online app and service today exists in the cloud, from social networks like Facebook and Twitter to video content providers like Netflix and YouTube. Your chosen music streaming service is cloud-based, be it Spotify or Apple Music, as are navigation apps like Google Maps.
One major reason why we're already living in a cloud computing world is that it reduces the strain on our smart devices in terms of processing power, storage and battery life. Much of the heavy lifting with these popular services is done by servers rather than by our devices.
Essentially, then, we are all already heavily reliant on cloud computing. However, our network infrastructure is not yet well optimised for such cloud tasks. There is also a huge strain on our networks - particularly our creaking 4G mobile infrastructure, which lacks the capacity to handle the increased and constant demand for data.
5G will lighten the load for cloud-based applications through its vastly increased capacity, but MEC in particular will take them to the next level.
Practical uses of mobile edge computing
Augmented Reality (AR) services can benefit from an MEC provision because they will be able to provide speedy and highly localised feedback to modify a live representation of the world. Imagine a museum or art gallery app that can relay real-time information on an exhibit as you point your phone at it.
Video streaming services will operate much more efficiently in an MEC environment, because the service will be able to ascertain the precise local network environment for the end user and set the quality accordingly. Indeed, MEC will enhance the general awareness and performance of software applications in general, as they will be able to access real-time information on local network conditions.
On a much larger scale, the connected and automated car market will benefit greatly from mobile edge computing. Here, the benefits of localising computational processes will be vital in order to get real time feedback - not to mention the greater reliability it will bring.
The Internet of Things will massively benefit from MEC. By their very nature, the small connected devices that will be littered around our homes and cities will require any computing tasks to be done in the cloud. Bringing that closer to them will be better for the reliability, speed and efficiency of their operation.
When will we see mobile edge computing implemented?
Mobile edge computing will be an essential component of 5G, which will likely begin rolling out to the smartphone-using public in 2020. Prior to that, 5G-enhanced services such as fixed wireless broadband will likely commence rolling out in 2019.
We've already seen tests of this technology taking place. InterDigital conducted the first real-world trial of the technology in Bristol back in August 2017. The three-week trial took the form of a city-wide treasure hunt, with location-specific video riddles beamed to participants' smartphones.
Even without the benefit of a full 5G network environment to back it up, the trial successfully recorded latency of as little as several milliseconds and video distribution that was six times more efficient than with standard IP technology.
Will mobile edge computing require new equipment to access?
As MEC is a network technology that's tied to mobile base stations and based on virtualisation, it won't require the purchase of any new consumer technology to access. Its implementation should be seamless and unseen, and as the aforementioned test goes to show, the benefits will be experienced even by those of us with current or older smartphones.
Of course, to access the full extent of 5G's benefits - particularly the increased speed and capacity of its higher spectrum allocation - you'll eventually need a new phone with a 5G-ready modem. These likely won't start to become widely available until 2020, with 2021 expected to be the big year for 5G handset launches in the UK.
Useful read: What is 5G?
Image: Shutterstock