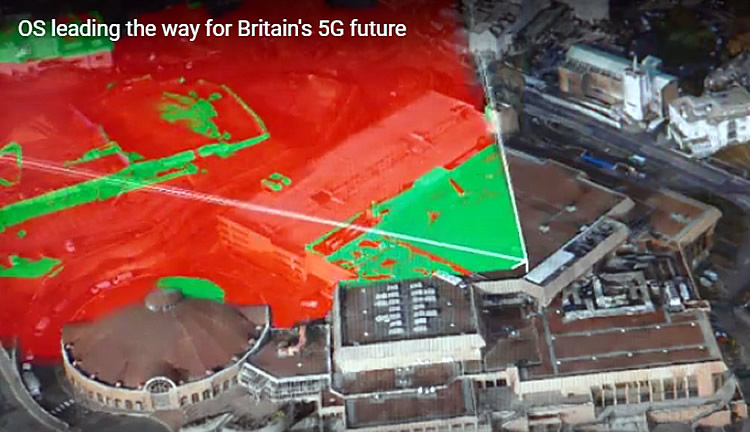 The coastal town of Bournemouth has been chosen to trial a new kind of precise digital modelling that will be crucial to building a 5G-enabled Britain.
Here's what that trial will entail, why it's necessary, and what it will mean for the next generation of mobile connectivity in this country.
Bournemouth: a model town
The Department for Culture, Media and Sport has commissioned a trial by the Ordnance Survey, in conjunction with the University of Surrey and the Met Office, to create a 'digital twin' of Bournemouth using computer imaging technology.
This means that the town will be mapped out in full 3D with every lamp post, road sign, bus stop, and tree accurately captured. It will also bring in radio spectrum and meteorological data to highlight areas that are at risk of a poor mobile signal.
Even current and predicted weather conditions and planned building works will be incorporated into this data model.
This trial will form the basis for a wider 3D mapping process that will encompass the whole of the UK.
What's the purpose?
With an accurate, detailed 3D map of our towns, mobile networks will be able to ascertain where the best place to put 5G antennas will be. Networks will be able to test signal performance in a virtual environment rather than having to launch expensive and time-consuming real life tests.
Using the data provided by Ordnance Survey, mobile network providers will be able to construct a virtual network in minutes.
The Bournemouth trial will also be used to demonstrate to network planners and the UK government how a UK-wide 5G rollout could work.
Why does 5G need a map?
When it begins its wider rollout in 2020, 5G will bring about massive advances in mobile network speed, capacity and latency compared to the existing 4G standard. But setting up those 5G networks will provide some unique challenges.
5G will use higher frequency signals than 4G. This 'high-spectrum band,' as it's known, is less congested than the one 4G operates in, making it faster and more reliable. Conversely, data transmitted at these higher frequencies isn't able to travel as far, and is more prone to disruption by small objects and even environmental conditions.
The result is that it will be very important for compatible devices to have line-of-sight access to 5G aerials. This new 5G network will require the careful installation of lots of new, small cell sites stationed only a few hundred metres apart. 4G, by contrast, uses much fewer and larger cells stationed several kilometres apart.
It's an approach that will require extremely precise placement in order to maximise the 5G signal for everybody. It's essential, then, to be able to test the placement of these 5G cells before committing to construction.
5G's increased role
Optimising 5G connectivity will be particularly vital, because 5G is going to be required to do a lot more heavy lifting than 4G. For one thing, 5G is going to support the emerging Internet of Things (IoT), which is the name given to a predicted vast network of assorted low-powered devices and smart city utilities.
The impending driverless car revolution will also depend on 5G to enable vehicles to communicate with one another and gain information from the IoT devices around them (such as traffic lights and weather stations).
It's vital, then, that nothing is allowed to interfere with this 5G signal.
Why Bournemouth?
According to Bournemouth West MP Conor Burns, Bournemouth was chosen as the trial area because it is seen as representative of the kind of environments that 5G will have to cover when it rolls out around the country over the coming years.
When will we see the results?
Results from the Bournemouth 5G mapping trial are due to be published in May 2017. This should prove timely, with 5G itself due to begin limited preliminary rollout from 2018.
Useful reading