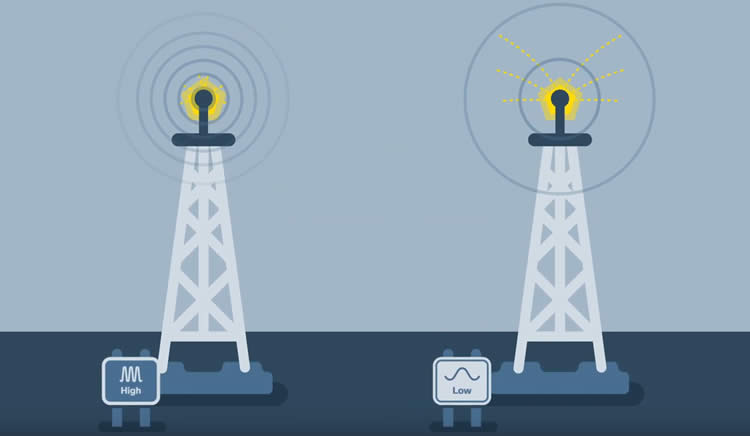 Spectrum sharing could be the most powerful differentiator between 5G and 4G. At least, that's what 5G RuralFirst (a rural testbed and trials project for 5G) believes.
But what exactly is spectrum sharing? Handily, the project has created a video to answer that question. Check it out below.
As the video explains, 5G networks will need both low frequency spectrum that works well over long distances and while moving around and through obstacles, and high frequency spectrum, which works better over short distances, offering higher capacity. But there's a limited amount of both and given how heavily used it will be, we can't afford to waste it.
In the days of 3G and 4G though, waste it we did and do, especially in rural areas, many of which have little or no connectivity, so can't tap into all the available radio frequency. 5G RuralFirst compares this to building a five-lane motorway and leaving one lane closed.
Spectrum sharing though means that unused spectrum won't be wasted in this way. Instead it could be shared with local communities, organisations and service providers.
From the few to the many
So why isn't this spectrum being used in the first place? Because it's typically licenced by a handful of mobile networks – in this case EE/BT, Three, O2 and Vodafone, which tend to focus their infrastructure on more built up areas.
We can't blame them for that, after all more people can benefit there, but it does leave rural areas trailing behind and many people and organisations in those areas could make real use of superfast mobile internet.
Exactly how spectrum sharing would work hasn't been finalised, but it's a key area of focus for 5G RuralFirst, and the project has suggested an option in a whitepaper, specifically the "market expansion model", which would both allow companies to access unused or wasted spectrum through Opportunistic Dynamic Spectrum Access (DSA), and see a small amount of spectrum set aside in places where spectrum is all in use.
If this plan or another method of spectrum sharing is enacted then it could be hugely beneficial to rural areas, as they could still tap into spectrum even if the major networks aren't investing in the area. This in turn would open up new rural business opportunities. Spectrum sharing could also potentially help in other areas if there's any unused spectrum, and ensure none of this valuable resource is wasted.