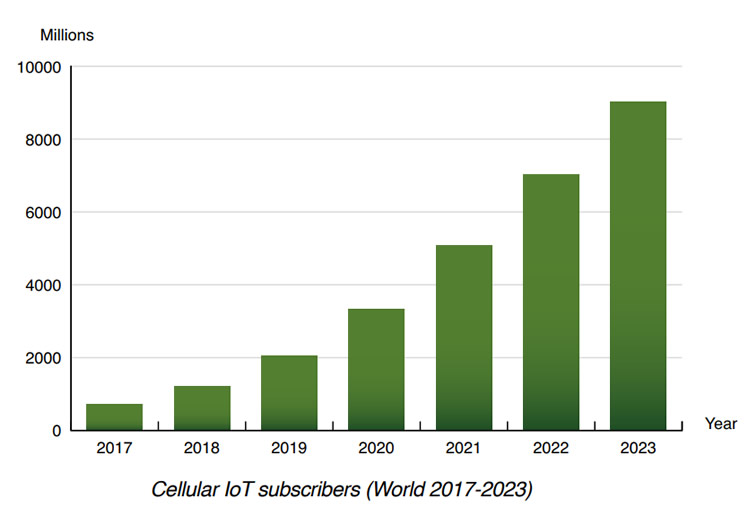 The first 5G cellular Internet of Things (IoT) devices are expected to arrive on the market in late 2020, but it will take several years before 5G becomes mainstream for IoT connectivity, according to a new report from Berg Insight.
While IoT-related 5G use cases are highly touted for potential service revenue growth in the cellular industry, the report indicates that the technology is not yet ready for IoT prime time and that there is not yet strong demand for 5G capabilities.
According to Berg Insight, developers will get the first 5G cellular IoT modules this year and will be able to create the first devices that will come to market by the end of 2020. But the research firm cautions that 5G won't be "an instant hit." By 2023, 5G will account for just under 3 percent of the total installed base of cellular IoT devices, according to Berg Insight.
As Tobias Ryberg, principal analyst and author of the report, explains: "5G still has some way to go before it can become a mainstream technology for cellular IoT. Just like 4G when it was first introduced, the initial version of 5G is mostly about improving network performance and data capacity. This is only relevant for a smaller subset of high-bandwidth cellular IoT applications like connected cars, security cameras and industrial routers."
Useful read: 5G and the Connected Car
The big technology leap with 5G will come when the massive machine-type communications (mMTC) capabilities are included in the standard, which is part of the evolutionary process that will enhance current 4G standards Long Term Evolution for Machines (LTE-M) and Narrowband (NB-IoT), notes the report. Since IoT connections are expected to grow exponentially, 5G mMTC functionality will be required to handle the surge in data traffic and device volumes.
Until that time, and since NB-IoT commercial products are just starting to become available, there is "no immediate demand for a successor," according to Berg Insight.
However, the report singles out one sector where 5G cellular IoT can make a significant difference early on, and that is homeland security. It's also among the more controversial areas that relate to 5G. "5G enables the deployment of high-density networks of artificial intelligence (AI)-supported security cameras to monitor anything form security-classified facilities to national borders or entire cities," said Ryberg.
Strong Growth for Cellular IoT
It's early days for 5G in IoT, but there is strong growth in cellular IoT connectivity. Berg Insight found that the global number of cellular IoT subscribers grew 70 percent in 2018 to reach 1.2 billion connections, which amounts to about 13 percent of all mobile subscribers. By 2023, there will be 9 billion IoT devices connected to cellular networks globally, growing at a rate of 49 percent per year. The growth is driven primarily by China, which accounted for 63 percent of the global installed base.
Network revenues from cellular IoT aren't growing quite as fast as the connections. From revenues of €6.7 billion in 2018, the growth rate is expected to be 34.4 percent annually to reach €29.4 billion in 2023.